January 9th, 2010
Body Fat Solution Review
By now, we all know that we gain fat when we take in more calories than we burn. But we're not always rational creatures when it comes to food and exercise. Recognizing the emotional and psychological factors that sabotage success, Tom Venuto's new Book, The Body Fat Solution (Avery/Penguin Group) hones in on the root causes of body-fat and provides a total lifestyle plan to take back control of your body and end emotional eating for good…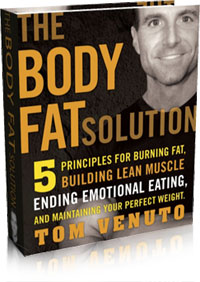 In The Body Fat Solution, Venuto outlines the five principles that will retrain your mind and body for automatic success. Determined to help you keep the fat off for good, Tom shows you how to:
End emotional eating and stop diet self sabotage
Re-program your mind for "auto-pilot" success
Go beyond goal setting by crafting a powerful "vision" that motivates you for life
Eat healthy, delicious food almost unconsciously and shed the pounds almost effortlessly
Increase your metabolism and break any fat loss plateau
Reshape your body through lean muscle training for a strong core and toned frame
Build a supportive social network of friends, family, and mentors to help you achieve your dream for life
Venuto reminds us that calories do count! But The Body Fat Solution is neither super low carb nor super low fat, and he steers clear of demonizing entire food groups. Instead, Venuto helps you personalize an eating plan that takes into account your unique metabolism and calorie needs. He then presents illustrated workout programs to maximize the success of the diet plan that are fast and efficient.
Most important, he helps you plan and organize your life so that you can fully implement your new goals and monitor your progress, and finally maintain your perfect weight for life.
Tapping into his years of training expertise and personal experience, Venuto helps readers change their relationship with food, empowers them to take charge of their lives, and delivers a program that promises dramatic and permanent results.
The Body Fat Solution is available from Amazon.com, Barnes & Noble or your favorite local independent bookstore. Also available on Audio CD and MP3 from audible, iamplify and itunes
What People Are Saying About The Body Fat Solution
"This is probably the most scientifically sound weight loss book to ever hit the shelves of mainstream book stores."
– Alan Aragon, contributing editor Men's Health magazine, publisher of Alan Aragon Research Review
"RUN – don't walk – and get your hands on the most important weight Loss book of the next decade."
-Shawn Phillips, author of Strength For Life & Absolution
"Offering the opposite of a quick fix, Venuto is honest about the effort it takes to drop a significant number of pounds. This is the book for women ready to tackle long term weight loss."
-Oprah Magazine
"Read this book–if you want to lose weight, improve your body and your health, and keep up these improvements for life. Tom Venuto gives it to you straight, basing his program on solid science and common sense. You will come away with a new feeling of inspiration and a new action plan to get you started and keep you on track to help you reach your goals–and then beyond."
-Judith S. Beck, Ph.D.
Author of The Complete Beck Diet for Life.
Director, Beck Institute for Cognitive Therapy and Research
Associate Professor of Psychology in Psychiatry, University of Pennsylvania
At last, easy, concise, no excuses – get skinny – this is the guide Great work, Tom!"
– Richard Bandler, co-founder of NLP, author, "Get The Life You Want"
"Tom Venuto's Body Fat Solution is one of the most important books on health, happiness and physical well-being ever written. In this fast-moving, easily usable series of methods and techniques, you learn how to enjoy superb physical fitness, achieve your ideal weight, and feel terrific about yourself both emotionally and spiritually."
-Brian Tracy – Motivational Speaker, Author – "Reinvention"
In 2003 Tom Venuto changed the fat loss world with his ebook "Burn the Fat – Feed the Muscle"… In 2008 he's done it again with the Body Fat Solution. The World's expert on fat loss speaks – I listen. I've often said – Fat loss doesn't start with an exercise program, a diet or a supplement… It starts with a mindset shift. That mindset shift begins with Tom's new book. If you want to change your body – you need to change your mind. And to do that – you need Tom Venuto."
– Alwyn Cosgrove, Co-Author, The New Rules of Lifting and The New Rules of Lifting for Women
"Venuto gets at all the physical, psychological, and even sociological aspects of overeating, outlining a program of mental, cardio, and strength training stressing accountability and self-control. Nothing fluffy about this book: just well- founded scientific research and clearly illustrated direction."
-Library journal, (the 132-year old publication read by 100,000 libraries & librarians)
"It will change the paradigm in how we view weight loss."
-Steve Yu, producer of 'Inspired The Movie'
"The Body Fat Solution" hits the nail on the head – after working in the weight loss arena for years, it's been difficult to find a book that truly spells out what it takes to lose weight permanently! It's not a gimmick, it's not a quick fix, but it surely is a solution!"
-Dr. Chris Mohr, RD
"Most consumer-oriented diet books are, to be kind, less than scientifically-based. The vast majority rely on gimmickry and hype, taking kernels of science and extrapolating them into non-sensible theories that have little physiologic credence. Not so with The Body Fat Solution. Tom Venuto takes a refreshingly honest approach in detailing the best ways to shed body fat and, most importantly, keep it off over the long haul. In sum: one of the best consumer-oriented nutritional books I've read. Highly recommended! Grade: 10 (out of 10)"
-Brad Schoenfeld, CSCS, author of Sculpting Her Perfect Body
The Body Fat Solution is available from Amazon.com, Barnes & Noble or your favorite local independent bookstore. Also available on Audio CD and MP3 from audible, iamplify and itunes
Frequently Asked Questions
QUESTION: Tom, Can you point out what the difference is between this new book and your Burn The Fat, Feed The Muscle (BFFM) ebook that I already bought? What's missing in BFFM that's covered here and vice versa? Is The Body Fat Solution just a re-hash of BFFM? Also, most important, who is the intended audience of The Body Fat Solution, and BFFM, and how do they differ?
ANSWER: Burn the fat, feed the muscle (BFFM) was designed to be a complete and definitive guide to nutrition for fat loss, based on the bodybuilding / fitness/ figure athlete method of eating.
The majority of BFFM is devoted to nutrition, with ancillary chapters on setting goals effectively and on weight training and cardio, also following "the bodybuilding method" The target audience for BFFM is anyone who is serious about fat loss, and who wants to maximize their results by putting in the time, paying attention to details, using advanced techniques (such as those used by bodybuilders before competition), and doing nutrition by the numbers (counting calories and macros) Generally, BFFM is for people who are highly motivated and enjoy or need structure.
The new hardcover book, The Body Fat Solution, was written for anyone who is overweight, or who was formerly overweight and who wants to maintain their ideal weight without struggle. The Body Fat Solution is NOT for athletes, bodybuilders or people who need to get "ripped" or reach extremes of low body fat.
The Body Fat Solution is especially written for people who struggle with inconsistent motivation, emotional eating, binge eating and other forms of self sabotage. The Body Fat Solution gives help for people struggling with everyday challenges – like frequent travel, restaurant temptations, busy schedules, high stress and social pressure – things that can can get in the way of the best nutrition or training strategy.
In The Body Fat Solution, one concise chapter on nutrition is included along with chapters on cardio training and a time-efficient weight training program for the busy person, which makes The Body fat Solution a complete lifestyle program. However, the major message is that "What nutrition or training program should you follow?" is not the most important question you should ask. The real critical question is… What makes you follow your program? And, conversely, "What makes you fall off your program so easily?"
The Body Fat Solution gets to the emotional and psychological root causes of body fat and shows you how to fix these hidden factors that sabotage most people.
QUESTION: Is the body fat solution available as an ebook?
ANSWER: Yes, it's available on Amazon Kindle although you need a Kindle device for that (I just got a Kindle 2 earlier this year as a gift. It was a GREAT gift! I love it!). It's now also on the Barnes and Noble Nook as well.
QUESTION: Why isn't The Body Fat Solution available in Australia?
ANSWER: Initially, it wasn't available in Australia. You had to order from Barnes and Noble or Amazon USA and pay for the overseas shipping, and I do understand shipping to Australia can be expensive. However I just got some good news from one of my Australian subscribers, that there IS an online retailer called http://www.TheNile.com/au selling the hardcover book in Australia. She told me that she ordered online, the book was delivered promptly and she was happy with her order. I noticed that the website says "ships in 12-15 business days" so keep that in mind and you may want to keep an eye on that shipping delivery time because now that I'm announcing this website to my readers (I have a very large mailing list), I'm not sure how quickly they will re-stock if they run out of their supply. Some book sellers don't keep that many books in stock. By the way, with the kindle ebook edition available as an instant download and the audio MP3 edition available as an instant download from Itunes or Audible, The Body Fat Solution is available instantly in those formats in any country in the world with an Internet connection where you can download digital material.
QUESTION: Tom, how come your new book isn't available in Canada?
ANSWER: It is! try Chapters. Call your local Chapters bookstore and ask for the book (they will order them), or go online at: http://www.chapters.indigo.ca
QUESTION: Tom, why didn't you read the entire audiobook yourself? I LOVE the audiobook i got from itunes, I listened to it while I was doing my cardio. But I have to say, I would have preferred if you read the whole thing, not just the introduction.
ANSWER: Most people said they love the audiobook (see itunes and Amazon reviews), but yes, I heard a handful of people say they would have preferred me to have read the whole thing. Thats a long story, but the short version is that my publisher, BBC Audiobooks America was under tight deadline to get the audiobook done for a January release date and they felt that a professional book reader could get it done faster. Personally, I like the reader (LJ Ganser), although he does sound like an actor (he is one) but I'll take it as a compliment that you liked my introduction. thanks! There's also a bonus interview in there with me and the Director of BBC audiobooks, by the way.
QUESTION: I bought the audiobook and I didn't get the PDF file with all the bonuses that were supposed to come with it. What gives?
ANSWER: If you ordered from itunes, the PDF bonus file is in there! You have to look closely; It will be in there at the end of all the audio tracks. If you ordered from Audible, I believe the download page is on the Audible website. Contact Audible customer service for the link. In any case where you didn't get the bonus PDF, you can contact me, as I have set up a special download page on my own website, so just email me and I will make sure you get a link to download the PDF, if all else fails.
QUESTION: I heard you were on Oprah. Is that True? When?
ANSWER: Actually I was NOT on the Oprah TV show, I was in Oprah magazine in March. The Body Fat Solution got a very nice review from Oprah Magazine: http://www.oprah.com/article/omagazine/200903_omag_fitness_books/2
QUESTION: Are you doing a book tour or will you be signing books anywhere soon?
ANSWER: I don't have any plans for a book tour yet. We did a "virtual book tour" earlier this year via teleseminar and webinar (its a lot easier than traveling all around the country). But who knows, if the Body Fat Solution book keeps getting more popular I may just hit the road and show up in your town.