May 28th, 2012
The Biggest Question In Weight Loss History
There are a lot of questions asked about fat loss and weight loss – on the internet, in the magazines, in the gyms, in doctor's offices, in schools, on talk shows and many other places. A lot of great questions are asked; there's a lot to learn about this often confusing subject. But the one most important question of all – the biggest question in weight loss history – the one that will make the most difference of all if were answered well (and the answer were acted upon) is not asked often enough. I ask that big question in today's post, and if you'll post YOUR answer in the comments below, I'll enter you in the biggest blog giveaway contest in the history of this website… (UPDATE: winner's names have been posted below)
Let me start by sharing some fascinating statistics with you. Twice a year, The Burn the Fat company sponsors an online body transformation contest that attracts thousands of contestants. We do it once in the winter and once in the summer. The winter "holiday" challenge lasts 49 days. The summer "BIG BURN" challenge lasts 98 days. There are piles of prizes and the grand champions win a trip for two to Maui, Hawaii, so there's no shortage of motivation. Contestants don't do it on their own either – they do it in a forum with thousands of members and fellow contestants – who, while they are competing, are also there to support and cheer one another on.
Despite the near-perfect accountability and motivational support, here's an interesting – or you might call it "depressing" –  fact:
Most people don't even finish the contest.
In the 49 day event, 20-25% of the contestants finish. The other 75-80% drop out. In the big 98-day event, only 10-15% finish. The other 85-90% drop out. Somewhere between 75% and 90% of all the people who enter never finish. Our completion rate is considered one of the highest in the industry; other contests and programs have reported dropout rates as high as 95%.
Why does this happen?
I have my own ideas, but instead of telling you what I think, I'm going to ASK YOU. Here's why:
Every year, During our Burn the Fat Challenge kickoff promotion, I do a huge giveaway / blog contest where a handful of lucky winners win books and free memberships to my Burn the Fat Inner Circle. Why do I give away so much free stuff and why am I this year, giving away more free stuff than ever? …
First, this will help spread the word about our 2012 Burn the Fat Body Transformation contest... and we DO appreciate you spreading the word… (please tell your friends on facebook, twitter and at your gym or workplace – it's great to do the challenge with partners or teams)…
But there's a deeper reason for this big blog giveaway…
Every year when I do this, I see it as a rare opportunity to do some serious fitness (and psychology) research. I usually get hundreds of comments, and in some of our big free blog giveaways, I've gotten more than 1,000 comments here on the blog (if we get 1,000 comments this time, there will be an extra winner).
I always figured, why let anyone enter to win all my free stuff for doing nothing? Why not make them "work" a little bit by thinking, and answering a serious, poignant question.
The responses I've gotten to the last blog giveaway contests have been priceless. I could never get this kind of information and real-people feedback from reading textbooks or science journals.
This time, I have a new question and it's the most important one I've ever asked. In fact, I seriously believe this is the biggest question in weight loss history. If you answer it in the comments below, you will get entered in my free drawing for free books and memberships.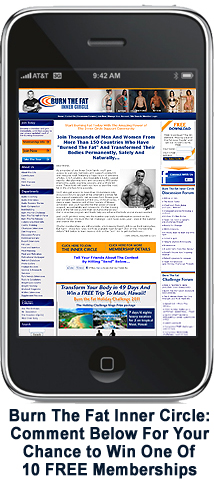 The Biggest Random FREE PRIZE DRAWING In the History of Burn the Fat Blog
10 winners will be selected at random. All the winners will receive:
A FULL One Year Membership to the Burn the Fat Inner Circle, a personally Autographed copy of my hardcopy book, The Body Fat Solution… Shipped in the mail to your door, anywhere in the world, and the brand new (May 2012) edition of Burn the Fat Feed the Muscle (e-book) aka "Burn The Fat 2.0" – even before it is released to the public.

Not only that, all winners will be eligible to enter the Burn the Fat Challenge body transformation contest* (optional.. but I think you should GO FOR IT – You could win a trip to Maui!)
Here's the question to answer in the comments below to get you entered into this free prize drawing:
Why do people drop out of body transformation contests?
Expand on that if you choose – why do they drop out of ANY good fat loss program or well-designed training program? WHY DO PEOPLE QUIT?
If you're one of the successful few, then consider how you have stuck with it and reverse engineer the answer – your input is valuable!
If you're one of the many people who have dropped out, be it a transformation contest or any other diet program – think deeply and tell us why you think it happened – your answer is valuable too.
Then add one more detail:  HOW DO YOU STICK WITH IT? And specifically, supposing you were going to enter our body transformation contest (but if not, then think of any nutrition or training program)… what would you have to do to be one of the few who actually finish?
Go ahead – post your answer in the comments below. But DO pause a moment and think about this first.
Good luck in the drawing and I hope to see you in the Burn the Fat Challenge body transformation contest this week – it opens on May 30th, 2012. More information will be posted on our facebook page, in our email newsletter, here on this blog and at the Burn the Fat inner circle website.
Train hard and expect success,
Your Friend and coach,
Tom Venuto
author of Burn The Fat, Feed The Muscle
www.BurnTheFat.com
Founder & CEO,
www.BurnTheFat.com/InnerCircle

BLOG GIVEAWAY CONTEST: Blog Contest Terms/Rules/Restrictions: NO PURCHASE REQUIRED TO ENTER the blog contest. you must be 18 years of age or older, Contest subject to state and federal laws and void where prohibited. Answer must be provided by posting a comment in the blog comments below, including your name (include at least your first name and last initial). Entries must be posted here on the blog, not submitted by email or posted on facebook or other social media sites. Entries must be received by Wednesday, May 30th, 2012 at 11:59 (PM EST). Winners to be announced here on this blog in this post by end of day, Thursday, June 1st, 2012. Winners must contact Burn The Fat support at www.BurnTheFat.com/contact.html to redeem prizes by providing postal address for hardcopy book delivery and email address for online membership delivery. Contest sponsored by Fitness Renaissance, LLC doing business as Burn The Fat blog. All entries become property of contest sponsor.
*BURN THE FAT 98-DAY BODY TRANSFORMATION CHALLENGE: Some restrictions apply. Must be 18 years of age or older. Contest enrollment is FREE for ALL current Burn the Fat customers and Burn the Fat Inner Circle members. Current customers subscribed to the clients list will receive a private email invitation to register BY May 30th, 2012, or may contact customer service and request an invitation between May 30th and June 5th by showing proof of purchase. Contest is open to NEW burn the fat customers, but there may be restrictions in some countries. Void where prohibited. In the United States, Contest is void for new customers in Vermont, Maryland, North Dakota, Colorado, Nebraska, Tennessee, New Jersey and Rhode Island (reason: state laws do not allow registration in a fitness contest that requires a new purchase). Complete rules, list of prizes, terms, conditions and legal notices can be found on the contest information page, located at: http://www.burnthefatinnercircle.com/public/Burn-the-Fat-2012-Summer-Challenge.cfm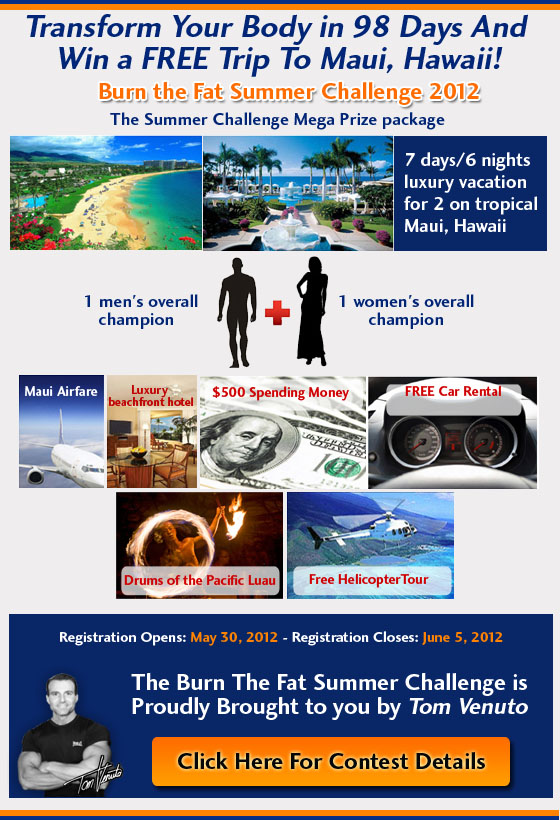 Congratulations to our 10 winners!:
1. Claudia Rosa (5-29-12 6:27 am)
2. Jon Barkich (5-30-12 10:43 am)
3. Donna Wassing (5-29-12 10:08 am)
4. Amy Schultz (5-30-12 6:29 pm)
5. Paula Duncan (5-29-12 10:54 am)
6. Jill Marie (5-29-12 8:16 pm)
7. David Chikousky (5-29-12 1:06 pm)
8. Laura Milczarek (5-29-12 5:55 pm)
9. Alex Ferris (5-30-12 5:59 pm)
10. Anna Weber (5-29-12 11:46 am)
To Collect your winnings, contact customer support and write "I WON!" in the subject line: http://www.burnthefat.com/contact.html