August 9th, 2010
Burn The Fat Feed The Muscle (NEW Print Editions)
Best Selling Fat Loss and Body Transformation E-book in Internet History, Now Available in a Brand-New, Fully-Updated and Revised Hardcover Edition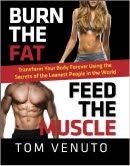 In BURN THE FAT, FEED THE MUSCLE, you will discover the fat loss and body transformation system that's been used for decades by fitness models and bodybuilders – the leanest athletes with the best bodies in the world.
The Burn the Fat, Feed the Muscle program  has now been tested for over 10 years and proven in the real world by thousands of Tom Venuto's clients and readers to help anyone achieve their dream body and maintain it for life.
It's not about becoming a bodybuilder or getting as ripped as a fitness model, unless you want to. It's about using their secrets to reach your own personal goals, whether that's losing 10 pounds or 100 pounds; whether you want to build muscle or just look "toned."
First Time Ever in Print!
An international best seller as a self-published e-book, it is now available in a brand new edition that has been completely revised and updated with 25% never-before published material.
Inside you'll discover Venuto's new L.E.A.N. system, walking you through all four elements of his fat loss formula including the secrets of motivation, the best fat burning foods, and the workouts that burn fat the fastest.
New Workouts For Beginners and Experienced Lifters
Also included is "The New Body 28" (TNB-28) workout, for sculpting solid lean muscle. Follow this simple plan and you'll have a stronger, healthier, fitter and leaner body within the first 28 days, and it gets better every week after that as your new fitness habits become part of your lifestyle.
A primer workout is included for beginners and quick start tips allow you to jump right in and begin to lose fat fast.  But this is not a quick fix. Pills, drinks or supplements are not required and there's no crazy starvation – in fact, on this plan, you can actually eat more and burn more.
More Flexible Than Ever

You can customize the program and even choose the amount of carbs you want, based on your goals and your body type.
Burn the Fat, Feed the Muscle is not a restrictive diet, it's a safe, healthy and natural lifestyle approach for permanent results, which is why hundreds of thousands of readers in 154 countries call this book their "bible of fat loss."
The new print editions include a hardcover, available in the United States and Canada, and a paperback, available in the United Kingdom and other selected countries in English