October 19th, 2015
NEAT Tricks To Burn More Fat Without Dieting
Researchers say that a little known body process called "N.E.A.T." is the reason there is so much difference between individuals in how many calories they burn every day. One of the reasons fat people are fat is because they have a low level of NEAT. And, one of the reasons skinny people are skinny is because they have a high level of NEAT.   If you have a low level of NEAT, or if you don't even know what it is, then this could be causing you to gain fat or preventing you from losing fat. The best part is, if you increase your NEAT(with the tips in today's post), you can burn more fat without even dieting!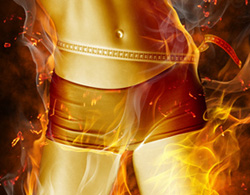 NEAT, which is the acronym for the entirely too long name Non-Exercise Activity Thermogenesis, includes all your physical activity throughout the day, excluding your "formal" workouts.
This includes all the calories you burn from casual walking, shopping, yard work, housework, standing, pacing and even little things like talking, chewing, changing posture and fidgeting.
Dr. James Levine, an endocrinologist and the top researcher in the field says, "Obese people are profoundly more sedentary than lean people. They move 2.5 hours less per day than lean people, which means they burn roughly 350 fewer calories per day."
For most people, NEAT accounts for about 30% of physical activity calories spent daily, but NEAT can run as low as 15% in sedentary individuals and as high as 50% in highly active individuals.
Walking contributes to the majority of NEAT. Obviously, the type of work you do is a major influence on NEAT. If you work at a desk all day long and hardly get up, your NEAT level is low. If you deliver mail, or work any other type of physical job, your NEAT can be quite high.
The fact that most people sit all day long and surf the web, watch TV and play video games is not a minor factor in the obesity problem. We have become a desk-bound, technology-based society. 150 years ago, 90% of the world's population worked in agriculture or did some type of physical labor to earn a living.
"The human body evolved over a million years, but the car-computer-chair-elevator-television-based world has evolved in less than a century" says Dr. Levine, "so you're imposing a massive environmental change on a very old biology. No wonder it all goes haywire."
Short of changing your job from desk jockey to lumberjack, you may be thinking that NEAT is too trivial to amount to anything. If you looked at it one activity at a time, you'd probably be right. However, when you look at it from the long term perspective, and when you make small changes in daily activities that become a habitual part of your lifestyle, it accumulates over the months and years.
You can implement a NEAT strategy by thinking about simple ways you can become more active and including them in your daily behavioral goals. Here are some ideas
Take the stairs instead of the elevator.
Stand or pace more instead of sitting.
Get a desk treadmill or mini-stepper.
Get out of your chair and walk around, stretch or do some body weight exercises on the hour, every hour while working at your desk.
Do not use labor saving devices all the time (riding mowers, leaf blowers, snow blowers, golf carts, and so on.)
Do some of your own house or yard work.
For short local trips and errands, walk instead of taking a cab or driving.
Look for other opportunities to walk more (walk your dog, for example).
Spend less leisure time watching TV, surfing the internet or playing video games, and more time engaging in physical recreation, sports, boating, cycling, hiking, and so forth.
Watch less TV, unless you're watching it on a treadmill or stationary bike.
If you have kids, get as much physical activity with them as possible.
Be aware of seasonal variations, especially if you live somewhere with harsh winters. The difference between summer and winter activity can vary two-fold! (It's not just holiday food that causes winter weight gain!)
Out of all these tips, do your best to spend less time in a chair and more time walking. You may even want to invest in a pedometer, which will tally up your steps every day. A 2006 study published in the American Journal of Health Promotion found that in previously sedentary overweight adults, subjects who met a 10,000-steps-per-day goal saw large improvements in body composition. Those who missed their goal did not.
Also consider the older order Amish culture where modern labor-saving technology has not been fully adopted. Among these Amish, the obesity rate is only 4%, compared to 30% in the USA overall. A pedometer study published in Medicine and Science in Sports and Exercise reported that Amish men walked an average of 18,425 steps per day and women 14,196 steps per day. The average American logs in about 5,000 steps a day.
That's a difference of 400-600 calories per day which gives us a good approximation of how physical activity has changed as technology has advanced over the past century. Most interesting of all, the meals of the Amish were not low in carbs or low in calories – they included meat, eggs, gravy, potatoes, bread and even pies and cakes – they didn't diet. The Amish stayed trim by balancing their food intake with high activity.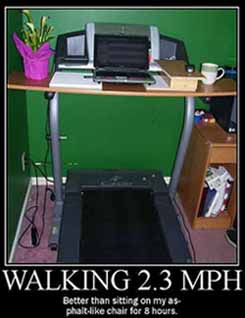 There's a common misconception among some trainers and serious fitness enthusiasts that if an activity isn't high in intensity, then it's worthless for fat loss.
Research studies like these prove that this is not true at all and that walking (low intensity cardio) is an effective way to beat body fat.
It may not get the job done as quickly, but it gets it done just the same. Anything is better than sitting all day long.
Tom Venuto,
Author of The Body Fat Solution
www.BodyFatSolution.com
Author of Burn the Fat, Feed the Muscle
www.BurnTheFatFeedTheMuscle.com

NOTE: This article was excerpted from The Body Fat Solution: 5 Principles for Burning Fat, Ending Emotional Eating, And Maintaining Your Perfect Weight (National best seller, now in trade paperback, and audiobook): http://www.TheBodyFatSolution.com
"Offering the opposite of a quick fix, Venuto is honest about the effort it takes to drop a significant number of pounds. This is the book for women ready to tackle long term weight loss."
– Polly Brewster
Oprah Magazine
"Read this book–if you want to lose weight, improve your body and your health, and keep up these improvements for life. Tom Venuto gives it to you straight, basing his program on solid science and common sense. You will come away with a new feeling of inspiration and a new action plan to get you started and keep you on track to help you reach your goals–and then beyond."
-Judith S. Beck, Ph.D.
Author of The Complete Beck Diet for Life.
"Venuto gets at all the physical, psychological, and even sociological aspects of overeating, outlining a program of mental, cardio, and strength training stressing accountability and self-control. Nothing fluffy about this book: just well-founded scientific research and clearly illustrated direction."
-Raya Kuzyk, Media Editor
Library Journal
Click here to learn more fat burning tricks in "The Body Fat Solution"

Copyright Burn The Fat Blog. It is illegal to copy or duplicate this article.
---
About Tom Venuto
Tom Venuto is a lifetime natural (steroid-free) bodybuilder, fitness writer and author of Burn The Fat, Feed The Muscle: Fat Burning Secrets of Bodybuilders and Fitness Models (e-book) and the national bestseller, The Body Fat Solution, which was an Oprah Magazine and Men's Fitness Magazine pick. Tom has appeared in The New York Times, Wall Street Journal, Huffington Post, Oprah Magazine, Muscle and Fitness Magazine, Ironman Magazine and Men's Fitness Magazine, as well as on dozens of radio shows including Sirius Satellite Radio, ESPN-1250 and WCBS. Tom is also the founder and CEO of Burn The Fat Inner Circle – a fitness support community for inspiration and transformation
---