I made many different batches of these chocolate protein muffins before settling on this final recipe. In each batch, I tested one ingredient change. Finally, I came up with the right combination of amazing macros and great taste.
This chocolate protein muffin recipe will give you only 117 calories per muffin, with 16 grams of protein, only 2 grams of fat and only 9 grams of carbs. Those are almost impossible macros for large-sized muffins! Yes, those are the macros for 6 large muffins! Not minis. Not even "standard" size. If you make these into 9 standard-sized muffins they only have 78 calories each with 10 grams of protein!
And the taste? If you like light, fluffy, cakey, just sweet-enough (and deeply chocolatey) muffins, I'm sure you'll agree – they taste great. In fact, these muffins do taste a lot like chocolate cake. If you want to call these "mini-cakes" instead of muffins, be my guest. I'm actually still thinking about changing the name to mini cake so you have the right expectations. Muffins are supposed to be like "mini-breads." Cupcakes are supposed to be like "mini-cakes" but with frosting. There's no frosting on these, so… well, just, "mini cakes?"
For now…. they are still "chocolate muffins." Don't expect them to be like fudgey brownies either. But if you want dense, fudgey protein brownies, I still got you covered…. that's the most popular recipe on this blog:  the best protein brownie recipes in the world.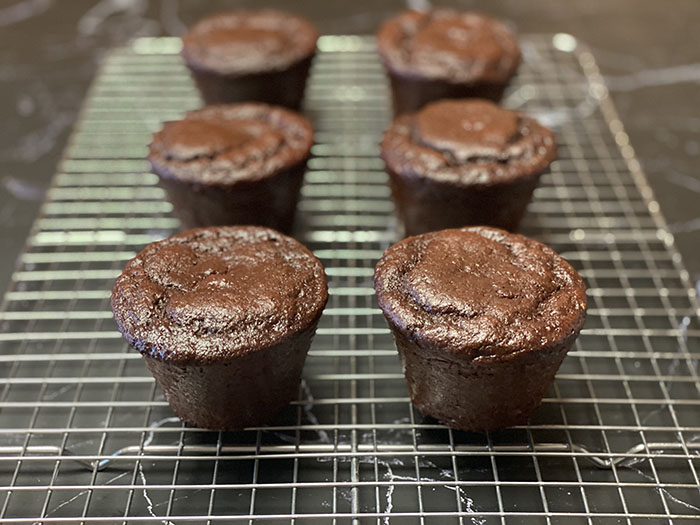 How are the calories and fat (and even carbs) so low, and the protein so high?
How did I pull off these macros? Simple. I look at protein powder as a recipe ingredient, not just a protein booster, and I used far more protein powder than flour. (90g, which is about a full cup). I also used a lot of cocoa powder. That's also a flour substitute which adds even more chocolate flavor and more deep chocolate color.
There are only three Tablespoons of flour in the recipe. I chose coconut flour. Coconut flour is often used by people who want to avoid wheat or gluten. It's also commonly used by people following certain diets like paleo.  My specialty is high-protein, low-calorie (bodybuilding-style) baking and cooking. I have no intolerances or dietary restrictions, and I don't eliminate any particular food groups for the sake of adhering to any named diet. I tried coconut flour once before in a blueberry protein muffin recipe and those came out great, so I simply wanted to try it again.
From both research and experience, I learned that coconut flour is different than other flours in a few ways. For one thing, it's wonderfully light. Smells great too! It's also unique in the way it's highly absorptive. It really soaks up the liquids, so you need less of it compared to other flours and you'll still have a thick batter. With that in mind, you can't substitute a different kind of flour in the same amount and leave the rest of the recipe the same. It doesn't always work.
After baking, these muffins are incredibly light and fluffy, not heavy and dense, and yet they stay moist. If you don't have coconut flour on hand, it's worth going to get some. You'll like it. It's available in most regular grocery stores these days. If not, you can get it at any health food store or order from Amazon and have it delivered to your door.
Another way I keep the calories so low in recipes like this is to reduce the amount of fat. That means no butter and no oil. I've noticed lately that keto diets are still so popular, that high fat recipes are not only everywhere, they are actually glorified and presented as a good thing. I see that in the paleo community too. I'm not saying high fat muffins won't taste richer, but it's laughable when  folks claim adding oil, butter or ghee will help you get leaner.
The fact is, a lot of those recipes are very high in calories. There's a real shortage of good-tasting low-calorie recipes online today. (Which is why I'm here). Everything in moderation is an approach I believe in, but I don't want a ton of saturated fat in the food I eat or in the recipes I share. I also don't want a ton of calories. Unless I'm bulking. And even then, it's more carb calories for me, not more fat calories.
But one thing I did not want to do in this chocolate protein muffin recipe is eliminate all the fat. I left one whole egg in the ingredients. My variations with two whole eggs (and less yogurt) also turned out quite well. But for maximizing moisture while getting the macros right at the same time, I ended up with only one egg and a third a cup of nonfat Greek yogurt.
But don't take out all the fat!
Of course, being the meathead that I am, I tried one batch with egg whites. That came out too dry and even a little hard on the outside.  I did learn something though. Those experiments with egg whites revealed that egg whites are an excellent leavening agent. Those two batches had great big poofy muffin tops that I still haven't been able to equal with chemical leaveners.
Applesauce is a trusty fat replacer and adds a little more mild sweetness as well. Between the whole egg, applesauce, skim milk and nonfat Greek yogurt, these muffins have just enough moisture. Again, they're not dense and fudgey-moist, but they are cakey-moist.
If you really wanted to splurge, while adding moisture, richness and sweetness at the same time, I bet including chocolate chips would take these to over-the-top decadent.
About the protein
The type of protein powder I used was chocolate whey. I tried several different brands of whey in my various experiments and it didn't seem to change the end result much. In one test batch, I tried a casein-whey blend, and that was excellent. I think it did came out a little denser. (Not surprising because casein is thick protein – great for puddings and thick smoothies).
I haven't tried any other types of protein, like plant-based proteins, so can't tell you how that would turn out. If you try, I'm eager to hear from you in the comments below.
One important thing I want to point out is that the macros and the protein grams per unit of weight can vary a lot from brand to brand. Brand A of chocolate whey protein powder could have 24g protein in a 31g scoop with only 2 g of carbs. Brand B might have 26g protein, but in a 41g scoop with 8g carbs.
If you use the same weight (g) of protein powder, the recipe should taste mostly the same, but your macros could be substantially different than mine based on the brand you use. What brand did I use? I'm not saying because I don't want to be affiliated or associated with the supplement industry. I'm just giving you a heads up.
Muffin pan considerations
I have to admit, I had a little confusion about muffin pans at first. I had to sort that out before I figured the portions and macros per serving. I was originally told that there are only three muffin pan sizes – mini, standard and jumbo. Well, it turns out one of the two pans I had in my possession was none of the above – it was a large size, also known as "Texas" size. That makes four muffin pan sizes.
My large is silicone. It's 3″ wide at the top and 2 inches deep. It takes exactly 3/4 cup of liquid and has 6 slots. The aluminized steel standard muffin pan I also own has 12 slots. Each slot is 2 1/2 inches across and only 1 1/4 inch deep. It takes only 1/2 cup of liquid. That's a big difference!  And yet, the Texas pan is not a jumbo. The true jumbo is 3 1/2 inches across and takes a full cup of liquid!
What I want to point out is that when I originally developed this recipe I was using my 6-count, large ("Texas") muffin pan – the silicone one. I've taken a liking to the silicone muffin pans, but in my test kitchen experiments I also used the aluminized steel pan and those muffins came out great just the same. Obviously however, different amounts of batter are used for the different pans so the nutrition information per muffin will be different.
If you only have a regular sized muffin pan on hand, no problem, you can use that. But if you poured all of this batter into only six of the twelve slots, they would be completely full. What happens then?
Well, when they begin to rise in the oven, there's no room for them to rise up, so they spill out over the edges, even merging with the muffins next to each other (Siamese muffins?) Plus, they end up looking like mushrooms, lol. So don't do that.
I would suggest, if you have a twelve muffin pan, regular size, that you keep the recipe the same, and simply make nine muffins. Hey, then the calorie count will look even more impressively low! Here are the macros for 9 standard sized muffins with this same batch of batter:  78 calories, 10.g protein, 6.4g carbs, 1.4g fat. If you wanted to, you could even stretch this to 12 muffins by filling all 12 slots of a standard size pan only 2/3.
Just remember the rule of thumb in muffin-making: The ideal way to pour muffin batter is to fill the slot about two-thirds to three-quarters. Then it will usually rise up to the top during baking.
On that note, this is a very thick batter, but it is completely pourable. I recommend a mixing bowl with a spout. And circling back to batter, be sure you mix the dry ingredients well, then mix the liquid ingredients only until they are combined and homogenous (don't overmix). When you pour the liquid into the dry ingredients, fold the liquid in. Mix just until combined, but do make sure you use a spatula to scrape the bottom and make sure there are no pockets of powder. You especially don't want any pockets of coconut flour remaining because white flour pockets in a deep dark muffin are so annoying.
"Muffin top"
With my recipe, these muffins will rise. The batter that's filling only 3/4 of the muffin slot will rise up to the top and may puff up and out even a bit further. However, don't expect them to form a big domed muffin top. That's just the nature of the ingredients in this unconventional recipe.
In my final recipe, I stuck with baking soda alone, which reacts with the cocoa (an acidic ingredient) to produce some rise. I tried one batch with a little baking powder as well, but saw no additional leavening effect. I doubled it, and that batch had an aftertaste and seemed to lose sweetness, so I didn't use baking powder again in this particular recipe. By the way, has your baking soda been sitting on your shelf for years? If so, it's dead. Get a fresh supply.
When you pull these out of your oven, if you see the tops of these muffins are flat, please don't despair. Rest assured, it's only cosmetic. I have not been able to beat the taste and cakey texture of this current recipe yet. That said, I really was thinking about calling this a "mini-cake" since it didn't have the round muffin top. But in the end I stuck with chocolate protein muffin.
Serving and Storage
Let your muffins cool for just a few minutes in the pan, so they solidify a bit, then pop them out and transfer them to a wire rack. They're really darn good fresh and still warm.
Avoid storing them in a sealed container while they are still warm – they'll give off heat, and condensation may form, making them soggy. Also, while you can definitely refrigerate these and extend their life somewhat, I think that refrigerating muffins changes their texture. (Not for the better).  I know for sure these are good for at least three days covered on your countertop, maybe four. If you don't expect to use them within a few days, I'd suggest freezing them in a sealed container or sealable freezer bag. Forty seconds or so in the microwave and you're good to go with warm muffin in hand.
I've been told muffins are good in the freezer a few months, but can't confirm because I never had any last that long. If you have a hungry crowd around, good luck not having your whole batch of muffins not disappear in a day or two. Of course, if you live alone, keeping them out of plain sight by storing them in the freezer could reduce the temptation to devour them all in one sitting. Hey, at least these are relatively guilt-free compared to those supermarket and coffee-shop muffins that have 400, 500 even 600 calories each. (I know, ridiculous, right?)
Yep. 117 calories and 16 grams of protein. Or only 78 calories and 10 grams of protein if you opt for the 9 standard sized muffins. Either way, these my friend, are the "impossible macro" deep chocolate protein muffins!
Enjoy! And try in vain not to lick the bowl.
Tom Venuto,
Founder & CEO, Burn the Fat Inner Circle
Author of Burn the Fat, Feed the Muscle
Author of The BFFM Guide to Flexible Meal Planning For Fat Loss
PS. Be sure to check out the newest e-book From Tom Venuto: The Guide To Flexible Meal Planning For Fat Loss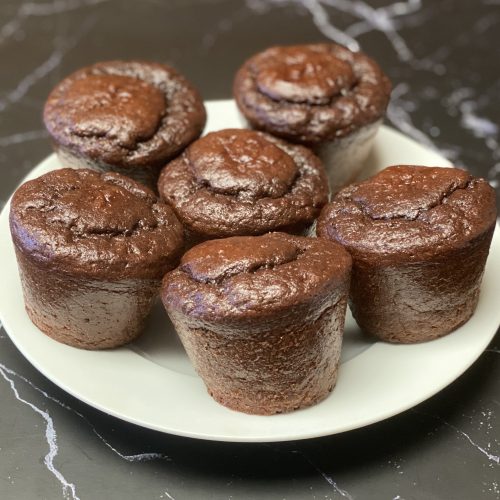 Deep Chocolate Protein Muffins
Even though this recipe makes six large-sized muffins (not mini, or even standard size), they only have 117 calories each, yet are packed with 16 grams of protein. Recipe from Tom Venuto's Burn the Fat, Feed the Muscle Blog (www.BurnTheFatBlog.com)
Print
Pin
Rate
Ingredients
90

g

chocolate whey protein powder

(about 1 cup)

21

g

coconut flour

(3 Tbsp)

30

g

natural unsweetened cocoa powder

(6 Tbsp)

56

g

Truvia naturally sweet (spoonable)

(4 Tbsp)

.75

tsp

baking soda

.25

tsp

salt

1

XL

whole egg

81

g

unsweetened applesauce

(1/3 cup)

76

g

nonfat Greek yogurt

(1/3 cup)

1/2

cup

skim milk

(236 ml)
Instructions
Combine dry ingredients in a mixing bowl. Mix thoroughly until combined.

In a separate bowl, add wet ingredients (eggs, skim milk, yogurt applesauce) and mix until combined.

Mix wet with dry ingredients to form batter.

Pour or spoon batter into large/Texas 6-muffin pan (greased with a little cooking spray)*

Bake 20 minutes at 375 degrees F.

Allow to cool a few minutes before removing from pan
Notes
*A standard 12-muffin pan also works, but this amount of batter will make 9 standard sized muffins in a 12-muffin pan (with batter filling only 3/4 of each slot), or you could even stretch this batch of batter across 12 muffins (with batter filling only 2/3 each slot)
Nutrition
Serving:
6
large (Texas) muffins
|
Calories:
117
kcal
|
Carbohydrates:
9.5
g
|
Protein:
15.7
g
|
Fat:
2.3
g
---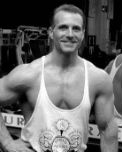 About Tom Venuto
Tom Venuto is a natural bodybuilding and fat loss expert. He is also a recipe creator specializing in fat-burning, muscle-building cooking. Tom is a former competitive bodybuilder and today works as a full-time fitness coach, writer, blogger, and author. In his spare time, he is an avid outdoor enthusiast and backpacker. His book, Burn The Fat, Feed The Muscle is an international bestseller, first as an ebook and now as a hardcover and audiobook. The Body Fat Solution, Tom's book about emotional eating and long-term weight maintenance, was an Oprah Magazine and Men's Fitness Magazine pick. Tom is also the founder of Burn The Fat Inner Circle – a fitness support community with over 52,000 members worldwide since 2006. Click here for membership details
---
If you enjoyed this post, subscribe for weekly updates – free!
Your email is safe with me!