BURN THE FAT INNER CIRCLE: THE SUPPORT COMMUNITY FOR NO B.S. BODY TRANSFORMATION
Who Else Wants To Stop Falling Off The Wagon, Stop Falling For Fads, And Join Thousands of Men And Women Who Have "Burned The Fat" The Natural, Healthy And Sustainable Way?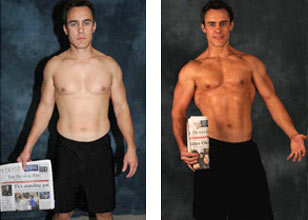 "I Lost 16.6 Pounds of Fat, Put On 3.7 Pounds of Muscle And My Bodyfat Dropped From 19% to 10%. I've Never Felt This Good About My Body."
One afternoon, I was getting ready to take the kids to the pool, I looked at myself in the mirror and it hit me like a ton of bricks… I was one of those "skinny fat people" that Tom talked about in his Burn the Fat, Feed the Muscle book. I was a 42 year-old skinny-fat guy with a muffin top hanging over my swimming trunks. I opened up the ebook again and read it cover to cover, and when I received my email invitation to the Burn the Fat challenge, I jumped in with both feet. I listed my goals, created a plan and submitted my pictures. It is amazing how motivated you become once you have a plan. I lost 16.6 pounds of fat. I gained 3.7 pounds of muscle. I've made changes I never thought were possible. I could not have achieved these results without the help of my team at Burn The Fat Inner Circle – they were always there for me and kept me motivated throughout the challenge. Thank you Tom!
-Chris Soyhada, MD, Inner Circle Member
Burn The Fat Challenge Overall Men's Champion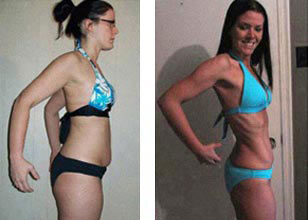 "I Achieved The Body I've Always Wanted! I'm Now 128.8 lbs At 17.7% Body Fat."
Initially, I thought "49 days? That's not much time… what can you really accomplish in only 7 weeks?" Then I started to think about it. You can accomplish a LOT in 7 weeks. The next time you hear someone say that a week or two doesn't matter, they're taking the holidays "off" because you can't really make a difference during this time of year, that gaining weight over Christmas is inevitable, or that there's no way you can achieve your dream body in less than 2 months, show them my pictures!
–Amanda Andrews, Inner Circle Member
Burn The Fat Holiday Challenge Overall Women's Champion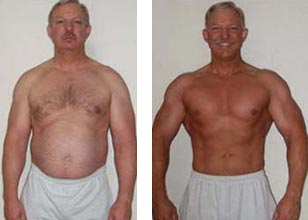 "I Dropped 27 Pounds And 14% Body Fat… And Never Dreamed I'd Put On So Much Muscle Mass At My Age."
I was probably in the worst shape of my life. I was completely run down all the time. I lacked energy. I was under quite a bit of stress at home and at work. I was 27% body fat when I began. I was about 232 pounds. I was wearing a size 36 pants, about to go to 38. That was the realization that I had to do something. I was obviously very happy with my results, being able to drop about 27 pounds and 14% body fat. I actually ended the Burn The Fat challenge at 13% body fat. I never dreamed I was going to be able to put on so much muscle mass. I've always been the lone ranger and tried to do things by myself. But that has not been successful in the past. By having access to the Burn The Fat Inner Circle, it provides the added encouragement to build your self-confidence. Everyone seems to have the willpower to start, but to sustain is where it gets difficult. If you start having a low point or you start doubting yourself, it's through the Inner Circle that you can be lifted back up.
-Scott Holmes, Age 50, Inner Circle Member
Burn The Fat Challenge Overall Men's Champion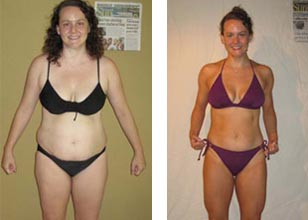 "I Lost 75 Lbs of Body Fat, Gained 7 Lbs of Muscle, Lost 12 Inches Off My Waist And Went From a Size 22 To a 6!"
I lost 75 pounds of body fat, and gained about 7 pounds of lean body mass. I've lost 12 inches off of my waist and went from a size 22 to a 6. And I've probably delivered about 50 bags of clothes to Goodwill. My health has improved dramatically, I'm saving a ton on doctor bills and prescriptions and I'm not in pain all the time. The first time my son saw me run, he was he was shocked. Now we just have so much fun together, all the time. He's really proud of me. The biggest thing was that I started posting at the Burn the Fat Inner Circle. I feel extremely confident that I can keep improving myself as long as I'm there and getting support. That's completely empowering. I've never felt that way before. At the Inner Circle, there's always somebody who's one step behind me on the path and somebody who's one step ahead, so there's constant inspiration to move forward, and then also a constant incentive to be somebody else's inspiration and not let them down.
–Audrey Eickwort, Inner Circle Member
Burn The Fat Challenge Overall Women's Champion
More Praise From Inner Circle Members
When I started the Burn The Fat, Feed The Muscle program, I was 280 lbs and 39% bodyfat. 8 months later, my weight is 195 lbs and my bodyfat% is 12%. With BFFM as my fitness 'bible' and the priceless support from everyone at the Burn the Fat Inner Circle, I'm turning it up a notch and now working on my next goal of 6-8% Body fat.
I downloaded Tom's Burn the Fat, Feed the Muscle e-book years ago and STILL refer to it often – rereading chapters and reinforcing what I've learned. Now there's an internet community for us to connect, share, learn and inspire each other. It's awesome!
I've lost 34 lbs over the last 4 months with Burn The Fat, Feed The Muscle, and now that I've found the Inner Circle, I'm going to STAY fit. Great Web site!
Thank you to the whole Burn The Fat Inner Circle team for providing SO much amazing content – free of advertisers/sponsors!! Truly a feat.
No book on exercise or nutrition ever made much sense to me until I got Burn The Fat, Feed The Muscle. WIth the Inner Circle, I'm really looking forward to gaining additional insights and motivation beyond the book.
I've been on Burn the Fat for 2 years now. Couldn't have made a better choice. Started at 184 lbs with 19% body fat. I've been maintaining for the last year at 155 lbs and 4% bodyfat. Hard work pays off. Now I'm staying fit for a lifetime by staying plugged in at the Inner Circle.
I am 56-year-old Grandma of 4 from Queensland, Australia with a long standing enjoyment of gym work. It is amazing to be part of a worldwide circle of like-minded people.
When you combine the positive attitude of the members here with the knowledge, there is really no direction to go but winning.
I am really jazzed about the inner circle! I already feel right at home here. Like minds, Like goals, Like problems, infinite solutions!
I am very excited about this site. The support and discussion from people who are going through the same things as me is so helpful. I'm sure it'll help me with achieving my goals.
I am so delighted by the positive energy of this community. There's such diversity, knowledge, compassion and honesty. At first, I thought I'd be intimidated thinking you were all hard bodies. And though you all are (or will soon be!), I realize by reading the forums, that we're all on the same journey, simply at different points along the way. Learning from everyone at all the different levels is one of the best perks of this site.