Books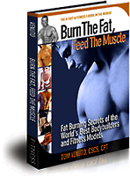 Burn The Fat, Feed The Muscle By Tom Venuto (e-book: international bestseller) If you're interested in Burning fat the natural way – without supplements, without drugs and without messing up your metabolism, then this will be the most important book you will ever read. Burn The Fat is the #1 best selling fat loss nutrition ebook in internet history, and for good reason. Tens of thouands of men and women in 147 countries have burned fat and gained muscle with these powerful all-natural techniques… and you can too!
---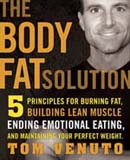 The Body Fat Solution By Tom Venuto (hardcover: national bestseller)
By now, we all know that we gain fat when we take in more calories than we burn. But we're not always rational creatures when it comes to food and exercise. Recognizing the emotional and psychological factors that sabotage success, Tom Venuto hones in on the real causes of body-fat and provides a sound plan to take back control of our bodies and end emotional eating for good. In The Body Fat Solution, Venuto outlines the five principles that will retrain your mind and body for automatic success.
---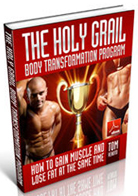 The Holy Grail Body Transformation System: How to Gain Muscle and Lose Fat At The Same Time (ebook)
"How can I gain muscle and lose fat at the same time?" That question is right up there with "How do I get six pack abs" as one of the most frequently asked fitness questions of all time. The problem is, when you ask it, you get all kinds of conflicting answers – even from experts who are supposed to know these things. So what's the deal? Is it really possible to lose fat and build muscle simultaneously? Short answer: Yes it's possible to gain muscle and lose fat at the same time. Complete answer: Visit the "more info" page for details