This post contains Amazon affiliate links to a book we have read, reviewed and recommend. View book on Amazon: https://amzn.to/41oxtrU
As a Man Thinketh By James Allen is one of the most influential books on the power of thought ever written, even though it is more like an essay or booklet, at only 7600 words. It can be read in about 45 minutes. It's also among the earliest books of its kind, now more than 100 years old.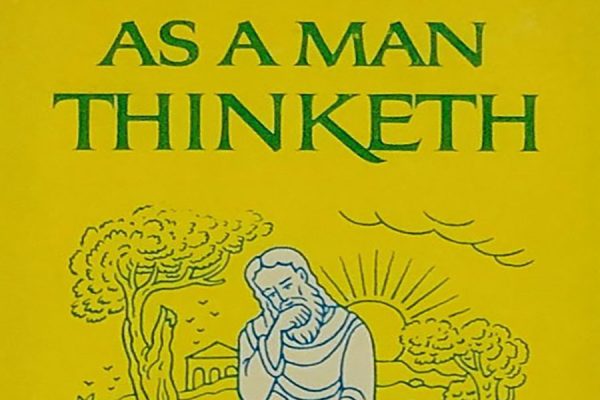 The book falls into the categories of psychology, philosophy, inspiration, and self-help. The title was influenced by a verse from the Bible in the book of Proverbs: "As a man thinketh in his heart, so is he."
Allen's book is not religious, but there are spiritual undertones throughout the pages. Many of his other books are decidedly spiritual in nature. It's likely that Allen was influenced by religious writings of various cultures such as Hinduism, Buddhism, Taoism, as well as Christianity. We also know Allen was influenced by Tolstoy, Emerson, Browning, Whitman and Shakespeare.
This book, and others like it by authors such as Orison Swett Marden, Ralph Waldo Trine, Thomas Troward, William Walker Atkinson, Charles Haanel preceded the modern self-help industry by decades. At the time, the movement was called New Thought. James Allen in particular influenced many of the biggest names in personal development, such as Earl Nightingale, Bob Proctor, Robert Collier, Dale Carnegie, Denis Waitley, Norman Vincent Peale and Tony Robbins.
On his Facebook page, Tony Robbins wrote: "As a Man Thinketh by James Allen is a book everyone should read. I've read it more than a dozen times and I often gift it because it's concise, easy to read, but also deeply profound. For anyone who wants to understand how your thoughts really, truly shape everything in your life that you feel and experience, this book is a must-read."
James Allen was an English journalist, writer, philosopher and poet born in Leicester England. He later moved to Ilfracombe on the Southwest shore of England for a life of simplicity, spiritual self-discipline and contemplation. A true late Victorian, he was born in 1864 and died in 1912, sadly at the young age of 47.
As a Man thinketh was published in 1903, one of 19 books he wrote, but by far the most well-known. Despite his prolific writing he was not a famous man. Perhaps he still is not today, except in the personal development industry, but his writing has lived on and touched millions of people over the century since his passing.
The book is now in the public domain, so you don't have to pay for it, unless you wish to purchase a hardcopy or paperback from a publisher who prints it. You can obtain the text online, download our free PDF copy (below) or get it from Amazon for Kindle free. There is even a public domain audiobook online. (You can hear it on You Tube as well).
Here are some highlights and memorable quotes from each of the seven chapters.
Chapter 1: Thought and Character
In this chapter, Allen describes how we literally become what we think about, most of the time. While perhaps seeming new age or mystical on the surface, he makes it clear that thought does not produce material results out of thin air. Thought is a seed (the cause) that leads to action, and our actions produce our results (the effect).
A key point is that our action is sometimes directed consciously by our will, but many of our actions, perhaps most, are guided subconsciously. The nature of these seemingly spontaneous actions corresponds to our subconscious programming, which is a result of our habitual thinking. Allen then assures us of a beautiful truth – that we can direct our thoughts and program our mind so to speak, and when we train ourselves to do so, we control our results.
The aphorism, 'As a man thinketh in his heart so is he' not only embraces the whole of a man's being, but is so comprehensive as to reach out to every condition and circumstance of his life.
As the plant springs from, and could not be without, the seed, so every act of a man springs from the hidden seeds of thought, and could not have appeared without them.
Chapter 2: Effect of Thought on Circumstances
The second chapter goes deeper into the subject of cause and effect. Our thoughts are a cause. The results of our actions are the effect. An important point is that our thoughts will always produce results of one kind or another. Allen likens the mind to a garden, that will produce a crop that corresponds to the type of thought seeds that are planted there.
We can cultivate our mental garden by controlling our thoughts and developing constructive habits of thinking, and therefore we produce positive results. We can also think negative thoughts, and this can only reap a negative harvest. But also, if we do nothing, and we neglect the garden of the mind, it will still produce results, but these will also be of a negative or at best, a neutral kind. If we don't cultivate the garden of our mind, only weeds can grow, based on whatever weed seeds blow or fall into the mental soil.
Circumstance does not make the man, it reveals him to himself.
Chapter 3: Effect of Thought on Health and the Body
Chapter three discusses the way health, like circumstance, is rooted in thought. Surely, it's true that stressful and anxious thoughts can reap havoc on the body and modern science confirms it. And also, most people today do not have hard time believing that the mind affects the body in the sense that negative thought alone can lead to ill health, while positive thoughts and emotions can lead to good health.
The body is the servant of the mind. It obeys the operations of the mind, whether they be deliberately chosen or automatically expressed.
Change of diet will not help a man who will not change his thoughts. When a man makes his thoughts pure, he no longer desires impure food.
Chapter 4: Thought and Purpose
It is not enough to think positively or optimistically in a general way, says Allen in chapter four. Thought must be linked to a purpose. Even more than goals alone, which have an ending point, having a purpose is vital because it is like a guiding star for life. Without goals and a major life purpose, we will drift and be tossed around like a piece of bark on the ocean.
Once you have a goal and a purpose, it must become the centralizing focal point of your thoughts. Some people may feel that they have a great purpose in life and desire to make a major impact on the world. For those who don't, Allen simply suggests fixing your thoughts on performing your present duty faultlessly. This could be a seemingly mundane job or being the best parent you can be.
Until thought is linked with purpose, there is no intelligent accomplishment.
Thought allied fearlessly to purpose becomes a creative force.
Chapter 5: The Thought Factor in Achievement
The author re-emphasizes in chapter five how everything that a person achieves and fails to achieve is the direct result if his or her thoughts, which he or she can control. To achieve, one must take absolute responsibility for their thoughts and the resulting effects.
He also says that no progress or achievement can occur without sacrifice. To achieve, one must give up certain indulgences, as well as selfishness, greed, dishonesty, and laziness. It must be replaced with self-control and constructive thinking. This thinking must be maintained, because if you let your guard down, you may rise to success, but can just as easily fall back down.
Victories maintained by right thought can only be maintained by watchfulness.
He who would accomplish little must sacrifice little. He who would achieve much must sacrifice much. He who would attain highly must sacrifice greatly.
Chapter 6: Visions and Ideals
Beyond mere goals, the greatest achievements of humanity are the result of people being dreamers or visionaries. When a beautiful vision is held in the heart (subconscious mind) it will one day be realized. Dreams and visions must be desired and cherished.
Dream lofty dreams, and as you dream, so shall you become.
The dreamers are the saviors of the world.
Your circumstances may be uncongenial, but they shall not long remain so if you but perceive an ideal and strive to reach it.
Chapter 7: Serenity
Allen explains in the final chapter that once you understand how cause and effect works in the mental world as it does in the physical world, you stop worrying and fussing and fuming and you are overcome with a sense of calm. This is because you understand that if you manage your thinking, you control your results, so there is no reason to worry. You calmly expect success.
When you are calm inside, you exude an air of calmness on the outside that others can see and feel. Thus, people are attracted to you. They sense your quiet strength and look up to you as a leader.
Self-control is strength. Right thought is mastery. Calmness is power. Say unto yourself, peace be still.
Calmness of mind is one of the beautiful jewels of wisdom.
Being a poet, Allen wrote the book in a somewhat flowery style. As a Victorian, his language also reflects the era he lived in. As a philosopher, he has written in a philosophical way as well. And yet, As a Man Thinketh is easy to read and understand. The message is clear, and it rings true. That said, some people who prefer contemporary self-help literature might be find the century-old style to be off-putting.
In addition, the title and the contents use masculine pronouns, which was the custom of the time. Where the book says "man," readers may want to read it as "human" or "person." Where it says "he," readers might want to read it as "he or she." If this still bothers anyone, they could always download the text, import it into Microsoft Word, then use the find and replace feature to replace man with woman and he with she. There. Problem solved in minutes. You have a copy of "As a Woman Thinketh." (Or "As a Person Thinketh").
One way I look at this book is as a manual for mental training. Here's a quote from the chapter on Thought and Purpose:
As the physically weak man can make himself strong by careful and patient training, so the man of weak thoughts can make them strong by exercising himself in right thinking.
You may already understand and appreciate the importance of mindset and the need for mental training. However, you might not be sure what other methods are there for mental training beyond the basics like goal setting, visualization, affirmations, meditation, values clarification and so on.
Managing your thoughts is the essence of mental training. But also, I'd like to suggest that simply reading books about constructive thinking is a form of mental training, especially when you meditate deeply on what you've read, apply it, then observe the results, tracing mental cause to physical effects.
Even more than simply reading once, mental training involves studying. I believe good books should be re-read, and great books should be studied for life. This is one of them. I've lost count, but I've probably read this at least 30 to 40 times cover to cover, because I know I've read it at least once a year since I was 20 years old. That's not counting the times I simply picked it up and opened it to random pages for quick inspiration.
Here's a mental training tool to consider: The 30-day reading repetition challenge. When you read a short chapter in any self-development book and it resonates with you, or better yet, it instructs you in a specific area you need to work on, such as discipline, persistence, consistency, confidence, belief, action, decision, concentration and so on, read that chapter every day for 30 days. In a month, you can rest assured the message has sunk in.
Do this mental training exercise for 60 days if you really want a message drilled deep into your subconscious mind. As Zig Ziglar said, "Repetition is the mother of learning, the father of action, which makes it the architect of accomplishment." For example, people who feel a lot of stress, anxiety, hurry, and worry would be well advised to read the chapter on serenity in this book over and over.
This is not the only book of its kind by any stretch. Many other books about the power of thought were written in the late nineteenth and early twentieth century. Modern day writers have also covered this subject, some well, others not so well (many books in the self-help space are new-agey, mystical, Pollyanna, not practical or not even truthful).
The beauty of As a Man Thinketh is not only its truth, but also its brevity and simplicity. You can read it over and over and not feel overwhelmed like you would with a 300-page tome on the same subject. The more times you read this short book, the more the message sinks in. The more you grow in mental strength, character, and knowledge, the more you get out of it each time you re-read it. Bob Proctor once said, "When you read a book for the second time, you don't see something in it you didn't see before, you see something in yourself that wasn't there before."
This book is inspiring and full of timeless wisdom. Everyone should read it.
We are happy to provide a free copy of As a Man Thinketh in a PDF document you can download on this page below.
While you can get the book for free here, on the web or on Amazon for Kindle, this is a nice book to have in paperback or hard copy. Currently the highest rated paperback is the one below (this is our Amazon associates affiliate link):
As A Man Thinketh, The Original 1902 Edition:
https://amzn.to/41oxtrU
Tarcher has also published the complete works of James Allen – all 19 books. The kindle edition (at the time of this writing) is only 99 cents for all 880 pages. ($17.95 for the huge paperback). It has a 5/5 star rating:
https://amzn.to/3Sx9BOw
Here is our PDF e-book of As a Man Thinketh that you can download free right now:
As A Man Thinketh By James Allen Free PDF
Disclosure: Burn the Fat Inner Circle posts may use affiliate links to third-party websites and online stores such as Amazon. When readers purchase a product or book, we may earn a small commission at no additional cost to the reader, which helps support our website. We only recommend and link to books or products we have reviewed and recommend. However, even though we may endorse a book, always do your own due diligence when making a purchase from any third party website.
Copyright Burn The Fat Inner Circle. No copying or reproduction of this article is permitted
---
If you enjoyed this post, subscribe for weekly updates – free!
Your email is safe with me!