Lean Minded by Mike Howard is about the mindset you need to lose fat and make a body and health transformation, with a focus on how to think, build habits, and set goals.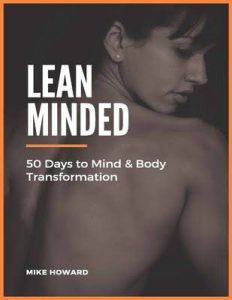 This post contains affiliate links to a book we have read, reviewed and recommend.
Mike is an author and speaker respected in the fitness industry for his evidence-based (scientific) approach to nutrition and exercise for fat loss. He is also well-known for his unapologetic (and often humorous) critiques of diet fads, calling out weight loss charlatans, and debunking fitness myths.
In this new book, Mike shows he is well-rounded and equally skilled as a mindset and lifestyle coach, giving guidance far beyond what to eat and how to train, while continuing to steer you away from snake-oil and quick fixes.
When I first read this book, I messaged Mike and said, "You know what you have here, don't you? This isn't just a book, this is an entire course."
He did know that, and in fact told me that much of the material in Lean Minded is the same as what he has taught to his private coaching clients or offered in online multi-media formats. That's what makes Lean Minded a great value – you get all the same information Mike could charge hundreds of dollars for the price of a paperback or ebook.
The book is in fact, laid out as a 50-day curriculum. You may want to go through it slowly, taking in one lesson per day, or you could read this cover to cover all at once or in a few sittings. Either way, the short chapters (usually one to three pages) make this an easy read.
At only 110 pages, the book is brief, but densely-packed with tips and tools, and zero filler. It's divided into three sections: Part 1: Mindset. Part 2: Better Habits For Fat Loss. Part 3: Goal Setting Mastery and Goal-Crushing Action.
Within these categories, a lot of territory is covered. That's by design, because right from the start Mike explains that body and health transformation can only be achieved using a multi-faceted approach.
Some of the specific topics in the daily lessons include:
Building confidence, excuse-proofing, mastering self-talk, getting back on track, delaying gratification, taking action, doing the hard things, getting out of your comfort zone, developing grit, cultivating a growth mindset, achieving mastery, reframing circumstances, avoiding mental traps, using the right kind of motivation, practicing mindfulness, building awareness, understanding emotional triggers, beating procrastination, improving self-control, handling temptation, creating a success environment, setting goals effectively, making habits, breaking habits and much more.
As you read about each topic, you see it has been impressively researched. Mike has invested a lot of time studying psychology and mindset literature – and he translates the original science into simple, understandable layperson terms, always telling you how to use it in a practical way.
Lean Minded is interactive from start to finish, asking you to think and answer many important questions, and each chapter ends with an action step. This makes the book even more practical.
Mike writes with empathy and offers a flexible approach to honor and accommodate personal preferences and unique lifestyles. As you read, you'll see that he understands your struggles – you may be busy, stressed, confused, and you may have tried sincerely before, but haven't succeeded yet. At the same time, he's also honest about harsh truths. When you need to be pushed, he'll push you. When something is going to be difficult or a behavior is non-negotiable, he says so.
If you're following any sensible diet, the advice in Lean Minded will not conflict with what you're currently doing, it will complement and enhance it. It will help you follow the program you already have better, and make it work better, by helping you master your psychology.
This is not a diet plan and it's not your typical weight loss book. Mike does not impose a long list of rules on you, he offers guidelines and coaching. Eating advice is given, and includes tips on meal prep, grocery shopping, healthy snacking, easy ways to hit protein and veggie intake goals, and more, but it's mostly about mindset; there are very few nutrition prescriptions and no restrictions given.
As Mike summarized it, "Fat loss isn't about eliminating categories of foods or eating particular ones. It's about re-wiring your brain while developing solid, repeatable habits in a way that complements, not dominates your life."
Lean Minded by Mike Howard is available in paperback and kindle ebook at Amazon: amzn.to/3jL134T
-Review By Tom Venuto
Disclosure: Burn the Fat Blog posts may use affiliate links to third-party websites and online stores, including Amazon, and may earn a commission if products or books are purchased. This helps support our work and cover costs of publishing this blog. We never link to or recommend products we haven't used or books we haven't read and fully endorse. However, always do your own due diligence if purchasing from a third party merchant on the internet.
Subscribe to the Burn the Fat weekly newsletter and get my ebook, "The 20 Best Fat-Burning, Muscle-Building Recipes Of All Time" FREE!
Your email is safe with me!