This post contains affiliate links to products we use and recommend
A traditional mug cake really is cake. It's a dessert with lots of sugar and fat. It's not unusual for one of those treats to have 500 to 600 calories. Yikes! Not healthy. Not helpful for fat loss. My mission here with our apple pie protein mug cake recipe was to cut calories at least in half, with more nutritional value, while giving you great fat loss-friendly macros, without any compromise in taste.
Once again, mission accomplished! The apple pie protein mug cake has only 263 calories, yet it has a full meal's-worth of protein (35 grams per mug cake).
The high protein count comes mainly from the vanilla whey, which contains 24 grams of protein per serving. (Usually 31 grams of weight per scoop or approximately 1/3 cup). The rest of the protein is from egg whites, greek yogurt, and there's even a little in the flour. All those ingredients combined get you a full meal worth of quality protein (which you rarely see in a snack or dessert).
A few companies make apple pie or apple cinnamon flavored whey. If you can find it, that would probably taste great. But vanilla works nicely, and is more widely available.
I've tried a few different flours and even combining various types and the taste is still similar. If you don't have oat flour on hand (one of my favorites), all-purpose flour works fine. (Oat flour is widely available at health food stores, and on at Amazon as well. Arrowhead Mills and Bob's Red Mill are popular brands).
The apple flavor comes from the applesauce (which by the way is a one for one fat alternative when you are baking light and wanting to save on calories). Add cinnamon to your liking. I usually use 1/2 a teaspoon (at least 1/4 teaspoon recommended), reserving a little more for sprinkling on top.
For a while I made these without whole fruit, but I was curious what these might be like with finely diced fresh apple chunks (also sprinkled with cinnamon), so I finally tried it. The mug cake is great without fresh apples, but including them is an improvement! It adds moisture and crunch, plus we can can legit say "apple pie" in the name.
You can avoid calorie-dense refined sugar by using any non-nutritive sweetener you prefer, such as Stevia, Truvia, and so on). A few packets go in the batter and then you can sprinkle a little more on top if you like, for sweetness or presentation. Feel free to adjust the amount to your own tastes.
Be sure not to overcook as you don't want it to dry out completely, especially if you want this "gooey" version of the mug cake.
What if you don't want it gooey? What if you want the whole thing solid like regular cake or a muffin? No problem. Simply omit one ingredient – the Greek yogurt. It's the yogurt that helps keep the bottom moist and gooey molten.
When you leave out the yogurt, unless you undercook it, the finished product will be mostly solidified and dry, yet with a lightly-moist spongy cake consistency from top to bottom.
Don't forget that since you're using baking powder, the cake will rise up in the mug in the microwave, and if your mug is too small, it may rise over the top and spill over the edges. That's why I like to use a nice big 18 oz mug).
You can eat this with a fork right out of the mug, or if you want the gooey stuff on top (much better), flip the mug upside down over a plate or ramekin before serving. (Makes for nice presentation too). Then what was the gooey bottom will now be your gooey top, almost as if you had put frosting on it.
Sprinkle some cinnamon and if you choose, additional sweetener on top, and then enjoy every bite of this apple pie protein mug cake recipe.
Oh, and in case your're wondering: Are microwave ovens safe? (what science says)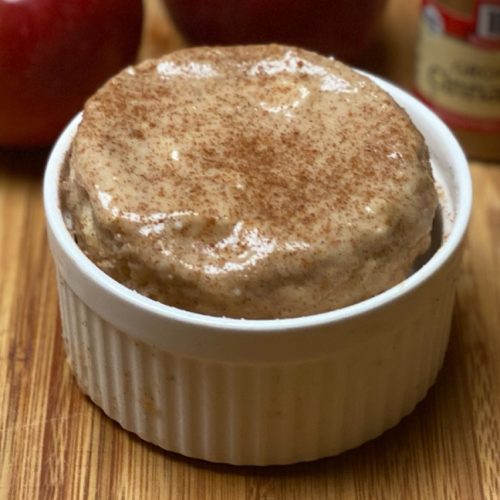 Apple Pie High-Protein Mug Cake
All it takes is 60-seconds in the microwave to whip up this scrumptious mugcake with a whopping 35 grams of protein! Recipe from Tom Venuto's Burn the Fat, Feed the Muscle Blog (www.BurnTheFatBlog.com)
Print
Pin
Rate
Ingredients
17

g

Oat flour

(3 Tbsp)

31

g

Whey protein vanilla

(1/3 cup)

60

g

Applesauce, unsweetened

(1/4 cup)

24

g

Diced apple

14

g

Greek yogurt, nonfat, plain

(1 Tbsp)

60

g

Egg whites, liquid

(2 Lg whites)

1/8

tsp

Salt

1/4

tsp

Baking Powder

1/2

tsp

Cinnamon

3

Packets

Noncaloric sweetener

(Stevia, Truvia, etc)
Instructions
Put dry ingredients in a small bowl or pyrex cup and combine thoroughly.

Add the wet ingredients and mix well with a fork or spoon.

Coat the inside of a large mug / coffee cup with non stick spray.

Pour the batter into the greased mug.

Microwave on high for about 60 seconds. It's normal for the cake to rise up while cooking, then settle back down (so use a large mug).

When it's done, the top and edges will be set like cake, but the bottom will still be gooey.

Let it sit for a minute or two to cool.

Eat right out of the mug or (much better), flip the cake over into a ramekin (or plate/bowl) if you want it gooey-side up.

Sprinkle more cinnamon on top, along with more sweetener (optional), and enjoy your apple pie protein mug cake!
Nutrition
Serving:
1
mug cake
|
Calories:
263
kcal
|
Carbohydrates:
27.1
g
|
Protein:
35.2
g
|
Fat:
2.9
g
Yes – it's true. I am working on a Burn the Fat, Feed the Muscle recipe book. In the meantime, keep checking back every week here at Burn the Fat Blog where I'll share some of my most popular recipes. The ones that get the most feedback and highest ratings will be most likely to make it into the print book!
You can also join us now in the Burn The Fat member's only area and get instant access to the entire collection of recipes so far (170+), as well as the Burn the Fat Meal planner software (which I use to create daily meal plans and perfect my recipe macros) at: www.BurnTheFatInnerCircle.com
Until next time,
-Tom Venuto,
Author, Burn the Fat, Feed the Muscle
PS. Leave a comment below and let me know what you think.  Share pictures of yours on social media with #burnthefatrecipes #feedthemuscle or #burnthefatfeedthemuscle and tag me #TomVenuto
Find me (Tom Venuto) on instagram and see new recipes there first at:  www.Instagram.com/tomvenuto
PPS. Missed last week's recipe? Check out Burn the Fat, Feed the Muscle High Protein Banana Bread
Disclosure: Burn the Fat Blog posts may use affiliate links to third-party websites and online stores, including Amazon, and may earn a commission if products or books are purchased, at no cost to you. We never link to or recommend products we haven't used and fully endorse. However, always do your own due diligence if purchasing from a third party merchant on the internet.
If you enjoyed this post, subscribe for weekly updates – free!
Your email is safe with me!