My mission was to create a "simple" fajita recipe. I wanted quick prep and cooking time, with a simple seasoning (but still home-made), and easy cooking, which meant to me one skillet fajitas.
Of course, if you serve this with rice, you'll need more than one pot, unless you have leftover rice. But the vegetables and chicken are made in one skillet. (I use my large cast iron). So if you serve this fajita meal alone or with leftover rice or on a tortilla, then this is indeed a legit one pot recipe.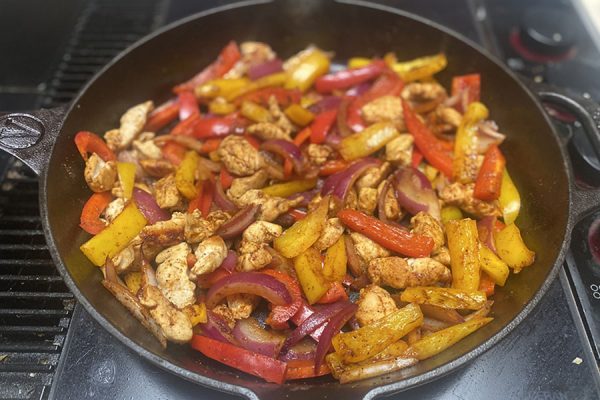 Many fajita seasonings contain multiple ingredients, as many as 9 or 10. For simple one skillet fajitas, I used only 3. Plus salt and pepper for 5 total). This is so simple you can make single batches in no time. If you prefer, once you've tested one batch and confirmed that you like it, you can scale up. Make your homemade fajita seasoning in bulk and store it in an air tight spice jar. If you like more classic fajita seasoning, it also usually includes onion powder, garlic powder, sometimes sugar. For extra heat, add a pinch of cayenne pepper. Some variations include oregano too.
I was surprised at how with only 3 primary ingredients – chili powder, cumin and paprika it gave full-on fajita flavors. It cut down on prep time too. I also kept it simple by using the same amount of each (1 teaspoon), which is easy to remember. Make a note that traditional fajita seasoning usually has more chili powder than cumin or paprika. Scale it up a bit if you like. I simply didn't want it to get too spicy-hot. The chili powder is what makes this moderately spicy.
If you don't like spicy food at all, this version of one skillet fajitas might not be for you. (Or create a customized fajita seasoning with less chili powder and or more of other ingredients). On the other hand, if you want it really hot, add the cayenne powder. A great thing about home made seasonings is you control both the heat and the salt.
For veggies, this uses one yellow bell pepper and one red bell pepper. You could easily use a green one as well, or even scale up to 3 bell peppers to boost the fibrous carb amount and total food volume. I understand that traditional fajitas usually use white (or yellow) onions, but I sometimes make this with red onion as well. Any type works.
For protein, I chose chicken breast because it's leaner than beef and that keeps the protein high as well. But this would be tasty with beef as well. If you want even more protein per serving, feel free to increase the chicken to 24 ounces. That would bump the protein from 33g to 40g. Also don't forget, a single whole-wheat tortilla can add another 4 to 6 grams of plant-based protein.
We also keep calories low by limiting the oil. Did you ever notice how greasy restaurant fajitas are? It's because they drown them in oil, increasing the calories even when you don't add high calorie toppings. I even see homemade fajita recipes that call for 2 tablespoons of oil. You just don't need it. I usually use only two teaspoons, just enough to create a non stick surface, and you can even get away with 1 teaspoon or only a coating if you choose. In a well-seasoned cast iron, it's not going to stick.
And of course you keep calories low by not using high calorie toppings like sour cream, guacamole and cheese. Remember, these are Burn the Fat, Feed the Muscle one skillet fajitas!  These are not the calorie bombs you get when you eat in restaurants without discretion.
If you do have some calories to spare, when making home-made fajitas, use low or non fat sour cream and low or non fat cheese. But remember, when you serve fajitas with tortillas or rice and you also use high calorie toppings, the calories may get too high to call it a regular weekly staple meal. The only exception is if you are on a muscle-building phase. Then you actually need 600 to 800 calories per meal to hit your daily target. (At least large men do). In that case, chow down.
If you think about it, lean protein (chicken), vegetables (bell pepper and onions), healthy starchy carb (rice or whole wheat tortilla) with minimal oil and simple seasonings (that have almost no calories) is a perfect physique-friendly, macro-balanced, healthy, Burn the Fat, Feed the Muscle-style meal.
This one skillet fajita recipe is also a versatile because if you're on a low calorie diet, which may also mean a low carb diet, you can simply eat the chicken and vegetables alone. It will only give you 240 calories per serving. (Or split this batch into into 3 larger servings for a pretty big pile of chicken and veggies which still has only 320 calories and 44.8 grams of protein).
A regular single serving is not many calories, so unless you're on an extremely calorie-restricted fat loss diet, don't fear serving this with the starchy carbs. Rice, especially brown rice, is nutrient dense, and 100% wheat or whole grain tortillas are widely available. You could also use wraps, which are also available in 100% whole grain varieties even in regular grocery stores. There are reduced carb (which are lower calorie) varieties available as well.
Tip: I know tortillas are traditional for fajitas and wraps are different than tortillas, but you might be able to save calories with some brands of wraps instead of tortillas. The popular Mission brand 100% whole wheat tortilla has 130 calories. Ezekiel sprouted grain tortillas are quite nutritious but contain 150 calories. Tumaro's "carb wise" whole wheat wraps on the other hand, have only 60 calories.
Here are the macros for one serving, wrapped, if you use a 130-calorie whole wheat tortilla:
Calories: 370
Protein: 37.6g
Carb: 33g
Fat: 9.5g
With 2/3 cup of cooked long grain brown rice, the macros look like this:
Calories: 385
Protein: 36.6g
Carbs: 41.6g
Fat: 7.6g
There are creative ways you could portion and serve this to get the exact calories and macros you want. It may be easier to fine tune macros when serving with rice, especially if you have the appetite to eat two wrapped fajitas (two tortillas). That would be 740 calories! Suitable for a bodybuilder on a muscle building phase, but too much for most fat loss programs. Using reduced calorie wraps could bring that all the way down to 560 calories for two wrapped fajitas, which could squeeze into many people's fat loss programs.
As an active man with a fairly high calorie budget, I don't worry too much about whether Im getting 500 calories or 700 calories, unless I'm on a stricter fat loss program in which case I must be more mindful of 200 calorie discrepancies. I simply enjoy the food and eat until I feel satisfied, not stuffed.
I think the biggest lesson here is that when you eat fajitas, especially at the restaurant, given the hidden calories (oil and so on), and the toppings, can you see how easy it would be for one meal to hit 800 calories, and even 1000 to 1200 or more? If you budget that for a treat night within a weekly calorie deficit, great! But if you eat meals like that routinely, and aren't tracking calories carefully, it won't help fat loss efforts. And don't forget that bowl of corn tortilla chips the server brings you as an appetizer. Do you dip into those too? Any calories in your drinks?
I call this batch of home made fajitas 4 servings, but FYI, you can only fit so much filling into one rolled up tortilla, so if you're looking for exacting macros, you might be eating some of the filling separately (or else you're reaching for a second tortilla which might not have been in your macro plan). When serving over rice, this is not an issue.
As a finishing touch, if you like cilantro, chop some up and sprinkle on top. Maybe sprinkle some lime juice on top, if you like, as well.
Not only is this recipe simple, it's fast. You can whip this up in less than 25 minutes, even if you are a slow vegetable and chicken chopper. If you use as many bell peppers and onions as I do, a time-saving hack is to always chop up extra and keep in the fridge. Then your prep time is even less.
-Tom Venuto, Author of, Burn the Fat, Feed the Muscle (BFFM)
Author, The BFFM Guide To Flexible Meal Planning For Fat Loss
Founder, Burn the Fat Inner Circle
To start making meal plans with Burn the Fat Meal Planner software, CLICK HERE (members only)
To browse hundreds of Burn the Fat, Feed the Muscle recipes, CLICK HERE (members only)
Not a Burn The Fat Inner Circle member yet? To learn more about the inner circle, and get access to hundreds of recipes and the Burn the Fat Meal Planner Software, CLICK HERE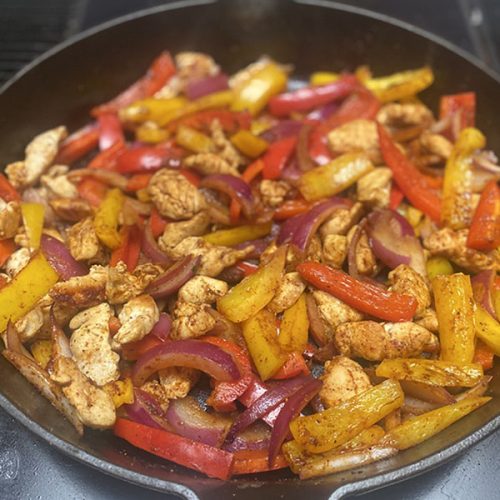 Simple One Skillet Chicken Fajitas
Introducing leaner, healthier fajitas, Burn the Fat, Feed the Muscle style! Recipe from Tom Venuto's Burn the Fat, Feed the Muscle Blog (www.BurnTheFatBlog.com)
Print
Pin
Rate
Ingredients
567

g

Boneless skinless chicken breast

(20 oz)

1

Red bell pepper

1

Yellow bell pepper

198

g

onion, yellow or red

(7 oz)

2

tsp

olive oil

1

tsp

chili powder

1

tsp

cumin

1

tsp

paprika (smoked or regular)

1/2

tsp

black pepper

(or to taste)

1/2

tsp

salt

(or to taste)
Nutrition
Calories:
240
kcal
|
Carbohydrates:
12
g
|
Protein:
33.6
g
|
Fat:
6.5
g
---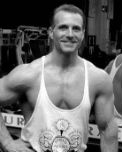 About Tom Venuto
Tom Venuto is a natural bodybuilding and fat loss expert. He is also a recipe creator specializing in fat-burning, muscle-building cooking. Tom is a former competitive bodybuilder and today works as a full-time fitness coach, writer, blogger, and author. In his spare time, he is an avid outdoor enthusiast and backpacker. His book, Burn The Fat, Feed The Muscle is an international bestseller, first as an ebook and now as a hardcover and audiobook. The Body Fat Solution, Tom's book about emotional eating and long-term weight maintenance, was an Oprah Magazine and Men's Fitness Magazine pick. Tom is also the founder of Burn The Fat Inner Circle – a fitness support community with over 52,000 members worldwide since 2006. Click here for membership details
---
If you enjoyed this post, subscribe for weekly updates – free!
Your email is safe with me!