This post contains affiliate links to kitchen tools and ingredients we use and recommend
Traditional banana bread goes over the top with sugar and butter – often a full cup of sugar and eight tablespoons of butter. That's not healthy, and sure doesn't make fat loss any easier. Burn the Fat Feed the Muscle protein banana bread is lower in calories, higher in protein, and uses more nutritious ingredients without compromising on taste or texture one bit.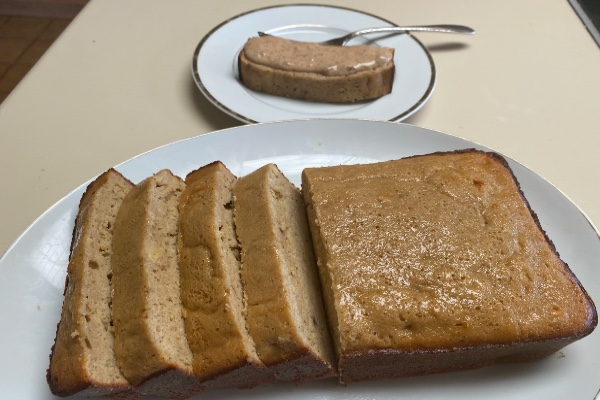 Be certain to use ripe (or even over-ripe) bananas. This is one instruction you don't disobey. Ripe bananas mash better and they're sweeter. They'll also give the bread more moisture – and this recipe is all about the moist type of banana bread. What does ripe mean? Simply, the bananas are starting to get soft and there are brown spots on the skin.
Bananas of course, are naturally sweet. Maple syrup adds even more sweetness and flavor, and keeps the bread moist. My standard recipe uses regular maple syrup, but I have substituted sugar-free (light) maple syrup and I can confirm the recipe still works. Any taste compromise is minimal, but the calorie savings is substantial, bringing a slice down to only 139 calories (from an already low 159).
If you want it even sweeter (I did), add a non-caloric sweetener of your choice. I've been experimenting with different types and this time I tried the (crystalline, spoonable) Truvia, which is a mix of erythritol and stevia. I used one tablespoon. Adjust the amount, or omit completely based on your preference.
Oat flour is readily available in health food stores and even in some regular supermarkets. Bob's Red Mill and Arrowhead Mills are popular brands. (You can order online at Amazon if you can't find it at your local stores). However, I'm fairly certain that all-purpose flour would be a fine substitute with the same taste.
Baking time can depend on the oven so don't forget to check for doneness a little prior to the typical 40 minutes. At a glance, if the top edges are browning, you're getting close.
To check for doneness, stick a toothpick in near the center, and if it's done, when you pull it out it should be clean or almost clean. If there are a few crumbs on it, that's okay, but if comes out with soft batter on it, it's not done yet. Leave it in for another 5 minutes, then check again.
You can bake your protein banana bread in a regular ole' meatloaf pan (9″ X 5″), but keep in mind that dark non-stick pans tend to absorb oven heat faster compared to the silver aluminum pans. This means the dark pans cook faster, so check for doneness early if you're using a dark pan.
What I noticed is that in the dark pan, the edges and bottom of the loaf (that are in contact with the pan) get dark brown and are more likely to burn. In the light aluminum pan, the loaf comes out light golden brown on the bottom and edges – arguably more attractive, but I suppose a matter of personal preference.
Bakers say that aluminum pans with the dull finish are ideal because they conduct heat more evenly. I made my first few loaves with the dark (nonstick meatloaf) pan and they came out fine, but indeed dark brown on the edges (as you can see in the photos). I later switched to aluminum (This one: Nordic Ware Natural loaf pan: amzn.to/3joBWF8)
If you want the especially moist kind of banana bread, not only should you avoid over-baking, but also do not skip or skimp on the yogurt. The yogurt is for moisture (as well as a bit more protein… and in case you haven't figured it out yet… I'm all about the BRO-tein!).
Tips for when it's done: Remove the bread from the pan soon after you take it out of the oven. This will prevent it from having a soggy bottom. Let it cool at room temperature – the loaf will solidify more and slice more nicely. Banana bread should keep fresh for at least 3 days at room temperature. If you prefer, after it has cooled to room temp, put it in the refrigerator in plastic wrap or an airtight container.
While a lot of baked goods are best right out of the oven, I find this protein banana bread is even better the next day. If you follow the recipe verbatim, on the second day, the top of the loaf glistens and is slightly sticky – it will not have the dry texture of a regular loaf of bread. While there is the drier more bread-like version, and the moister, sweeter version and each person has their own favorite, personally I prefer the latter.
If you don't have a hungry crowd to finish it off within several days, you can also freeze it (again, after it has cooled). Wrap it in plastic wrap and then put it in an airtight freezer bag. You can also slice the loaf and then freeze it. Be sure to wrap each slice individually in plastic. Your frozen bread is best used within about three months.
When banana bread is really moist, it's enjoyable with nothing on it. But if you want to make it really special, slather on some "frosting." It even bumps up the protein more… because I use protein powder, naturally ("Feed the Muscle style" frosting … well of course it has more protein).
Almond maple vanilla protein frosting (two servings):
1/2 scoop (15g) vanilla whey protein (or casein)
1 Tbsp maple syrup
2 Tbsp almond butter
1/4 cup plain nonfat Greek yogurt
1/4 tsp vanilla extract
And here's the protein banana bread recipe: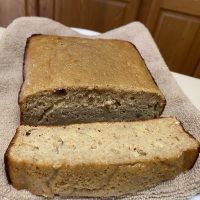 Protein Lover's Extra-Moist Banana Bread
If you like moist banana bread, and you like extra protein (even in bread), you'll love this banana bread. Recipe from Tom Venuto's Burn the Fat, Feed the Muscle Blog (www.BurnTheFatBlog.com)
Print
Pin
Rate
Ingredients
135

g

Oat flour

(1.5 cups)

93

g

Banana whey protein powder

(1 cup)

360

g

Bananas, ripe

(3 med / 7")

1/4

cup

Maple syrup

113

g

Greek yogurt, plain, nonfat

(1/2 cup)

2

Whole eggs, large

1

tsp

Cinnamon

1

Tbsp

Truvia Naturally Sweet

1/2

tsp

Salt

1

tsp

Baking soda
Instructions
Combine dry ingredients in a large mixing bowl

In a second bowl, mash bananas thorougly, then add other liquid ingredients and whisk together

Pour the wet ingredients into the dry and stir to create the batter

Pour the batter into 9 X 5 baking pan (aka meatloaf pan), coated with nonstick spray

Bake at 350 for 40 minutes. Insert a toothpick in center and if it comes out mostly clean, it's done (it's usually close to done when edges are browning). If not, cook another 5 minutes and re-check

Let it sit to cool completely to room temperature before cutting and serving (or enjoy the next day)

Stays fresh at room temp for about 3-4 days, or refrigerate. Also freezable (best used within about 3 months…but…yeah… lol.. try to keep you and your family from destroying this whole loaf in a day or two)
Nutrition
Serving:
1
slice
|
Calories:
159
kcal
|
Carbohydrates:
24.4
g
|
Protein:
11.8
g
|
Fat:
1.2
g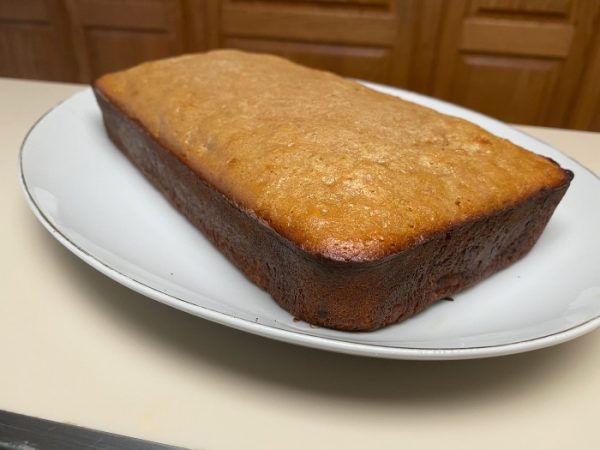 This protein banana bread is versatile; It's a great take-it-on-the-run snack, it's sweet enough to call dessert, and just two slices is almost enough to call it a meal – with a muscle-building worthy serving of protein.
Enjoy this one, share any modifications you make in the comments below, and share pictures of yours on social media with #burnthefatrecipes #feedthemuscle or #burnthefatfeedthemuscle hashtag if you make it.
Yes, I will eventually publish a Burn the Fat, Feed the Muscle recipe book. In the meantime, join us in the member's only area and get instant access to the entire collection of recipes (170+), AND Burn the Fat Meal planner software at:
Until next time,
-Tom Venuto,
Founder, Burn the Fat Inner Circle
Author, Burn the Fat, Feed the Muscle
PS. Please leave a comment below (especially if you've tried the recipe). The more feedback I get, the more recipes I'll keep posting!
Disclosure: Burn the Fat Blog posts may use affiliate links to third-party websites and online stores, including Amazon, and may earn a commission if products or books are purchased, at no cost to you. We never link to products we haven't used or books we haven't read and fully recommend and endorse. However, always do your own due diligence if purchasing from a third party merchant on the internet.
If you enjoyed this post, subscribe for weekly updates – free!
Your email is safe with me!