Everyone knows that women have it harder than men in the fat burning department to begin with… and if you're a mom, chasing screaming little ones around the house all day long, you might as well forgo the thought of getting yourself in shape, at least until they're all out of the nest… and if you've just given birth recently, well, just forget about your figure for a loonnnggg time – 9 months to grow a baby, another 9 months just to get your body back to normal… if everything ever "snaps" back at all…. right? Not so fast! In celebration of mothers day, I present to you, some of the "super moms" who have proven that none of these myths about motherhood and lack of fitness are actually true…
But first, Happy Mother's Day to ALL Burn the Fat Blog-reading moms, all across the world! It's a tough job, and well, we wouldn't be here if it weren't for YOU!
We could fill pages and pages with our Burn the Fat "mommy" success stories and I'd like to especially congratulate ALL the Burn the Fat moms and wish you all an extra-special Happy Mother's day.
What you will see below in this short post are just a handful of the women's winners, finalists and success stories from our most recent Burn the Fat 49-day body transformation contests.
Looking at the before and after photos below, you'd be amazed even if these results took 4-6 months, but ALL of these extraordinary body transformations took place over a short period of only 7 weeks (49 days)… and yes, they are ALL Moms!
Rosine Simpson – Super Mom Gets "ripped!"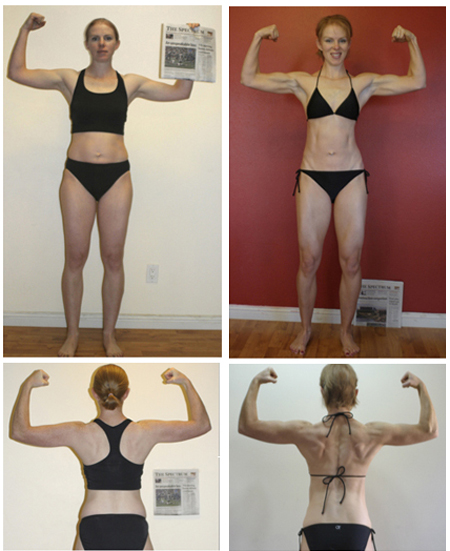 Rosine Simpson dropped what may seem like a modest amount of weight and body fat (down from 22% body fat to 18.7%). However, her before and after is stunning! The amount of new muscle definition is amazing! (the skinfold caliper test showed only 2 millimeters on the hip-bone pinch, so Rosine literally had almost no fat left there!
Rosine is a new mom, having given birth to her fourth child just 3.5 months prior to the Burn the Fat Challenge. Despite struggling with joint hypermobilty issues and painful sacroiliac joints following her last pregnancy, Rosine pressed her way onward right to the top 10 winner's circle.
"I've learned more confidence, faith, and hope comes to us when we measure personal progress instead of comparing ourselves to others. A greater feeling of freedom and peace came as I decided to take more responsibility for my health. There is no magic solution for burning off excess fluff, building a stronger physique, or building a stronger mind. It just takes a proven plan, determination to succeed, a positive attitude and the endurance to ride out the highs AND lows of our experiences."
Ali Finlay Of Australia Cuts Her Body Fat By 7.5%
and Drops 6.5 Inches Off Her Waist!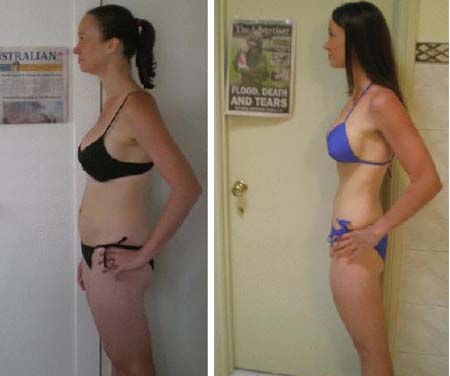 Ali Finlay gave birth to a baby girl just one month before the holiday challenge. An avid exerciser, Ali was already back to her pre-pregnancy weight by the start of the challenge. Her goal was to to end the challenge in better shape than before her pregnancy.
Using more weight training than she ever had before during the 49-day challenge, Ali dropped another 11 pounds and decreased her body fat percentage by 7.5%, while increasing her lean body mass by a pound and a half. Her waist measurement came down 6.5 inches and her hips came down 5 inches. Ali told us:
"During my pregnancy people told me, "it takes 40 weeks to put on the weight and it takes 40 weeks to take it off. I started the competition 4.5 weeks after birth and was already at my pre-pregnancy weight. My challenge was to be in my best shape ever. I've looked at so many before and after photos wondering if it really were possible. Lessons I learned along the way: I CAN transform myself in 49 days."
Ali's success strategies:
1) believing that change is possible in just 49 days
2) having powerful reasons to change
3) focusing on the now; one day, one workout, one meal at a time
4) reminding herself "it's all worth it"
5) it's not all or nothing
6) it's simple, but not easy
7) roll with the punches.
Hannah Mauck Cut 6% body fat, shrunk her hips and thighs
and flattened her belly in 7 weeks!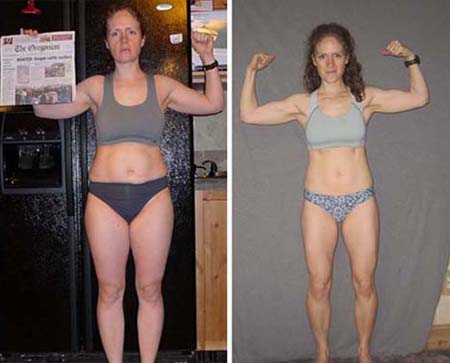 I could say a lot about Hannah's body transformation, but her photos speak for themselves – even the look on her face before and after says it all. Hannah cut 6% body fat and shed 12.2 lbs, almost all of it pure fat. By the way, did you know that on average, it takes most people 12 weeks to lose 6% in body fat percentage? She did it in 7 weeks.
Although Hannah's body comp numbers show pure fat loss and not muscle gain, she sure looks more muscular doesn't she? She has stripped away literally all of the fat to reveal beautiful muscle underneath, great overall body symmetry and an all-around TIGHT and TONED body! Now, the next time someone tells you muscles can't be feminine, you show them Hannah, and then show them the free weights!
Oh, did I mention… Hannah is the mother of three children under the age of five, including a one-year old? I'm wondering how many moms feel motivated now?


Linda McVetty of Canada Slashed her body fat 8.6%
and gained 2.1 lbs of muscle in 49 days!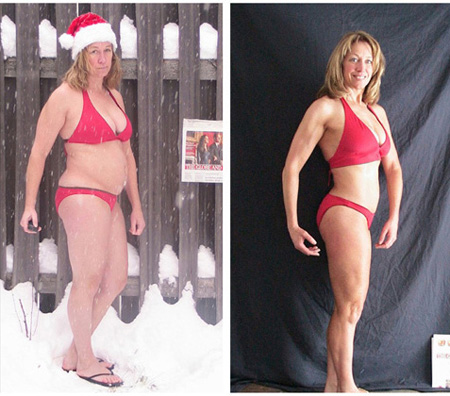 Linda shredded 17 excess pounds, slashed her body fat 8.6% (down from 27.9% to 19.3%) added on 2.1 pounds of lean body mass, and flattened her belly – all in just 49 days.
Linda is a person who understands the importance of body composition versus body weight. Linda wrote:
"Becoming just a smaller version of myself just wasn't good enough anymore. This time I was focusing on building and preserving lean muscle."
THAT right there is the pure essence of Burn the Fat, Feed the Muscle – keen insight and it paid off for Linda! (she WON the Holiday 2010 Burn the Fat challenge!)
A mom with a 6-year old daughter, her goal now is a triathlon… or maybe even a figure competition. I think either one is within her grasp!
Oh, and about the before snapshot, why the Santa cap and the red bikini out in the snow? Well, this was the Burn the Fat holiday (winter) challenge and Linda was showing some real holiday spirit!
Happy Mother's Day to our Burn the Fat Champs! We salute you and congratulate you for your amazing achievements and we thank you for inspiring other moms all around the world!
And again, happy Mother's Day to all our Burn the Fat Blog readers!
Keep on Burning!
– Tom Venuto
www.BurnTheFat.com
PS. Learn more about the 49-Day Body Transformation For Women: http://www.burnthefat.com/49_day_body_transformation_for_women.html
PS. Oh, and of course, Happy Mother's Day TO MY MOM! (Because even if not another soul on Earth reads my web page, I know she will! Mom's are the best, aren't they!)
Images and content copyright Burn the Fat Blog. No reproduction permitted.
If you enjoyed this post, subscribe for weekly updates – free!
Your email is safe with me!