It's hard to believe that these before and after pictures were taken only 49 days apart! It's even more amazing when you hear that Cynthia is a mom of 5 with one of the busiest lifestyles you can imagine. With a newborn to take care of, homeschooling two of the kids and taking care of the household, how did she have the time (or energy) to get in such incredible shape… and do it so fast?  She explains, in her own words, below. But in the end, she boils it all down to one thing. Read this inspiring Burn the Fat "mom comeback" success story and find out!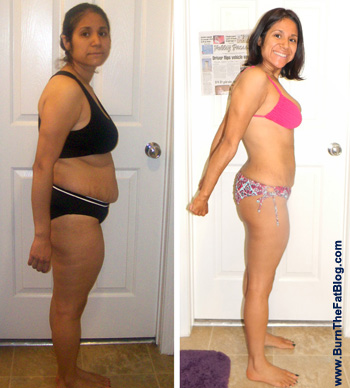 Wow! I can't believe how fat I was! Having to take a picture really put into perspective how overweight and unhealthy my body was.
Now looking at the after pictures, it's amazing to see what changes you can make to your body in just 49 days by following the Burn The Fat, Feed the Muscle program!
I lost 14 pounds of scale weight, but also built some nice muscle and went from a pant size 7/9 to an astonishing size 1!  My husband and children really can't thank Tom enough for his no-bull, healthy, natural, clear-cut program, that has transformed my life forever!
Before I started Burn the Fat, Feed the Muscle, I had just given birth 4 months prior and was feeling terrible. I was in and out of the doctor's office with thyroid and digestive issues, and my hair was even falling out!  They drew blood, ordered ultrasounds, but the doctor (and I) couldn't figure out what was going on with me and I was worried, so I decided I needed to get healthier before something worse happened to me (and especially to the newborn I was nursing).
So I had this "brilliant" plan to Google all the latest diets.  Wow! There were a ton of them, all claiming I could be healthier and look as hot as the girl on the bottle of their "fat melting pills." And of course, they all said not to worry… their product was "all natural" and "completely safe."  Yeah right!
After seeing all the other ads online, I was skeptical, but after researching Tom Venuto and the Burn the Fat, Feed the Muscle program, I could not find one bad review on the entire Internet! So I decided to try it. I had no idea at the time I'd be entering Tom's body transformation contest and that would soon lead me to the best me ever (and winning a trip to Maui!)
The key to my success was reading the entire book and actually following what Tom said (not just reading – you don't get a better body from just reading!) There's a ton of information in Tom's book, but the information was so easy to understand, and the tools in Tom's "Inner Circle" support website were priceless for staying on track and getting questions answered. I knew how much to eat, what to eat and how to cook it. I learned that it's ok for girls to have muscle and what workouts I could use to actually build muscle. Never before in my life have I had muscle and wow, do I love it now!
I learned that I need to eat to lose weight. It sounds so crazy if all you've done is "diet" all your life and I didn't believe it at first, but now I  "get it" and it's so true – Burn the fat (train) and FEED the muscle (eat!) I made sure not to starve myself or skip any scheduled meals, and the fat came off at almost 2 pounds per week – the exact healthy rate of fat loss I wanted. But this wasn't just about fat loss. I also made sure what I ate was good for my health as well.
Because of this program and this 49-day body transformation challenge, my whole attitude has changed. It's amazing, but I now WANT to eat healthy, because it makes me feel so good, look so good and has kept me out of the doctor's office. This is now my new lifestyle and yes, I'm loving it.
I probably have one of the busiest lifestyles you can imagine. I am a stay-at-home mother of 5 kids all under the age of 8. I home-school two of my children. Despite all this responsibility, I found time to exercise and eat healthy meals, simply by planning my day in advance and looking through all of Tom's healthy recipes in the Burn the Fat Inner Circle (recipe department). If I knew I was going to have to eat out, I made sure there were healthy options for me at the place I chose.
I realized that this is really just a matter of wanting it bad enough and learning to stop making excuses, especially when it comes to making the time for working out. I read some the posts Tom wrote about Hurricane Sandy about how to work out at home because it wasn't possible to go to the gym (or the gyms were closed). He mentioned the workouts he did (in the staircase, with body weight, or even using heavy boxes for weights). I realized I could be creative as well, and do it any time, including letting the kids join the workout.
So I strapped my 2 year old to my back and would do cleaning around the house with him on board. I did squats with my 6-year old on my back, and I walked around the house with my baby in a strap-on carrier. I made sure when I went to the store to park far away, so I had to do more walking, and the list of how I got more day-to-day activity goes on. The bottom line is I creatively managed to fit in training, extra activity and healthy eating with one of the busiest and most stressful lifestyles you can imagine.
How did I do it? For me it was a matter of pure determination to be a better me. And now, just look at the before and after pictures! I want from saggy mom butt to sexy mom butt! Yes it CAN be done – and in a healthy way.
That's it! That' is my Burn the Fat Journey and that is why I felt I deserved to win the Burn the Fat Challenge and the trip to Maui… and I did!
– Cynthia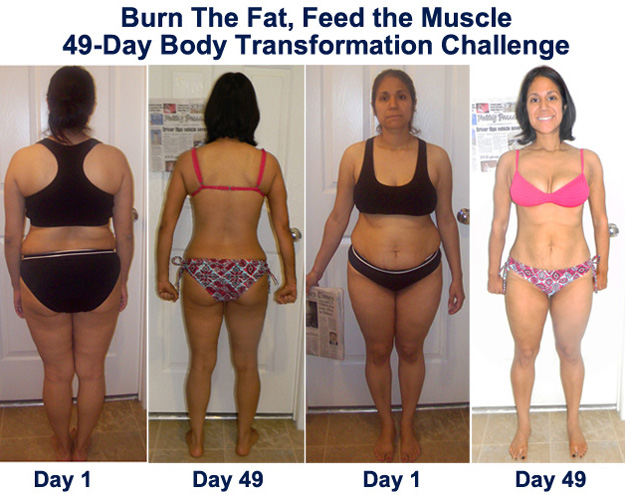 CLICK HERE for Burn the Fat, Feed the Muscle (BFFM): The official fat burning program of the Burn the Fat body transformation challenge
CLICK HERE for the Burn the Fat Inner Circle (BFFM IC): The world's premier fat loss support community for motivation, inspiration and transformation
Note: cynthia's results are not typical. In fact, they are extraordinary. She represents the best results out of all the contestants who entered our Burn the Fat Challenge (our overall winner for the 7th season of the challenge).

Subscribe to the Burn the Fat weekly newsletter and get my ebook, "The 20 Best Fat-Burning, Muscle-Building Recipes Of All Time" FREE!
Your email is safe with me!