Introducing the Burn the Fat, Feed The Muscle cheesy Mexican rice and chicken casserole! Unlike a lot of Mexican restaurant food, this home made recipe is healthy and fits perfectly into macros for a fat-burning or muscle-gaining diet.  The calories stay really low in this recipe by minimizing the oil, using low fat cheese and choosing boneless skinless chicken breast.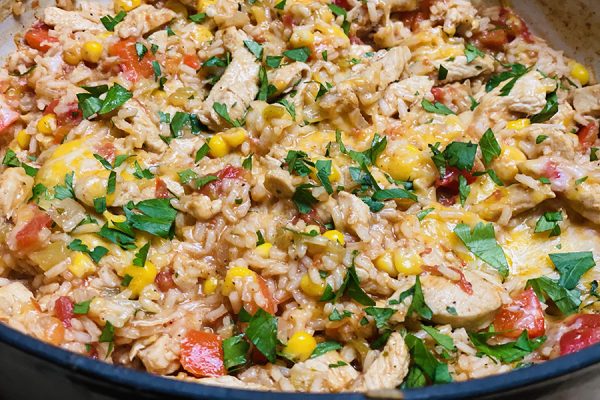 What kind of rice is best for Mexican rice casserole?
The instructions in this recipe call for long grain white rice. You could probably use brown rice, but the cooking time would be much longer. White rice is fast cooking and perfect for one pot stovetop rice cooking. While brown rice may be more nutritious, calorie-for-calorie it makes no different to fat loss whether you use white or brown rice.
The Great Rice Debate: Brown Rice is More Nutritious… But Will Switching From White To Brown Help You Lose More Fat?
Uncooked rice absorbs the water and so it fluffs up to three cups after cooking. If you split this whole batch up into five servings, there's only two-thirds of a cup of the cooked rice in each serving. That gives you only 45 grams of carbs, along with 39 grams of protein. Plus there's only 8 grams of fat. The macros are nicely balanced.
This is the type of recipe that is easy to customize based on your macro needs. If you're a highly active athlete or you're on a muscle-gaining diet, you have room for a lot more calories and a lot more carbs. Therefore, you could scale up the rice portion if you wanted to, You'd simply need to increase the liquid so there's still a 2 to 1 ratio of chicken broth to uncooked rice.  Alternately, of course, you could simply split this batch up into only 4 or even 3 servings.  (It will be filling!)
As listed, this batch splits up into five servings, about the size most people would eat, and would fit into a fat loss diet. That's only 417 calories, and it's a pretty filling serving.  When I make this for myself for meal prep, I usually split the whole batch four ways and then that gives me 521 calories and whopping 48 grams of protein. If I were bulking, I might even split this into only three servings which would be 695 calories.  At that point, I'd probably add more rice though to keep the macros balanced.
All of this stuff is easy to figure out because I use the Burn the Fat Meal planner software. It's not only an amazing tool for meal planning, but I also do all my recipe creation with it. Burn the Fat Meal Planner software is available to all of our members, included with membership at Burn The Fat Inner Circle.
What other ingredients are included in Mexican Cheesy Rice
The protein we use is boneless skinless chicken breast. I used a full 24 ounces in this recipe so that the protein per serving would still remain close to 40 grams, which is a target I like to hit in most of our recipes. The recipe will work fine with anywhere from 16 to 24 ounces, so if your package of chicken is a little less, don't worry. It will taste the same, the protein grams per serving will simply be a little lower.
This would probably be great with a lean cut of beef too, though I haven't tried yet. If you try it, let me know how it came out.
For vegetables I start with lots of onions. A full cup of onions not only is flavorful, it increases the food volume while keeping the calorie density low. (For low calorie recipes and for fat loss programs, I like to use large amounts of vegetables in my casseroles, and then use only  small amounts of starchy carbs like rice).
We also include a small can (4o/113g) of green chili. I used the Ortega fire roasted brand and I picked the mild variety. Feel free to use the hot ones if you like it spicy. The other fibrous veggies are red bell pepper and corn. That makes this casserole really colorful. Corn is a starchy carb, but one cup only adds 120 calories to the whole batch. Tasty and colorful! Frozen corn works great.
Is corn a good carb or a bad carb (Inner circle members area)
The main spice is chipotle chili powder.  This stuff is the bomb! Chipotle chili powder is 100% dried smoked jalapeño. The regular chipotle powder is a spice blend. If you don't have it on hand, regular chili powder is fine, but try the chipotle and you won't go back.  I recommend at least one teaspoon and scale it up if you like it spicier. If you like it super spicy you could also add a pinch of cayenne.
The remaining seasonings include cumin (great stuff!), oregano, and of course salt and pepper to taste.
What kind of cheese is best for Mexican rice?
You can use any kind of cheese you want, but obviously, a Mexican cheese would be perfect. I used Mexican cheddar jack. Many brands have 2% low fat cheeses and if you really want to cut the calories as much as possible, you can use a fat free cheese.
Fat Free cheddar is widely available in most grocery stores. I usually use 2% low fat as a good compromise between flavor and calories. The low fat types of cheese also melt better than fat free cheese.
For a finishing touch, chop up some fresh cilantro and sprinkle it on top as a garnish, and or stir it right into the chicken and rice.
One last word: cookware. You could use any oven-safe pot (or casserole dish or deep skillet with a lid) for this Mexican chicken and rice, but I used my Lodge Dutch oven, which is one of my favorite pieces of cookware.
By the way, it is not mandatory to bake for the final 10 minutes just to melt the cheese. If you prefer, just sprinkle cheese on top and dive in. The oven is optional… but personally, I sure do love that hot, melted, gooey cheese!
This Mexican cheesy rice recipe is fantastic for meal prep, and leftovers taste every bit as good reheated the next day.
Enjoy!
---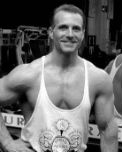 About Tom Venuto, The No-BS Fat Loss Coach
Tom Venuto has been a trusted natural bodybuilding and fat loss expert since 1989. He is also a recipe creator specializing in fat-burning, muscle-building cooking. Tom is a former competitive bodybuilder and today works as a full-time fitness coach, writer, blogger, and author. In his spare time, he is an avid outdoor enthusiast and backpacker. His book, Burn The Fat, Feed The Muscle is an international bestseller, first as an ebook and now as a hardcover and audiobook. The Body Fat Solution, Tom's book about emotional eating and long-term weight maintenance, was an Oprah Magazine and Men's Fitness Magazine pick. Tom is also the founder of Burn The Fat Inner Circle – a fitness support community with over 52,000 members worldwide since 2006. Click here for membership details
---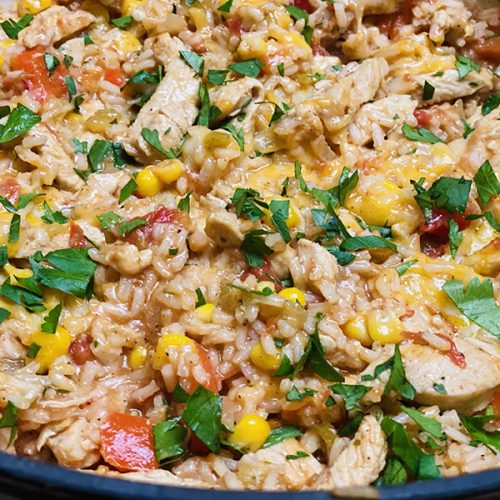 Cheesy Mexican rice and chicken casserole
Introducing cheesy Mexican rice and chicken casserole! Unlike most Mexican restaurant food, this homemade recipe is healthy and fitness perfectly into macros for a fat-burning or muscle-building diet. Recipe from Tom Venuto's Burn the Fat, Feed the Muscle Blog (www.BurnTheFatBlog.com)
Print
Pin
Rate
Ingredients
680

g

boneless skinless chicken breast

(24oz)

1

cup

long grain white rice

(dry/uncooked)

2

tsp

olive oil

3

cloves

fresh garlic, finely minced

(about 1 Tbsp)

160

g

chopped onion

(about 1 cup)

1

large

red bell pepper

(164g)

1

cup

corn, frozen

(136g)

1-1.5

tsp

chipotle chili powder

1

tsp

cumin

1

tsp

oregano

1/2

tsp

salt

(or to taste)

1/2

tsp

pepper

(or to taste)

2

cups

reduced sodium chicken broth

1

can

diced tomatoes

(15.5 oz)

1

small can

diced green chiles, mild

4 oz

1/2

cup

low-fat Mexican cheese or cheddar jack, shredded

2

Tbsp

fresh chopped cilantro

(for garnish and or stir into rice)
Instructions
Chop onion, chop bell pepper, mince garlic, cut chicken into bite size pieces or small strips.

Add 2 tsp olive oil to dutch oven or pot over med-high heat.

Saute onion until it begins to soften, about 3 min.

Add chicken, cook 4-5 minutes or until no longer pink.

Add garlic, chili powder, cumin, oregano, salt, pepper, and stir.

Add uncooked rice, chicken broth, diced tomatoes and green chilies and stir.

Bring to a boil. Cover and reduce heat to medium-low. Simmer about 20 minutes or until most of liquid has been absorbed and rice is cooked.

Sprinkle cheese on top. Optional :Pre heat oven to 375. Sprinkle cheese on top and bake in oven for 6 to 10 minutes or until cheese is melted and gooey.

Optional: garnish with fresh shopped cilantro and or stir into rice
Nutrition
Calories:
417
kcal
|
Carbohydrates:
45.8
g
|
Protein:
38.6
g
|
Fat:
8.3
g
If you enjoyed this post, subscribe for weekly updates – free!
Your email is safe with me!