This post contains affiliate links to kitchen tools we use and recommend
Low calorie mashed potatoes that are creamy and delicious? Is that even possible? If you look up classic mashed potato recipes, you'll see they're made with high-fat, high-calorie ingredients such as butter, whole milk, cream, half and half or sour cream.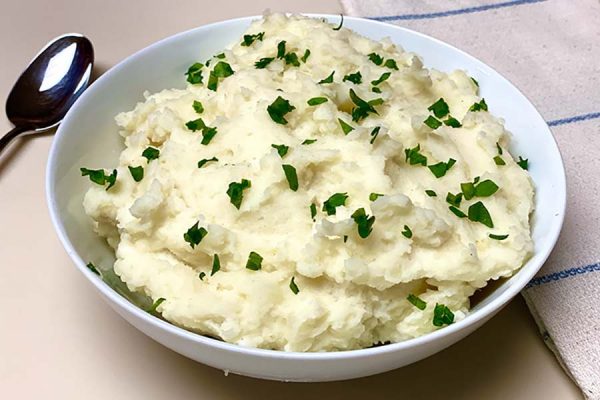 The recipe from one famous chef and cookbook author called for 6 tablespoons of butter, 1/2 cup of sour cream and 1 1/2 cups of whole milk! That isn't even counting the gravy that's often served on top or extras like cheese and bacon!
I analyzed the ingredients of that traditional recipe by putting it into our Burn the Fat Meal Planner software. The batch came out to 2104 calories in total with 350 calories per serving. (That's 350 just for a side dish!) No wonder potatoes get a bad rap! But it's not the potatoes themselves, it's what they are prepared and cooked with.
With a few ingredient tweaks to make it leaner, our "lean and mean" Burn the Fat, Feed The Muscle healthy mashed potatoes logs in at 1030 calories per batch. We divided that into 6 servings which gives you only 171 calories per serving. That's right! Burn the Fat, Feed the Muscle mashed potatoes have HALF the calories!
Even with our lower calorie modifications, you still get a creamy texture and great taste. It may not be quite as rich as fattier versions, but the tradeoff is minimal for the huge calorie-savings. (If you really want to splurge for a special occasion, go ahead and include a small amount of butter in place of an equal amount of the low-fat sour cream).
Most mashed potato recipes call for Russet or Yukon gold potatoes. I know some top chefs say to use Yukon Gold, but I used Russets and they worked great. (Even The Joy Of Cooking says Russets are best for mashing).
I suppose you could use any potato you want, but some chefs suggest avoiding waxy types (like red bliss and fingerling) because they have a low starch content and don't break down or absorb the dairy as well as the starchier varieties, so you might get a gummier texture when you mash them. (On the other hand, I've heard some experienced cooks swear that red potatoes are great for mashed and that you can leave the skin on too, so I may try that one of these days).
The extra large Russets I find at my local grocery stores are usually about 11 to 13 ounces, so I set the ingredients for 3 of them, a total of 36 ounces (1020 grams). This amount of potato mixes with the amount of liquid ingredients used, for a perfect consistency.
Remember that the best way to measure foods (calories and macros) is by weight (ounces or grams). It's worth weighing starchy carbs like potatoes because they are not super low in calorie density like fibrous carbs. It's easier to accidentally over-eat starchy carbs than fibrous carbs (some people even wonder if fibrous carbs can be "unlimited free foods." Weighing food only takes seconds of your prep time and it ensures you don't underestimate your calories and end up with an "unexplained" fat loss plateau.
Also keep in mind that the exact potato to liquid ingredients ratio listed in this recipe makes a perfect smooth and creamy consistency yet still thick. But if you eyeballed 3 potatoes without weighing them and they were only 9 or 10 ounces each (27 to 30 ounces total), with the amount of liquid ingredient here, your mashed potatoes would probably be too mushy. If you don't have one yet, get yourself a good kitchen scale.
The food scale I've been using for years is the OXO Good Grips 11-Pound Stainless Steel Food Scale with Pull-Out Display. (This is our amazon link – it has a 5/5 star review rating).
Here's the solution to healthy low calorie mashed potatoes: First, leave out the butter – you don't need it. You don't even need olive oil which some people consider a healthier replacement – it's still 120 calories per tablespoon. Second, keep the sour cream and milk, but switch to low or non-fat versions. This recipe uses fat-free milk and low-fat sour cream to save calories. To keep a richer flavor, we use low-fat instead of non-fat sour cream, but that's still saving calories compared to the full-fat variety. (Go ahead and use non-fat sour cream if you like).
I've heard more than one of our Burn the Fat Inner Circle members say they used non fat sour cream because they wanted the calories even lower. That's an option, but using at least low fat sour cream makes a big difference in creaminess and taste.
You don't see chicken broth in most of the traditional mashed potato recipes. The reason I use it is because you need a certain amount of liquid to dry ingredients ratio to get the perfect creamy mashed potato consistency. You can use more milk of course, but even fat-free milk has calories. Chicken broth has no calories, plus it adds a little more flavor, which helps in the absence of butter. You could drop the chicken broth, but you'd lose a bit of flavor and you'd then need to stir in more milk. (By the way, chicken broth and stock are not exactly the same thing, but it makes no difference which you use in this recipe).
If you weigh your potatoes, this recipe will come out perfect. But here is a suggestion: mix all the other ingredients first to check the consistency, then add the chicken stock last. Add just add 1/4 cup of the stock first, mash to check how you like the consistency, then add the other 1/4 cup. If you use too much chicken stock and or too little potato, your mashed potatoes might be too liquidy. Remember, if your potatoes are too thick, its easy to add more liquid, but if your potatoes are too liquidy, it's a whole lot harder to make it thicker – you'd have to add some kind of dry ingredient. (One of our members shared this hack: To rescue a batch of watery mashed potatoes, add some instant mashed potatoes).
I used the traditional method of starting the potatoes in cold water, then bringing them to a full boil (takes about 10 minutes from cold to boil). Then I simmered them for at least another 15 minutes with just enough heat so the water still bubbles (medium to medium low). Starting with cold water reduce the chances of uneven cooking where the outside of the potato is overcooked and the inside is still not done (too firm).
The potatoes are ready when you can stick a fork in and they're soft and easily flake apart. If in doubt, boil them a little longer because under-cooked potatoes don't mash as well. When you cut your potatoes, if you try to make the pieces approximately even in size, it helps them all cook evenly. About an inch at the widest part seems to work well. If you cut into larger chunks it might take slightly longer to cook.
Adding one teaspoon of salt to the cooking water begins the seasoning process because potatoes absorb the water they are boiling in. If you leave it out, you'll start with blander potatoes. I've seen recipes suggesting you should load the water up with salt so it tastes like "sea water" (i've seen up to 2 tablespoons listed). I think that's overkill. I found just one teaspoon was enough that you could taste the difference in the potatoes. Certainly, no more than two teaspoons are needed.
A big debate is what's the right way to mash your boiled potatoes? Ricers and food mills seem to get high marks among chefs and cooks. I've used a hand-held manual potato masher and it worked fine. For one batch, I even mashed with a fork and it still worked. The way these potatoes were boiled and mixed with skim milk, low-fat sour cream, and chicken broth, in just the right amounts, made them easy to mash. You don't have to overwork them and doing so (over-mixing/mashing) is said to release more starch, giving a gooier and less appetizing texture.
An electric mixer is not mandatory, but if you want your whole batch perfectly smooth, then use a mixer. For perfectly smooth mashed potatoes, of course you can always use the classic electric hand mixer with the beater attachments. I simply use the immersion blender hand mixer immersion blender. It's the same one I use to make our Burn the Fat, Feed the Muscle protein ice cream. It works great and the clean up is fast and easy. The model I use is the Mueller Austria Ultra Stick. This is our Amazon affiliate link: https://amzn.to/3kC5pwJ).
Want to make these low calorie mashed potatoes even leaner? Health and fitness minded people sometimes recommend using non-fat Greek yogurt instead of sour cream. You'll knock off 20 more calories per serving (macros: 157 calories, 7g protein, 33g carbs, 1.4 g fat). The potatoes will still be very creamy, but honestly, they're not quite as rich. When your goal is fat loss, the last thing you want is a lot of meals with high starch combined with high fat, but I find even a small amount of fat makes a big difference in richness. Leaving in a little fat with low-fat sour cream was the perfect compromise, and sour cream is my choice over yogurt.
I heard a bodybuilder once suggest adding protein powder. One scoop could bring the protein up to 15 grams per serving. If you used natural (unflavored) protein powder, it probably wouldn't affect the taste, but you might have to adjust the liquids to keep the creamy texture. If you add more powder than that, I'd worry about changing the texture.
I prefer to have these mashed potatoes as a side and include a protein like beef, chicken or turkey, plus a vegetable. Then my protein is covered elsewhere and I can call it a full meal. I've made these mashed potatoes for Thanksgiving for years, so there is always plenty of Turkey!
If you want to add something extra, try topping your mashed potatoes with chives or green onion. I found this delicious without other seasonings than salt and pepper, but you could also experiment with any herbs you enjoy, and of course, garlic always works.
After mashing the potatoes, I suggest taste testing it and seeing if you need any more seasoning. Whether you want more salt may depend on your tastebuds and whether you used reduced sodium broth. I like a pinch of pepper, but not too much. Black pepper is fine, but I like white pepper because it has a milder flavor, plus you don't have black specks in your potatoes.
Splurge with gravy if you want, but trust me, these are delicious straight up! However you customize or serve these mashed potatoes, I think you'll enjoy them. They couldn't be easier to make, and they couldn't be any leaner or lower in calories with so much flavor and creaminess.
-Tom Venuto, Author of, Burn the Fat, Feed the Muscle (BFFM)
Author, The BFFM Guide To Flexible Meal Planning For Fat Loss
Founder, Burn the Fat Inner Circle
PS. As a member of Burn the Fat Inner Circle, you get access to hundreds of original, tested and proven recipes, designed specifically to hit the calories and macros you need to burn fat and build or maintain muscle. Plus, all the recipes are also installed in our Burn the Fat Meal Planner software – the ultimate push-button meal plan creation tool – where you can instantly drop your favorite recipes into your meal plan with a click. Learn more on this page.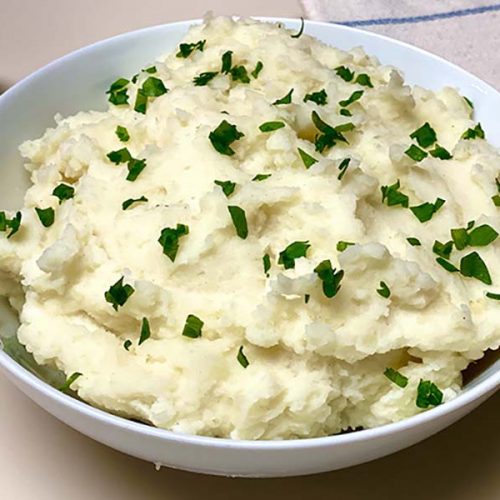 Creamy Low Calorie Mashed Potatoes
These healthy creamy mashed potatoes have half the calories of the traditional recipe. Recipe from Tom Venuto's Burn the Fat, Feed the Muscle Blog (www.BurnTheFatBlog.com)
Print
Pin
Rate
Ingredients
36

oz

russet potatoes

(1020g)

1/2

cup

low fat sour cream

1/2

cup

nonfat milk

1/2

cup

chicken broth/stock

1/8

tsp

white or black pepper

(or to taste)

1.5

tsp

salt

(divided - 1 tsp for boiling water)
Instructions
Chop potatoes into even chunks about an inch wide

Put potatoes in pot and fill with cold water (add 1 tsp salt to water)

On stove, bring water and potatoes to a full boil (takes about 10 minutes)

Lower heat to medium to medium-low and simmer (uncovered) for about 15 to 20 minutes or until soft when pierced with a fork. (if in doubt, boil slightly longer to be certain potatoes are fully cooked and soft for easy mashing)

Drain boiled potatoes in a colander /strainer

Put potatoes in a large mixing bowl. Add sour cream, milk, chicken stock, pepper, and remaining salt

Mix and mash with a masher (or hand mixer) until smooth and creamy. Serve hot. Optional: garnish with chives or green onion (scallions)
Nutrition
Calories:
172
kcal
|
Carbohydrates:
33.2
g
|
Protein:
6.2
g
|
Fat:
3.1
g
---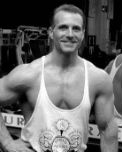 About Tom Venuto
Tom Venuto is a natural bodybuilding and fat loss coach. He is also a recipe creator specializing in fat-burning, muscle-building cooking. Tom is a former competitive bodybuilder and is today a full-time fitness writer, blogger, and author. His book, Burn The Fat, Feed The Muscle is an international bestseller, first as an ebook and now as a hardcover and audiobook. The Body Fat Solution, Tom's book about emotional eating and long-term weight maintenance, was an Oprah Magazine and Men's Fitness Magazine pick. Tom is also the founder of Burn The Fat Inner Circle – a fitness support community with over 52,000 members worldwide since 2006. Click here for membership details
---
If you enjoyed this post, subscribe for weekly updates – free!
Your email is safe with me!