High protein beef stew in the Burn the Fat, Feed the Muscle style is a regular in my rotation, I've shared it with family and friends who also love it – and it tastes so good, no one notices that our version of this classic is far lower in calories and higher in protein than traditional stews. This one is 100% fat loss and muscle-building program friendly… definitely not just a hearty, belly-warming meal for cold winter days, this can be a go-to meal year round.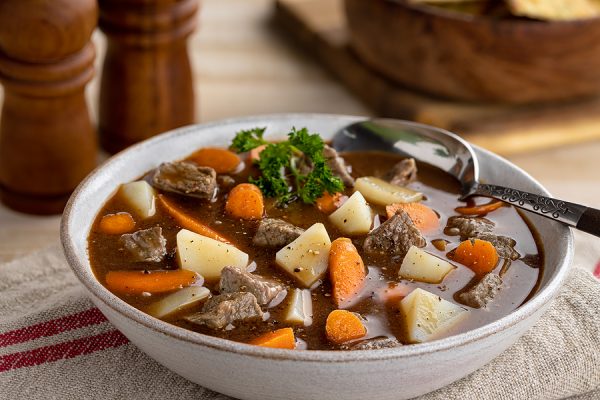 What Ingredients Are In High Protein Beef Stew?
There are 5 main parts to the slow cooker beef stew recipe – lean beef, vegetables, beef stock, garlic and the herbs and seasonings.
Here's what you're going to need on hand to make this stew:
Beef: Top round or the leanest beef you can find
Vegetables: We use the traditional beef stew vegetables including potatoes, carrots, celery and onions.
Beef stock: preferably the reduced sodium kind
Garlic: Fresh minced garlic is best
Herbs, spices and seasonings: Thyme (dry), parsley (dry), salt and pepper. Bay leaves are optional
Cornstarch: This is optional if you want to use it in a slurry as a thickener.
What Kind Of Beef Is Best For Slow Cooker Beef Stew?
Many beef stew recipes call for chuck and that's a popular choice for stew, but the fat and calorie content can vary and it's not the leanest cut. Round steak is a favorite beef cut for physique and fitness enthusiasts because it's incredibly lean.
Eye of round and top round both make the list of beef that meets USDA criteria of "extra lean." With that said, use any beef you like, but you'll have to account for the calories in fattier cuts.
If you read traditional cookbooks and visit popular food blogs you might hear that fatty cuts of beef are better for beef stew. However, fatty cuts of beef are higher in calories as well as saturated fat.
Top round steak is one of the leanest cuts you can find. It is usually thought of as less flavorful and more tough because it's so lean, but when slow cooked for at least 8 hours in broth, it comes out tasty and so tender, it flakes apart with a fork. So for both of these reasons (healthier and leaner) I disagree with the conventional wisdom. Lean beef like round is the healthiest beef for stew. And when you choose lean beef, yes beef stew is good for weight loss
For this beef stew recipe, I used a full two pounds of beef because I wanted the macros high in protein and low to moderate in carbs. However, a pound and a half would be plenty if you're not looking for especially high protein. I recommend seasoning the beef with salt and pepper first. It makes a difference.
Should you sear beef in a skillet first before adding it to the slow cooker? Yes, browning the meat makes a difference. Use any large skillet, but cast iron is especially great for searing. With a huge two pound batch of beef, you'll probably want to sear it in two batches, but it doesn't take long at all – only about 2 minutes per batch. It's okay if the meat is still rare in spots as long as it is fairly well browned and you can see it seared dark brown in spots. Oil is not mandatory in non stick cookware, but a light coating in the skillet is optimal.
If you really want to keep this a one pot recipe and save several minutes, the quick method is to toss everything including the beef right into the crock pot all at once, set it and forget it. You could also brown the beef in the crock pot for 30 minutes or so on high first before adding the rest of the ingredients.
How Do You Make High Protein Beef Stew Low In Calories?
I wouldn't dream of leaving out the potatoes, because potatoes are a key ingredient in beef stew. However, keeping the potato portion down to 15 ounces saves even more calories, because potatoes are a starchy carb.
If you want to make this ultra low in calories, you could reduce the potato portion even more, but a serving of this stew only has 25 grams of carbs and 40 grams of protein, so there's no carb overdose here to begin with. In fact, this is almost a low carb beef stew.
Going in the other direction, many athletes or bodybuilders might want to increase the potatoes by 25% or even 50% in this recipe when wanting to gain muscle mass or fuel long training sessions. Use any kind of potatoes you want. I like my potatoes peeled, but leave the skin on if you choose
Here's another trick to make a low calorie beef stew: In addition to using a little less potato, you can add a little more celery and onion than most recipes call for. This is another way to sneak down the calories while keeping the food volume the same. If in doubt, I suggest more celery and more onion.
This is also why I added diced tomatoes. Most beef stew recipes don't contain tomatoes. In our recipe, we add diced tomatoes not only to add flavor, but also increase bulk while keeping calories low.
If you like your stew tomatoey, here's another trick: Add in 3 tablespoons of tomato paste. That's only 45 total extra calories (for the whole batch) and it's enough to add a lot of extra tomato flavor. Without tomato paste, you can still taste the diced tomatoes, but the stew will have more beef and vegetable flavor than tomato flavor.
Carrots are a starchy carb, but not as calorie dense as other starches or grains so we almost treat them like a fibrous carb or green and use generous amounts. Try 2 cups, but adjust up or down as you see fit. You can use baby carrots, and cut them in half for small bites, or simply cut whole carrots into slices.
What Seasonings Are Best In Slow Cooker Beef Stew?
You can season this according to your tastes, but a little can go a long way and it's easier to start with less and add more at the end than to fix over-herbed or over-salted stew.
I chose dried thyme and dried parsley. Rosemary might be another option to try. The bay leaf is optional, so no need to panic if you don't have one on hand.
Remember that if you used a beef stock that was not low sodium, you may not need much salt. Taste your stew before serving and decide if you want more seasoning, or simply go easy on the salt in the slow cooker and let each individual add extra salt to their serving, if they choose.
By the way, you can use beef stock or beef broth and end up with a similar result, but stock and broth are not exactly the same thing. Stock is always made using bones, while broth is made when simmering meat. Also, stock is also not always seasoned, while broth is.
I have used both stock or broth for this stew, (neither homemade), but what they had in common was they were both seasoned. I've noticed that how they are seasoned may vary based on brand and this can make a big difference in how your stew comes out. I ended up settling on a seasoned stock.
If you want a thicker sauce, then 30 minutes prior to serving, create a slurry by mixing cornstarch with cold water in a small bowl. Use 1 Tbsp cornstarch and 2 Tbsp water for slightly thicker, and 2 Tbsp cornstarch in 4 Tbsp water for moderately thicker. Whisk until there are no clumps left, then stir it back into the hot stew, turn the slow cooker up to high and finish cooking the final 30 minutes. Don't expect it to be like gravy, but with the corn starch, it won't be watery.
How Long Does It Take To Prepare High Protein Beef Stew?
There's some substantial prep time for this high protein beef stew recipe. That's because you have to peel and chop potatoes, chop the carrots, chop the celery, cut up the beef, mince the garlic, and dice the onions. With this in mind, plan for least 30 minutes of prep time and if you're a slow chopper, allow up to 40 minutes.
But the prep time is reasonable and worth it, considering the cooking time is mostly unattended and you get a huge batch that will either serve a large hungry family and or guests, or leave you with lots of leftovers. (Beef stew is great for meal prep).
To keep it even quicker and simpler, I've left out time consuming extra steps some cooks suggest. Using red wine is common, but leaving it out means one less ingredient, one less step, fewer calories and of course, no alcohol.
I also skipped the flour on the beef before browning and chose not to deglaze or saute onions in the pan, which again simplifies with little compromise in taste.
How Long Does It Take To Cook Beef Stew In The Slow Cooker?
Eight hours is just enough time for the potatoes to cook through with a slow cooker set on low, but cooking time may vary slightly. Also, if potatoes are cut into large pieces, they may not be entirely cooked through in less than 8 hours on low, so cut them into bite sized pieces or allow a little extra time for your first batch to check for doneness. If you don't want to risk the potatoes and carrots being too firm, allow 8.5 to 9 hours in the slow cooker on low. You may want to check on your stew a couple hours before dinner time to see how it's coming along.
Alternately, cook on high (or medium if you have three settings on your slow cooker), check often for doneness, and make a note of the cooking time for your next batch. If it's done early, just set it on low (or "warm") until it's time to eat.
How Many Calories Are There In Beef Stew?
This is the best part of high protein beef stew – it is also low in calories. You'll see that this stew looks and tastes thick and hearty, but as calories go, it's light and lean.
A typical serving size for someone on a fat loss program (about a cup and three quarters) is only a bit over 300 calories. (There are about 10 or 11 cups of stew in this whole batch). Naturally of course, you can adjust your serving sizes based on your calorie budget.
If I was on muscle-mass building plan, I'd be having more like 550 to 600 calories worth (and I'd probably increase the potatoes too). This would be a huge, filling serving.
Enjoy this recipe, but be careful, because the aroma wafting through your kitchen will be so inviting, you might attract mooching neighbors.
-Tom Venuto, Author of, Burn the Fat, Feed the Muscle (BFFM)
Author, The BFFM Guide To Flexible Meal Planning For Fat Loss
Founder, Burn the Fat Inner Circle
To start making meal plans with Burn the Fat Meal Planner software, CLICK HERE (members only)
To browse hundreds of Burn the Fat, Feed the Muscle recipes, CLICK HERE (members only)
Not a member yet? To learn more about the inner circle, and get access to hundreds of recipes and the Burn the Fat Meal Planner Software, CLICK HERE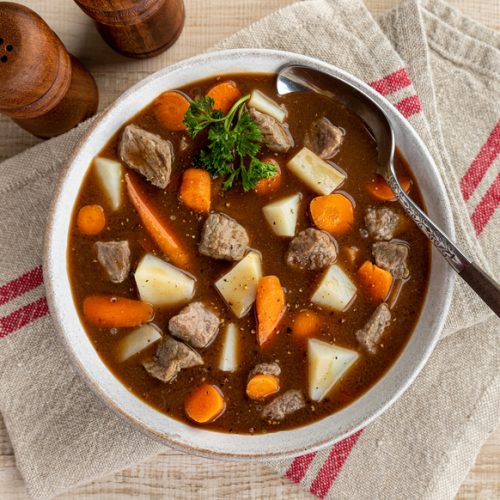 Slow cooker low calorie beef stew
This beef stew is lower in calories and higher in protein than traditional stew, but every bit as hearty. Recipe from Tom Venuto's Burn the Fat, Feed the Muscle Blog (www.BurnTheFatBlog.com)
Print
Pin
Rate
Ingredients
2

pounds

extra lean top round (beef)

15

oz

potatoes

(426g)

6

oz

celery

(175g / approx 1.5 cups)

9

oz

carrots, sliced

(256g / approx 2 cups)

14.5

oz

diced tomatoes

(411g can)

9

oz

onion, diced

(256g / approx 1.5 cups)

3

cups

beef stock / broth

2

Tbsp

Worcestershire sauce

3

cloves

garlic, minced

(approx 1 Tbsp)

2

tsp

parsley, dried

1

tsp

thyme

2

bay leaves

(optional)

1

tsp

black pepper

1

tsp

salt

(or to taste)
Instructions
Finely dice the garlic. Chop the celery and carrots. Skin potatoes and chop into small bite-sized pieces or cubes.

Cut the beef into small cubes (3/4" to 1"), trimming visible fat. Season with salt and pepper

Coat skillet with non-stick cooking spray and sear the beef on med-high (about 2-3 minutes per side), just enough to sear and lightly brown the outside

Transfer beef to slow cooker and set to low

Add all vegetables to slow cooker

Add thyme, parsley, garlic, salt and pepper

Add beef stock, diced tomato, and Worcestershire sauce and stir

Cover and cook on low for 8 to 9 hours in slow cooker

Optional (for thickening sauce): About 30 minutes before serving, create slurry by stirring 1 - 2 Tbsp corn starch into 2 - 4 Tbsp water, then return to slow cooker, stir, cook on high final 30 minutes
Nutrition
Serving:
1.75
cups
|
Calories:
308
kcal
|
Carbohydrates:
25.9
g
|
Protein:
40.1
g
|
Fat:
4.7
g
---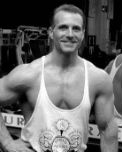 About Tom Venuto
Tom Venuto is a natural bodybuilding and fat loss coach. He is also a recipe creator specializing in fat-burning, muscle-building cooking. Tom is a former competitive bodybuilder and is today a full-time fitness writer, blogger, and author. His book, Burn The Fat, Feed The Muscle is an international bestseller, first as an ebook and now as a hardcover and audiobook. The Body Fat Solution, Tom's book about emotional eating and long-term weight maintenance, was an Oprah Magazine and Men's Fitness Magazine pick. Tom is also the founder of Burn The Fat Inner Circle – a fitness support community with over 52,000 members worldwide since 2006. Click here for membership details
---
If you enjoyed this post, subscribe for weekly updates – free!
Your email is safe with me!