The first batch of pumpkin spice protein cookies I ever made used flour, Greek yogurt, maple syrup, eggs, and of course pumpkin puree. It was also protein powder fortified. In total, there were 15 ingredients, if you count the 5 ingredients in the home made pumpkin spice. The cookie dough was more like a batter and the end result was like a combination between a cookie, cake, and a pancake. They were tasty. And yet, ever since then I've wanted to try a different type of pumpkin cookie that was more in the traditional style. I also wanted an easy recipe you could make in minutes with no baking experience with as few ingredients as possible. They're here: introducing oatmeal pumpkin spice protein cookies!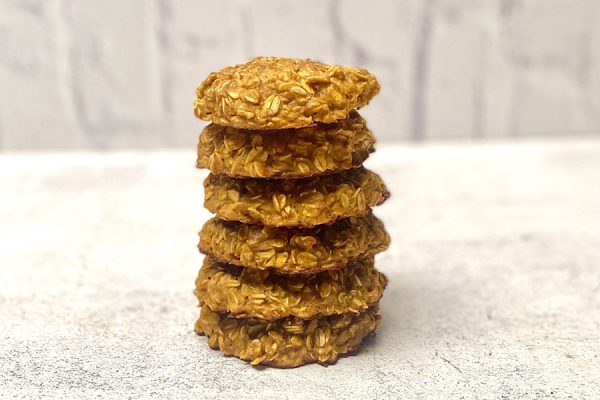 In the new cookie recipe, I used no flour and no liquid ingredients except the pumpkin puree. By the way, that's pure (canned) pumpkin puree, not pumpkin pie filling.   Instead of flour, I used oatmeal and a generous quantity of protein powder. It doesn't get much more healthy and bodybuilding friendly than that.
These new improved, elevated cookies came out fantastic. These are about a half inch thick, still somewhat soft in the middle and yet nicely browned on the bottom. These upgraded pumpkin spice cookies came out a lot like our popular banana oatmeal protein cookies, yet even simpler, with fewer ingredients. (banana oatmeal protein cookies are one of over 300 recipes available to our members at the Burn the Fat Inner Circle).
To keep it as simple as possible, I used a pre-made pumpkin spice I picked up from Trader Joe's. Their blend contains cinnamon, ginger, lemon peel, nutmeg, cloves and cardamom. Two teaspoons did the trick for me, but feel free to adjust the amount according to your taste.
If you prefer, you can make your own pumpkin spice at home. There are many different pumpkin spice seasoning recipes, but this is mine:
1 tsp cinnamon
1/4 tsp nutmeg
1/4 tsp ginger
1/4 tsp cloves
1/4 tsp allspice (optional but recommended)
This makes exactly two teaspoons, which is enough for one batch. If you like this home made spice, then you can make it in larger amounts and store it in a spice jar for future use so you don't have to make a small batch from scratch every time. A simple shortcut if you don't have pumpkin spice on hand is to use 1 to 1.25 tsp cinnamon and .25 to .5 tsp nutmeg for a bare bones homemade pumpkin spice. (Also two teaspoons total).
Some people might want to add vanilla extract, but it's not a mandatory ingredient, especially if you use vanilla protein powder. Vanilla protein creates a nice flavor profile, but every fall I buy a package pumpkin protein powder for a variety of recipes. If you use pumpkin protein powder in these cookies, it will have a very strong pumpkin spice essence.
These ingredient make a very thick batter, almost like a dough, so it's not pourable. It's thick enough that you can form balls with your hands and then flatten them into cookie shape. If you want a batch of 9 cookies, you should aim to make each dough ball about the size of a golf ball. It's a little messy – expect to have sticky, doughy hands – but it's worth it.
It's a bit of a skill to get 9 cookies all the exact same size. If in doubt, I suggest making the first one or two a little on the small side, then you won't be left short of dough at the end. The worst that happens though is you end up with 8 cookies or 10 cookies.
If you prefer, make 12 cookies of a smaller size. These cookies are about 2.5″ in diameter, so a 17 X 12 baking sheet will fit about 12 of them. If you're a Burn the Fat Inner Circle Member, you can save the recipe in your custom recipe tab in the Burn the Fat Meal planner if you want to change the number of cookies or change the ingredients.
These cookies are fairly low in calories because they don't use any oil, nut butters or fats, but if you split this batch up into 12 smaller cookies, they will only be 87 calories each instead of 116.
Pumpkin is not naturally very sweet, so these do call for sweetener. Flavored protein powders are sweetened, but I find these are best with a calorie-free brown sugar such as Truvia sweet complete or Swerve Brown. These products use stevia and erythritol as the sweeteners. I like brown sugar because it also adds to the flavor profile, but use any sweetener you like. Using 3 tablespoons, the cookies are moderately sweet. Feel free to adjust the amount to your taste. Use regular brown sugar if you like, but remember that will increase the calories.
Is erythritol safe and is it really calorie free?
This batch takes only 12 to 14 minutes at 350 degrees to bake. When you leave them in longer they get a little browner and crisper on the bottom while still remaining fairly soft in the middle. If you put them right on the baking sheet be sure to coat it with cooking spray to avoid excessive sticking. I prefer using parchment paper so there is no sticking at all and there's no clean up.
These pumpkin spice cookies are terrific fresh, the same day they are baked, and they're fine left all day at room temperature, and probably longer. The best bet however, is to store the cookies you're not going to eat right away in the refrigerator in an airtight container or sealed ziplock bag. If you and your family or friends won't polish them off that quickly, you can put them in the freezer where they'll be be good for months. Pop them in the microwave if you want to thaw and enjoy them warm right away.
Three of these cookies and a cup of skim milk has been one of my favorite evening meals / snacks this fall. It feels like dessert, but look at the macros: 448 calories and 40 grams of protein. That's like a full meal of protein… but it's cookies!
Enjoy, and watch for even more pumpkin, and oatmeal, and cookie recipes in the future.
-Tom Venuto, Author, Burn the Fat, Feed the Muscle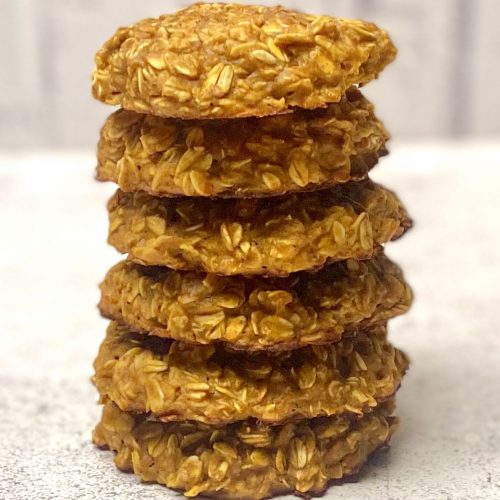 Easy Oatmeal Pumpkin Spice Protein Cookies
With only 5 ingredients and a baking time of as little as 12 minutes, it doesn't get much easier to make delicious oatmeal pumpkin protein cookies at home. Recipe from Tom Venuto's Burn the Fat, Feed the Muscle Blog (www.BurnTheFatBlog.com)
Print
Pin
Rate
Ingredients
2

cups

old fashioned rolled oats

(160g)

1

cup

pumpkin puree

(260g)

1

cup

vanilla or pumpkin flavor protein powder

(93g)

3

Tbsp

calorie free brown sugar (Truvia, Swerve, etc)

(or to taste)

2

tsp

pumpkin spice

(or to taste)
Instructions
Add all ingredients to a large mixing bowl

Stir all ingredients with large spoon or fork until fully combined

With your hands, form batter into golf ball sized balls, then flatten into cookie shape

Place cookies on a baking sheet, preferably lined with parchment paper

Bake for 12 to 14 minutes at 350
Nutrition
Serving:
1
cookie
|
Calories:
116
kcal
|
Carbohydrates:
15.6
g
|
Protein:
10.5
g
|
Fat:
1.7
g
PS. Leave a comment below and let me know what you think of this pumpkin protein cookie recipe.
---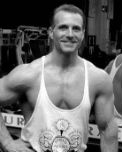 About Tom Venuto
Tom Venuto is a natural bodybuilding and fat loss coach. He is also a recipe creator specializing in fat-burning, muscle-building cooking. Tom is a former competitive bodybuilder and is today a full-time fitness writer, blogger, and author. His book, Burn The Fat, Feed The Muscle is an international bestseller, first as an ebook and now as a hardcover and audiobook. The Body Fat Solution, Tom's book about emotional eating and long-term weight maintenance, was an Oprah Magazine and Men's Fitness Magazine pick. Tom is also the founder of Burn The Fat Inner Circle – a fitness support community with over 52,000 members worldwide since 2006. Click here for membership details
---
If you enjoyed this post, subscribe for weekly updates – free!
Your email is safe with me!