While the Apple watch has taken over in the marketplace as the number one smartwatch, the Fitbit Charge series has remained one of the most popular fitness tracker bands ever. This review will help explain why and help you decide if the new Fitbit Charge 4 is the right one for you.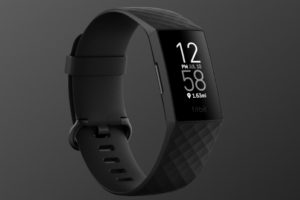 The Fitbit Charge 4 debuted at the end of March 2020, and was an eagerly awaited update since the Charge 3 release two years earlier.
This is my first impression review (detailed) after wearing the watch for only one week, and having never used a smartwatch or fitness band before.
Why I Wasn't In The Market For A Smartwatch
I'm a former Fitbit One user who doesn't want or need a full-featured smartwatch and never really liked wearable tech, even minimalist bands. That's why I kept using the Fitbit One until it was discontinued.
When it comes to most technology, I'm not only a late adopter, I'm old school. I'd rather wear a mechanical watch on my wrist most of the time, if I'm not working out.  I'm particularly enamored with vintage watches (like the Speedmaster "Moonwatch" and the Submariner 5513 from the late 1960's).
My interest in the horology hobby is only part of the reason I never wanted a smartwatch. In addition, it seems redundant when I have an iPhone with me all day (I have an ipod too). Plus, the thought of getting push notifications or texts that "vibrate" on my wrist all day long is more scary than appealing to me, especially after I read a stack of books about distraction, digital minimalism and technology addiction.
I can appreciate certain kinds of reminders or nudges, but I don't want more distractions than what already surrounds me. However, I do want a gadget to track some of my fitness stats and add accountability.
My main interest is in monitoring my daily steps and tracking my hikes, plus the modest amount of running I do. I love walking, and backpacking is my favorite hobby behind lifting. I've hiked over 3,200 miles of the Pacific Crest Trail and the Appalachian Trail, and I always found it fun and motivating to electronically record the stats of my treks. (A typical day on trail in the mountains might be 50,000 to 60,000 steps with 4,000 to 5,000 feet of elevation gain).
For hiking and running, up until now, I've worn a Suunto Ambit 3, and I don't have a single complaint about it except perhaps an occasional difficulty uploading activities and working with the Suunto app (Once the data is connected to Strava, it's great though).
8 Years With The Fitbit One
At the same time, since 2012, I had a simple step and floor tracker in my pocket all day long – the Fitbit One. The Suunto tracks steps, but I still used the Fitbit because I only wore the watch for runs and hikes.
The Fitbit One is small and light – about the size of your thumb. It slips into or clips onto your pocket. This little unit, first released in 2012 (and now considered mostly obsolete), was simplistic compared to today's trackers, and primarily was used for counting steps and floors (elevation). It estimated calories burned and distance in miles as well. It also tracked sleep if you wore it at night in a wristband (I never did).
The step tracking of the Fitbit One seemed accurate to me, but it badly overestimated miles (no GPS). For example, on a hike of the Ramapo-Dunderberg trail in Harriman State Park, the Fitbit One gave me 33.4 miles, while my Suunto GPS said my route was 27 miles (which I confirmed on an official map).
Calories burned (on any tracker) is not something I use for practical purposes. I focus on calories eaten and work off a macro-based meal plan, not calories burned. I never, ever use electronics to guide how much I eat, I use my weekly results (body composition and appearance) as feedback for adjusting food intake. (This is the Burn the Fat, Feed the Muscle System)
Mainly, I used the Fitbit One to track steps and secondarily, floors. It was a great tool to help me know how active I was and keep me accountable to staying active. Seeing your daily step count and how it can change under different circumstances can be a real eye opener.
I also used the Fitbit app to connect with friends. Using the Fitbit app and online platform, daily and weekly step challenges with friends are fun and motivating (you can even "taunt" your buddies for falling behind).
A problem of the Fitbit One was how easy it was to lose or forget that it was in your pocket on laundry day. My first One went through the wash and did not survive that "cleaning." My second One died after I forged a creek in the Sierra Nevada, forgetting it was in my pocket. (Definitely confirming these things were not waterproof). My third and fourth lost One's are probably out in the woods along the trail somewhere – all it took was a hole in the pocket (should have used the clip).
Despite these downsides, I was a big fan of the One and would have never stopped using it as my pedometer if it hadn't been discontinued. I managed to source my last One on ebay in 2019, but then they started getting scarce and the remaining units for sale were running double or triple the regular retail price of $99.00. As I was writing this, I checked Amazon and saw a One for sale for the bargain price of $324.96.
Time For A New Tracker
In the beginning Fitbit was known as a step tracker, but as the product line evolved, they moved into the smartwatch market, and even their simpler fitness tracker bands were getting more sophisticated.
Personally, I didn't want a wearable or tech bells and whistles, I only wanted to track my steps and floors with a unit I could slip in my pocket. I was actually quite irked that the One was no longer available (and I know many others who were too), and for six months, I simply stopped using Fitbit.
Then 2020 rolled around and I started to miss my step tracking habit. I saw the newest tracker – the Charge 4 – was just released, so I finally gave in and purchased it for $149.
I chose the Charge 4 not only because it was their newest model, but mainly because the lower end models in the current Fitbit tracker lineup don't have an altimeter to track floors climbed, and I wanted that function in addition to a step tracker. I hadn't read the whole brochure yet, so I had no idea how many other features I'd be getting.
Even after the first day of using the Charge 4, I realized it was a very robust fitness tracker.
The primary features and functions advertised on the box include the following:
Built-in GPS with pace and distance
Heart rate tracking with wrist sensor
Battery life up to 7 days
Sleep tracking with sleep score
Purchase securely with Fitbit Pay
Spotify
Swimproof
Smartphone notifications
And of course…
Steps
Floors
Distance
Calories burned
Straps And Water Resistance
The tracker is advertised as "swimproof," but I'm not sure if that means 100% "waterproof." The exact verbiage on the site is, "Water resistant up to 50M so you can wear your tracker or smartwatch in the shower, pool and beyond."
In the unit I ordered, it came with a black rubber strap and one extra larger strap (which I used because the small one barely fit my 7.5" wrist). The tracker is light and you barely notice having the band on, but some people have reported skin irritation from the rubber straps. (Be sure to wash the straps regularly to avoid sweaty funk build up).
Straps made of other materials (including woven) are available separately if you want them. The Charge 4 comes in a special edition and for a $20 premium ($169 versus the $149 for the regular Charge 4), you get special extra wrist bands – there's no other difference between these two models.
The straps couldn't be easier to take off with the push of a button and they clip back on just as easily. For former Fitbit One users and others who don't want to wear a band all the time, it's worth noting that if you want, you can take the strap off and slip the one-inch Charge 4 in your pocket.
To take advantage of the heart rate and sleep tracking features, this watch was intended to be worn 24-7. I know several other users who say they're not interested in the sleep tracking info so they wear the band all day, but take it off at night. I may not wear the Charge 4 on my wrist 24-7 in the future either, (it may be in my pocket at times) but I've had it on the wrist all week long so I could test it and review it. I have to admit, the longer I've had it, the more I like it.
New GPS Feature On The Charge 4
In the older Charge models, to use GPS you had to have your phone nearby. Now the Charge 4 has GPS built in. It seems to work well for tracking your distance and pace as well as accurately mapping your route. If you look closely, you can see places where your tracks are off the road or trail several feet, so it's not perfect, but it's good enough for me.
Afterwards, you can view the map and stats of your walks, hikes, and runs on the Fitbit app or website. This includes not only the route, but also your intensity and heart rate zones throughout your activity.
You don't need to do anything extra to upload the data – the Charge 4 syncs automatically. You can also connect your Fitbit with Strava if you choose.
Battery Life Considerations
One of the few downsides of the Charge 4 is a short battery life in GPS mode. A battery life of "up to 7 days" is promised, but it comes with an asterisk next to it – you only get a week of power if you leave GPS mode off. The battery life on GPS mode seems to be only about 5 hours.
Initially, I was thinking I'd stick to my Suunto Ambit 3 for runs because it's such a robust running watch (including customizable displays that stay on), but the Charge 4 with GPS does an admirable job of tracking runs, and the battery will last for any length of time I would need it (or anyone would, unless they're ultra-runners).
Unfortunately, the Charge 4 battery does not allow me to track my long distance hikes with GPS. I'll still be using my Suunto for that because the battery lasts all day long in GPS mode. By carrying a battery with my backpacking gear, I can recharge my Suunto overnight in my tent and track long distance routes for multi-day trips in the backcountry, which I have done on the Appalachian Trail.
When you use the Charge 4 GPS mode, you can choose from more than 20 exercise modes including run, bike, walk, swim, yoga and many more, and get real time stats during your workouts.
Wrist-Sensor Heart Rate Monitoring
The Charge 4 uses wrist sensors to monitor your heart rate (HR). The Fitbit uses the HR data to provide real time HR, resting HR, average HR, and HR during sleep. It also uses HR data for estimation of V02 Max for the cardio fitness score and for the breathing when using the Relax app.
The heart rate sensor uses Photoplesthysmography (say that ten times fast). It works by emitting green light, which can detect the amount of blood flowing through the wrist. Naturally, you might be wondering about the HR accuracy. Most users seem to agree that the technology works, but it's not perfect, and not as good as a chest strap HR monitor.
In my experience, the resting heart rate is spot-on, or within a single beat, based on counting my pulse manually for 60 seconds and comparing. The accuracy at high intensity is what I'm not sure about, but I think it's pretty close. In addition, the Charge 4 HR monitor doesn't seem to be able to keep up with quick changes in intensity in real time, as when you're doing interval training.
It's been suggested that if you think the HR accuracy is not quite right, to make sure you wear the band snug so no light leaks out from the sides of band. You're also advised to wear the band slightly higher on the wrist.
In addition to HR tracking during exercise, the Charge 4 will track your resting HR, including when you're sleeping, if you don't take the band off.
Display Modes
Unlike my Suunto, which has great displays that stay on during a run, nothing is shown on the Charge 4 while not being used. Presumably this is to save battery power. However, if you raise your arm (as in a gesture to check the time), the screen turns on and you can see the time. You can also turn it on by pressing the button on the outside of the case. Either way, it will shut back off automatically in about five seconds. The automatic turn on is kind of nifty, but I do wish this stayed on a bit longer as I often find myself pressing the on button more than once having not finished reading the stats yet.
The Charge 4 has a 1.57-inch touchscreen. You have the option to customize the home screen to display the clock face 24 different ways, and choose what metrics you want to see. To check the other stats while still leaving the time in view, you can swipe right and you'll see steps, HR, calories, distance, and floors climbed in tiny text at the bottom (It's a small screen so you can only display so much at a time). To see the other screens, you can also swipe up, down or left.
If you swipe from the top down, you'll see text messages from your smartphone. Personally, I don't want text messages on my wrist, especially the vibrate notification, so I turned it off.
When you swipe left, you'll see exercise, spotify, agenda, relax (deep breathing app), timers, alarms, weather, and settings.
When you swipe up from the bottom, there are multiple screens including steps, hourly reminders to move, current heart rate, resting heart rate, distance, calories burned, floors climbed, sleep tracking, weight, water consumed, and bodyweight tracking.
Smart Track And Active Zone Minutes
Some features work automatically. SmartTrack, for example, is the automatic exercise recognition, so even when you don't turn on GPS to track an activity, if you're out on a walk or jog, the tracker recognizes it and automatically imports to your exercise records on the app or website (without a map).
A new metric on the Charge 4 is the active zone minutes. This is essentially Fitbit awarding you special points for doing more intense workouts. An exercise guideline that many health organizations promote is to achieve 150 minutes of exercise or 75 minutes of vigorous exercise per week. Fitbit can now give you points for time you spend in the fat burning zone, and double points for time spent in the cardio or peak zone (with higher intensity).
Music With Spotify (Meh) And Fitbit Pay
The Charge 4 comes with a Spotify feature, but it doesn't appear all that useful. Nevermind the fact that I don't use Spotify, the main thing to know is that the Fitbit Charge 4 doesn't actually store or play music, it's more like a remote control for the music that's on another device and you can simply see song names and so on from the Fitbit screen on your wrist. In addition, I've been told you can't operate the music controls when you're in exercise mode.
This model also now has Fitbit payment. You can load your credit or debit card into your Fitbit, and assuming your bank supports it (most major banks do), you can tap a button to pay for items just like you would on your smartphone. It's worth noting that this new feature on the Charge 4 is usually only seen on higher-end, higher-priced smartwatches. This may be the only tracker at the moment at the $150 price point to offer this feature as well as GPS.
Sleep Tracking
The sleep tracking allows you to see sleep and wake time, hours of sleep and quality of sleep, including how many times you woke up or your sleep was interrupted (which can be a little disconcerting, and perhaps when you see it, may explain why you feel tired during the day sometimes).
The Charge 4 has a sleep score which rates you every night from 0 to 100 on the quality of your sleep. If you're interested, you can see your sleep score right on the band itself, and all kinds of data is available to view on the app or website including the amount of REM sleep, light sleep, deep sleep and other metrics.
Fitbit Mobile App, Website And Community
One thing I've always liked about Fitbit is the mobile app and website. The whole Fitbit online platform is excellent. There are online forums, which I don't use often, but ever since I had a Fitbit One and the only thing I used it for was tracking steps and floors, I always liked connecting with friends on the app. From our phones, we challenge each other to stepping contests including the workweek hustle and the weekend warrior.
It's quite motivating. When you get push notifications that say, "Marty is on your tail," or "Jill is catching up to you," it really does get you out of the chair, and the more competitive you are, the more it will get you going.
(Connect with me here: www.fitbit.com/user/22T3QW)
Achieving badges for your accomplishments is also quite satisfying. I have a pole to pole badge (12,430 lifetime miles), a rainbow badge (700 floors in a day), and a satellite badge (35,000 lifetime floors). Actually I think they should add more floor badges because I have 87,525 floors but I never got another badge after the 12.4K satellite.
I also have a Futuristic kicks badge, which is 80,000 steps in one day, which by the way, was insanely painful on the feet. As a backpacker and long distance hiker, I routinely hike 40,000 to 70,000 steps a day when on the trail, but it's shockingly difficult to go beyond that. The 100,000-step Olympian sandal badge has continued to elude me, but I'll snag it eventually (see, Fitbitting can make you a bit obsessive about these things).
The Bottom Line on The Fitbit Charge 4
I've worn the Charge 4 every day, all day, and while sleeping, for exactly one week at the time of writing this review, and when I first strapped it on, I was thinking I'd never wear a smartwatch, and I wouldn't wear a band very often, but I've found the Charge 4 useful and even addictive.
I was pleasantly surprised with the run tracking feature on this Charge 4, so I may keep using it for that. For long hikes I want to track with GPS, the Charge is not up to that task, so I'll use my Suunto Abmit 3 for that.
If I have something else on my wrist, I plan to pop the straps off the Charge 4 and drop it in my pocket so I can stay connected to the Fitbit system for my steps all day long.
I didn't think I'd want to wear a band 24-7, but after 7 days, I have to admit, my initial impression of the Charge 4 is that I'm pretty darn impressed – it's hard not to be after years of using what was essentially a pedometer that cost $99 and for an additional $50, getting all these new features.
I don't think this is going to replace a GPS sports watch and it's not as powerful as a high-end smart watch, but I do think the Charge 4 is a great fitness tracker for the money and it's not surprising that it has so many good reviews online. It will be interesting to see what happens next now that Google has bought out Fitbit.
– Tom Venuto
PS. Connect with me on Fitbit at: www.fitbit.com/user/22T3QW (user name Tom V.)
If you enjoyed this post, subscribe for weekly updates – free!
Your email is safe with me!