Fast food chicken nuggets are usually fried, unhealthy calorie bombs. But you can make healthy chicken nuggets at home in your oven that are not only delicious and healthy, but also jam-packed with protein. Our baked healthy chicken nuggets, made with extra lean ground chicken and a parmesan crumb coating, are tasty enough to eat alone, but don't miss our nugget dipping sauce – it might be the best part!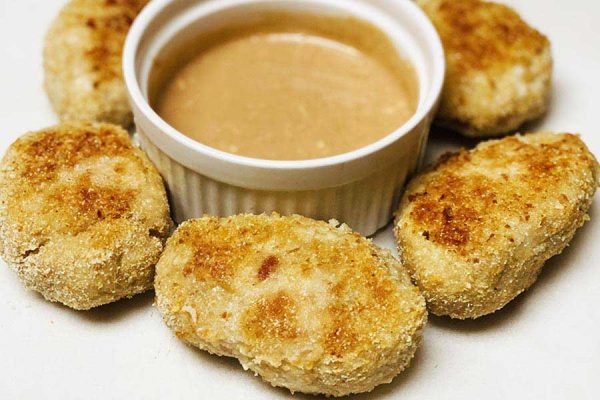 Most chicken nugget recipes call for chicken breast. This unique recipe uses ground chicken. Most stores carry 98% fat free ground chicken and that's what you should look for if you want to keep the calories low and the protein high. The macros listed here are based on the extra lean grade of chicken breast.
In addition to using the leanest chicken you can find, you'll get more calorie savings by using the reduced fat type of parmesan cheese.
The first time I made these nuggets, I followed the method I've seen shared most often in cookbooks and food websites – to simply coat the outside with bread crumbs and seasonings (including reduced fat parmesan grated cheese in this case). It was very good and you can taste the seasoning on the outside.
However, I noticed that as I bit into the center of the nugget you could taste the plain chicken. When you use extra lean ground chicken, it's a pretty plain taste, just like 99% fat-free ground turkey is plain. In both cases, making it taste good depends on plenty of seasonings.
So I was thinking, why not mix the seasoning right into the meat? After all, that's what we do with meatballs. So, I divided the parmesan-crumb-spice mix in half, then I massaged half of it right into the meat and used the other half to coat the outside. This way, you get the flavor all the way through in every single bite!
You could easily double the garlic powder and onion powder (up to a full teaspoon) if you like more intense flavor. Feel free to adjust or change the seasoning as you see fit. You could even experiment with adding your favorite herbs as well, but garlic powder, onion powder and salt is a simple and tasty mix with items already in most people's spice drawer. The salt makes a big difference too, so unless you are intentionally restricting sodium for health reasons, don't skip it.
For bread crumbs, I used the plain variety, but seasoned bread crumbs are also an option. You could try to search for whole wheat bread crumbs, but they are not always easy to find. Also, I found that crumbled shredded wheat – a healthy bread crumb hack I have used in other recipes – doesn't crisp and brown chicken nuggets as well as regular bread crumbs.
Coating the nuggets with bread crumbs, you'll get a thinly-browned crispy layer on the outside of the nuggets when you take them out of the oven.  They stay soft and moist on the inside like meatballs.
These healthy chicken nuggets are yummy on their own – you can taste the parmesan and spices in every bite, and the more seasoning you use, the better they'll taste on their own. But of course everyone knows that chicken nuggets are all about the sauce.
Naturally, some sauce options that might already be pre-made in you own cupboard include barbecue sauce, ranch dressing, or ketchup. However, you must do yourself the favor of at least trying our Burn the Fat Feed the Muscle chicken nugget dipping sauce. The nuggets and sauce together are like a match made in heaven.
Nugget dipping sauce:
3 Tbsp low-fat mayonnaise
1 Tbsp ketchup
1 Tbsp Worcestershire sauce
1/2 Tbsp honey
1/2 tsp hot sauce or tabasco or to taste
Sauce macros (whole batch): 90 calories, 0g protein, 17.5g carb, 3g fat
This makes enough sauce for one batch of nuggets (a pound of ground chicken). Simply scale up ingredients if you are making a larger batch of nuggets or if you want to jar your sauce and refrigerate for later use).
You can refrigerate any surplus nuggets you have, and they taste great re-heated in the microwave, but after being in the fridge, they may take on some moisture on the outside and lose their right-out-of-the-oven crisp outside. Don't ask me how long they stay fresh in the refrigerator. I don't know. Any leftovers have never lasted beyond the next day in my house.
In a recent survey, I discovered that one of the major challenges most dieters are still having today is hitting their daily goals for protein. When you have recipes like this one, you don't have to rely on protein supplements to hit you protein goals if you don't want to. By using very lean chicken, you get a very high protein meal.
Each of these nuggets has 12.8 grams of protein. Two of them gives you 25.6 grams, which is enough to call a full meal's protein serving for some people. Three nuggets is 38.4 grams of protein – a full protein serving and then some for anyone. And if you eat four at a time (I usually do, you're over 50 grams of protein, enough to satisfy even a bodybuilder's protein requirement.
In fact, these nuggets are so good, it's hard to stop eating them, so make sure you have someone else to split them with or it will be tough to stop at three or four.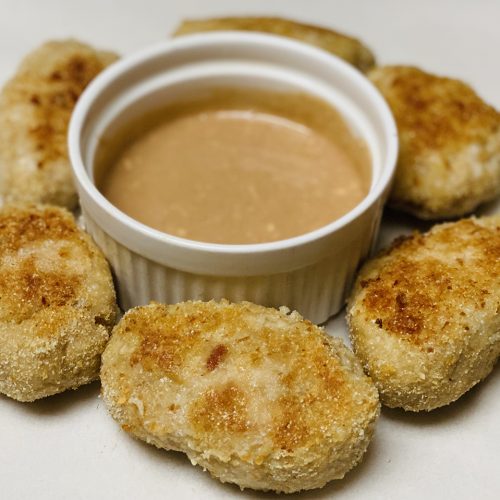 Healthy Chicken Nuggets
Careful - these healthy chicken nuggets, with the special dipping sauce are addictive! Recipe from Tom Venuto's Burn the Fat, Feed the Muscle Blog (www.BurnTheFatBlog.com)
Print
Pin
Rate
Ingredients
16

oz

Ground chicken, extra lean

1/4

cup

Grated parmesan, reduced fat

1/4

cup

Bread crumbs

1/2 - 1

tsp

Onion powder

1/2 - 1

tsp

garlic powder

1/2

tsp

salt
Instructions
Add grated parmesan cheese, bread crumbs, onion powder, garlic powder and salt to large mixing bowl. Stir to combine.

Put half (1/4 cup) of the parmesan mixture in a small bowl, leaving the remaining half (1/4 cup) in the large bowl.

Add the ground chicken to the large bowl and massage the parmesan mixture into the meat

Divide the meat into eight portions (or the desired number of nuggets you want). Form the meat into a ball, then into the oval, flatter nugget shape.

Dredge each nugget in the remaining parmesan-crumb mixture so the outside is completely coated and place on baking tray.

Put nuggets on the middle rack in the oven (that has been pre-heated to 400).

Bake for 10 minutes and flip the nuggets. Bake for 10 more minutes or until the outside starts to brown.

Serve with nugget dipping sauce (or barbecue sauce, low-fat ranch, or ketchup)
Nutrition
Serving:
1
nugget
|
Calories:
91
kcal
|
Carbohydrates:
5
g
|
Protein:
12.8
g
|
Fat:
1.7
g
If you enjoyed this post, subscribe for weekly updates – free!
Your email is safe with me!