This is the best lean and healthy sweet and sour pork recipe you will ever make at home. It blows away anything you would ever get at a fast food Asian take out joint, and it even matches or beats anything you would find at a high end Asian restaurant. In fact, out of all my different stir-fry recipes, this is my favorite by far. Chinese fast food take out doesn't appeal to me anymore. I don't even have the desire to go to an Asian restaurant unless I simply feel too lazy to cook. This sweet and sour pork recipe is that good.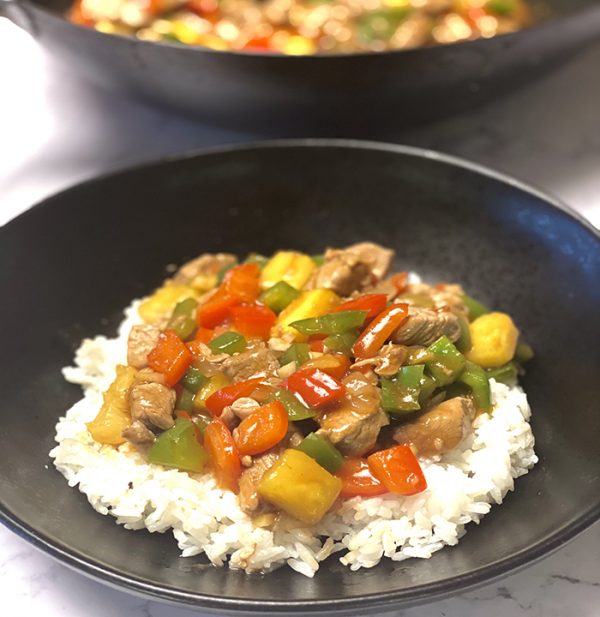 This is also a simple recipe, quick and easy to cook once all the ingredients are lined up and ready to go. There is some substantial prep time – probably at least 25 minutes unless you're super speedy – because you have to dice the onion, chop the red pepper, chop the green pepper, mince the garlic, mince the ginger, make the sauce and cut and trim the pork tenderloin. But it's so worth it.
The most amazing part of this recipe is how healthy, low in calories, low in fat and high in protein it is. First, of all it doesn't require much oil. I use as little as two teaspoons, one tablespoon max. (Geez, will you guys stop drowning all your food in excess oil?) Once the onions and the pork tenderloin are cooking, a lot of fluid is released and that's one more reason why you don't have to keep adding additional oil.
By the way, sometimes I use oil in stir frying and sometimes I don't. An alternative to oil is using a small amount of chicken broth (or beef broth). Using oil is ideal, but contrary to popular belief, oil is not mandatory. It's not oil you need in the wok or pan, it's liquid. If I'm on a dedicated fat loss phase, I often cook oil free. The rest of the time I go ahead and use oil, I simply keep it to a minimum. (I'm not a fat phobe).
Also, make a note that many stir fry recipes call for removing the meat, then cooking the vegetables, and then returning the meat to the wok or pot. For this particular recipe, I skipped that step. It made the cooking part easier and it still came out perfect. I simply didn't let the pork cook too long before going right ahead and adding the aromatics, green peppers and pineapple. This way, the pork was definitely not overdone. (Which is one reason people stir fry the meat in a batch, take out the meat, then stir fry the veggies, then return the meat… in case you were wondering). If you prefer, go ahead and remove the meat and add it back in at the end.
I never feel obligated to follow the traditional rules. I skip steps or simplify any time I can and always judge the process based on the outcome. If it tastes great, I keep the recipe instructions as is even if people tell me I'm doing it "wrong." In fact, I don't even always use a wok to make this healthy pork tenderloin stir fry. You could use a large skillet. The last time I made this in my Dutch oven. (I love my Dutch oven – I use that thing for everything).
This is the wok I use: Yosukata Carbon Steel 13.5″ Flat-Bottom Wok Pan
This is the Dutch oven I use: Lodge Enameled Dutch Oven, 6 quart, Midnight Chrome
(*These are my amazon associates affiliate links)
Another reason this recipe is so lean is because pork tenderloin is a super lean meat. That old slogan, "The other white meat" was well-chosen because lean pork tenderloin, trimmed of fat, is as low in fat as skinless chicken breast – or at least pretty close to it.
As I said above, I'm not afraid of dietary fat, but I don't want a large proportion of my calories coming from animal fat. Fat is calorie dense and using lean meat means you can either eat more food or eat the same volume of food with fewer calories. It's calorie management for easier fat loss, not macro avoidance.
How To Set Your Macros The New Way (The Old Way Is Outdated)
Nutritional content can vary based on each unique cut of meat, but according the the USDA nutrient data base, here is a comparison between 4 oz of boneless chicken breast and trimmed lean pork tenderloin:
Boneless, skinless chicken breast: 130 calories, 25.4g protein, 0g carbs, 3g fat
Lean pork tenderloin, trimmed: 136 calories, 23.6g protein, 0g carbs, 3.9g fat
As you can see, you could make this stir fry recipe with chicken and the macros for the whole recipe would be almost identical. But pork tenderloin is a nice change up if you're getting bored with chicken.
Healthy Chicken Nuggets: A Not-Boring Way To Make Chicken
The recipe calls for 20 ounces (567g), but a typical cylinder of pork tenderloin weighs anywhere from a pound and a quarter (20 oz) to a pound and a half (24oz). If it's 1.5 pounds I still use the whole thing.  The recipe will come out virtually the same, I'll just enjoy eating more protein.
If you use 24 ounces of tenderloin, it will bump the protein from 32 to 38 grams per serving – closer to what a big muscle-seeking dude might want. But for practical purposes, I don't leave a small portion unused, I just use the whole package. Ideally when I shop I simply look for the portion closest to the amount I want in the whole recipe.
The vegetables traditionally used with this recipe include red peppers and green peppers. That's what I stuck with. I included onion as well, and while it's an optional ingredient, I much prefer this stir fry with onion. I used one whole bell pepper of each color. I usually don't bother with weighing fibrous carbs like these. For practical purposes, I simply use the whole pepper and then I don't have small amounts of leftovers that I might not use quickly enough. I usually pick out the larger ones because I always try to put large portions of fibrous carbs in all my recipes. (Veggies for the win!)
Don't overcook this or the green peppers will lose their color. As soon as everything is heated through and the sauce is thick, take it off the heat and serve. For the sake of example, I posted a perfectly cooked batch of sweet and sour pork tenderloin stir fry on the top of the page. Lower down this page I posted a pic of my most recent batch that I did for a meal prep. I left it cooking a little too long (I don't always do it perfect). Still looks yum, but can see the green peppers aren't quite as bright green. It tastes the same (except not quite as crispy / crunchy). Only less colorful. (Maybe you don't care, but if you cook for others, or like to Instagram your dinner, don't forget, people eat with their eyes first).
If this recipe uses ultra lean meat with vegetables, then what makes it taste so great ? First, I think it's the pineapple. It's such an amazing flavor addition to a stir fry. Pineapple is so sweet, it might as well be candy to me. (Maybe it's because I hardly ever eat sweets so I don't have much of a sweet tooth to begin with? Either that or pineapple is just awesome).
Second, it's the sauce. This is a simple sweet and sour sauce, and what I really like about it is that it doesn't require oil and it doesn't require regular refined sugar. In fact, I used to use the reduced calorie ("light") brown sugar that's made with erythritol and part brown sugar. Then I recently found out about the Truvia Sweet Complete zero calorie brown sugar, so the sweetness mostly comes from a source with zero calories.
Is Erythritol Safe And Is It Really Calorie Free?
The sweet and sour sauce also contains ketchup, rice wine vinegar and soy sauce. I use some chicken broth just to increase the volume. (Water would probably work, but I prefer broths as it always adds more flavor. Use the reduced sodium kind if you're watching sodium intake).
It's not a thick sauce, so to thicken I use the standard corn starch slurry method where you put one tablespoon of cornstarch in a small bowl, add two tablespoons of water, stir until the powder dissolves, then add it to your stir fry right after you've added the sauce. I notice some people dump the corn starch powder right into their sauce before adding it to the stir fry. The problem with that is you risk having it clump up.
You simply cannot beat the taste of this for home made healthy sweet and sour pork tenderloin stir fry. And you can't beat the macros either.
This is also a great recipe for meal prep. If you follow the ingredients list below, you'll get four generous servings, so unless you're cooking for the whole family (and if you do, trust me it will all get devoured), there will be lots of leftovers you can put in meal prep containers, refrigerate and enjoy later.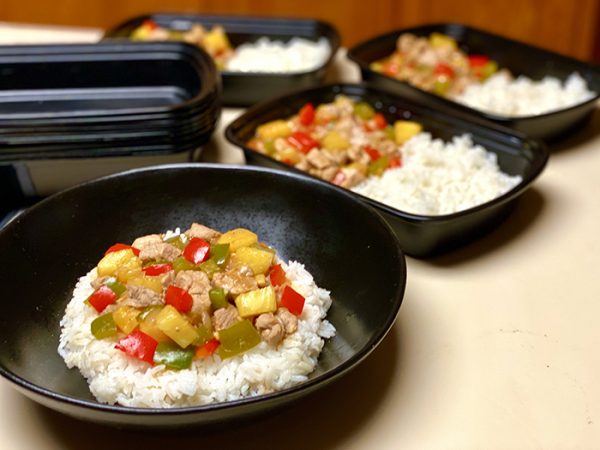 Serve this over rice. I use long-grain white rice, but choose whichever kind you prefer.  If you're using a rice cooker and you choose brown rice, be sure to allow extra cooking time. If you start the white rice first, it will be done before this whole batch is ready to serve. Brown rice takes longer.
I'm not sure how much rice you are going to use. Rice – the starchy carbohydrate – is the variable in many recipes that you use to adjust the total caloric intake to fit your calorie budget (and training status). For this reason, posted in the recipe card below is only the macros and calories for the stir fry and sauce ingredients (277 cal, 32.4 pro, 23.6 carb, 7.5 fat).  If you serve this with 3/4 cup of rice (that would be cooking 1 cup of dry rice, and breaking it into 4 3/4 cup servings), the macros look like this
Sweet And Sour Pork Tenderloin Stir Fry With 3/4 Cup White Rice Macros:
Calories: 437
Protein: 35.4
Carbs: 59.6
Fat: 8
Don't forget, when you become a member of our Burn the Fat Inner Circle community, you not only get access to hundreds of recipes, all those recipes are installed in our Burn the Fat online Meal Planner software. Not available anywhere else (as an app), this software allows you to import our recipes and then you can modify ingredients, and adjust the amounts of any ingredient, including the rice, to fit your custom macros.
Click Here And Discover More About Burn The Fat Inner Circle And Burn The Fat Meal Planner
You're going to love this recipe. Even though you have to take some time for that meat cutting and fruit and vegetable chopping and aromatic mincing, trust when I say again, it's worth it. It's especially worth it when you make this for meal prep and then you get to enjoy it several separate times.
This recipe is a winner! Try it, then circle back and let me know what you think.
Enjoy!
Tom Venuto,
Founder & CEO, Burn the Fat Inner Circle
Author of Burn the Fat, Feed the Muscle (BFFM)
Author of The BFFM Guide to Flexible Meal Planning For Fat Loss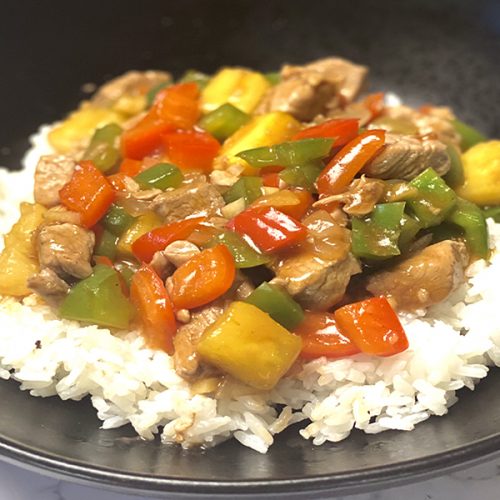 Healthy Sweet And Sour Pork Tenderloin Stir-Fry
Made with one of the leanest meats next to chicken breast, and an amazing simple sauce, this will be the best stir-fry you ever make at home. Recipe from Tom Venuto's Burn the Fat, Feed the Muscle Blog
Print
Pin
Rate
Ingredients
20

oz

pork tenderloin

(567g)

3/4

cup

diced onion

1

large

red bell pepper

1

large

green bell pepper

1.25

cups

chopped pineapple

(200g)

1

Tbsp

fresh minced garlic

(About 3 cloves)

2

Tbsp

fresh minced ginger

3

Tbsp

reduced sodium soy sauce

2

Tbsp

rice vinegar

3

Tbsp

ketchup, reduced sugar

4

Tbsp

chicken broth

2

Tbsp

light or zero calorie brown sugar

(Truvia Sweet complete, etc)

2

tsp

peanut oil

1

Tbsp

corn starch

2

Tbsp

water
Instructions
Start your rice cooking in the rice cooker.

Prepare the sauce (In a cup or medium bowl, mix the soy sauce, ketchup, rice vinegar, chicken broth and light brown sugar).

Trim any fat off the tenderloin, then cut it into small bite-sized pieces

Chop the bell peppers and dice the onion. Mince garlic and ginger.

Heat oil in wok over medium high. Add the pork and fry until almost cooked through, about 3 minutes.

Add the onions, fry for a minute. Add the ginger and garlic and stir fry about 30 seconds, until fragrant.

Add the peppers and pineapple, stir fry until peppers are heated through but remain crisp and bright, about 2 minutes. Add pineapple and stir.

Add the sauce. Mix cornstarch in 1 Tbsp water in small bowl and add to wok to thicken the sauce. Stir constantly until the sauce thickens and coats the pork. Do not overcook - serve as soon as sauce is thick and everything is heated through.

Optional: Garnish with scallions
Nutrition
Calories:
277
kcal
|
Carbohydrates:
23.6
g
|
Protein:
32.4
g
|
Fat:
7.5
g
---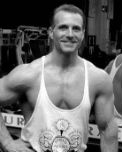 About Tom Venuto, The No-BS Fat Loss Coach
Tom Venuto has been a trusted natural bodybuilding and fat loss expert since 1989. He is also a recipe creator specializing in fat-burning, muscle-building cooking. Tom is a former competitive bodybuilder and today works as a full-time fitness coach, writer, blogger, and author. In his spare time, he is an avid outdoor enthusiast and backpacker. His book, Burn The Fat, Feed The Muscle is an international bestseller, first as an ebook and now as a hardcover and audiobook. The Body Fat Solution, Tom's book about emotional eating and long-term weight maintenance, was an Oprah Magazine and Men's Fitness Magazine pick. Tom is also the founder of Burn The Fat Inner Circle – a fitness support community with over 52,000 members worldwide since 2006. Click here for membership details
---
If you enjoyed this post, subscribe for weekly updates – free!
Your email is safe with me!