Is teriyaki chicken stir fry healthy? Is it something you can include in a fat loss meal plan? Can it help you build muscle? Well, it depends on how you make it. That includes what kind of sauce you use, how lean the meat is, and how much oil you use. If you switch from restaurant and take-out stir fry, and make it at home the Burn the Fat, Feed the Muscle way (recipe below), then not only is it healthy, but also, it will fit perfectly in any fat loss or muscle building diet.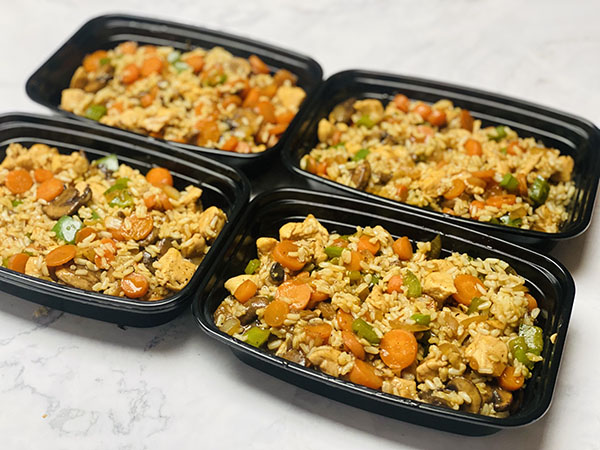 How To Make Low Calorie Stir Fry At Home
In restaurants, you almost always eat more calories than you think you do. In the case of stir fry, it might appear like a light and healthy meal. After all, the main ingredients might be chicken, vegetables and rice. However,  the extra calories sneak in there many ways.
For starters, traditional stir fry uses a lot of oil. Two tablespoons in the wok is typical for starters. Then when the vegetables are added, the cook usually adds even more oil. If the wok dries out, more oil is added. Not only that, sometimes the meat is marinated or pre-cooked in oil before it is stir-fried.
Then you have the sauce. Regular stir fry sauces are high in sugars and even more oil. Plus, if a stir fry uses fattier cuts of meat, that pushes the calories and fat higher as well.
The solution is stir frying at home. As a home cook, you are in control of the ingredients and therefore the calories and macros. You can keep the calories down by choosing the leanest meats, like skinless chicken breasts,  using low-calorie, no-sugar sauces and by minimizing the oil. It's even possible to stir fry with no oil.
For people with small calorie budgets on strict fat loss programs, especially people stuck at fat loss plateaus, every calorie saved can make a difference.
How Do You Make Teriyaki Chicken Stir Fry With Little Or No Oil?
It's true that using some oil can enhance flavors and browning and help prevent sticking and burning. But if you use oil, you don't need a lot of it. One or two teaspoons is all it takes. That's teaspoons, not the tablespoons you see in most traditional recipes.
The stir fry method that I've now adopted is nearly oil-free. Prior to adding the meat, I put the wok on the heat (medium high – it doesn't have to be scorching hot like they do in restaurant kitchens). When it's hot enough so a flick of water evaporates instantly, I add a small amount of oil in the wok, pick it up and swirl it around so the bottom is covered with a thin sheen. I use no more than two teaspoons, and sometimes only one. Then I add the meat. When the meat is done, I remove it to a bowl and put the veggies in.
At this point, instead of the traditional method of pouring in more oil, if the wok starts to dry out, I add chicken broth. I use only a tablespoon or two at a time, and continue stir frying. If it dries out again, I add a little more broth and repeat as needed. Stirring frequently will also help prevent sticking and burning.
When you do use oil,  you'll want to make sure to use one with a high smoke point.  If you look in traditional cookbooks for Asian stir fry recipes, you'll see peanut, avocado, canola, safflower, light olive (not extra virgin)  or other stir-fry oils recommended because they have a high smoke point and you can use them safely on higher heat.
If you want to cut calories to the maximum, you can stir fry 100% oil free by using broth (chicken, beef, or vegetable) as an oil replacement. You could even use water. It's not oil you need to prevent burning and sticking, you simply need a little bit of liquid in the wok. The secret is to only add a very small amount of broth or water at a time when you see the work is drying out.
I only add 1 or 2 tablespoons of broth at a time so it's still stir frying. If there was a pool of liquid in the wok, you would be steaming or even boiling. Nothing wrong with steaming vegetables, but it's not stir frying.
After trying 100% oil-free stir frying and simply reducing to the minimal amount to coat the wok for cooking the meat, I settled on the latter. I prefer to use a small amount of oil for the meat because it allows you to get a nice sear without sticking or burning. After starting the veggies, I refrain from adding more oil to save calories.
Should You Stir Fry On High Or Medium High?
In most stir fry recipes, you'll see the instructions call for cooking on high heat.  The whole idea of traditional stir frying is to do it hot and fast.
For stir frying with minimal oil, it helps prevent burning, charring or sticking by cooking on medium-high, not high heat. When home cooking, you don't have to stir fry the traditional super hot and fast way just because that's how it's done in Asian restaurants. And remember, they're using tons of oil.
Do You Have To Use A Wok To Stir Fry?
Stir frying in a wok is ideal because a wok was designed for stir frying. A wok is a large deep vessel with sloping sides. That means when you're stirring, the food is less likely to get accidentally pushed out onto your stovetop. A wok also requires less oil than a flat skillet
However, you do not have to use a wok to stir fry. You can also use a large deep skillet. Cast iron or stainless steel with both work well.
If you're interested in making healthy stir fry recipes with little or no oil, a non-stick wok is fantastic.
I recently got a non-stick wok and quickly decided that it was one of the best cookware purchases I had made for low oil or no oil stir frying. The non stick surface lets you stir fry with only the thinnest layer of oil when you start, or you can go completely oil free and use broth or water if you need it as an oil replacement.
The wok I got from Amazon was less than forty bucks and is non stick (but still needs moisture to cook oil free). This is our amazon associates affiliate link: https://amzn.to/3WBC3j0.
What Vegetables Are Good In A Stir Fry?
You have many choices for stir fry vegetables. Some of the most popular stir fry veggies include:
Broccoli
Mushrooms
Snow Peas
Bell Pepper
Carrots
Water Chestnuts
Baby Corn
Edamame
Onions
Scallions
In this Chicken Teriyaki stir fry recipe we use green bell peppers, mushrooms, carrots and onion. It's a fantastic combination. However, feel free to change vegetables based on your preferences and what's left over in your refrigerator.
What Vegetables Do You Stir Fry First?
In some stir fry recipes, you can dump all the veggies in at once, but here's a tip for perfect, evenly-cooked vegetables in this recipe:
Put the carrots in first because they require the longest cooking time. In addition, slice the carrots thin or chop them into small pieces.  Another option is shredded (matchstick) carrots. They are so thin and quick-cooking, you could dump them in with all the other veggies at the same time. The nice thing about chopped or sliced carrots is they have a nice crunch when you bite into them.
After the carrots have had a head start of at least two minutes, then put in the onions and mushrooms. Put the green pepper in last. Green bell pepper is quick cooking and when it's overcooked, it loses its nice bright color and crispness. Use this order and all the veggies will be perfectly tender-crisp.
Use Lots Of Vegetables In Your Stir Fry To Increase Volume And Decrease Calorie Density
In addition to minimizing or cutting the oil, here's one more trick to save calories:
Adjust your recipes so the veggie (fibrous carb) portion is larger, and decrease the rice (starchy carb) portion.
As listed below, this chicken teriyaki recipe calls for 1 cup of uncooked rice. That fluffs up to three cups after cooking when it absorbs the water. Divide that by four servings and it means 3/4 cup of cooked rice per serving and the calories come out to 459. That fits into almost any fat loss program. However, if you wanted to cut some calories you could reduce the rice to 2/3 or 1/2 cup cooked.
If you're highly active or you're pursuing muscle gain goals, then you can go in the other direction and serve the veggies with a larger portion of rice (or serve over noodles).
Home Made Teriyaki Sauce For Chicken Stir Fry
If you want to make homemade teriyaki sauce from scratch, that's a great option too. When you make your own, you have some control over the calories, sodium and sugar content. For example, you can use zero-calorie brown sugar as the sweetener (made with stevia and or erythritol). You can also add water or broth to stretch the quantity of sauce without adding more calories.
If you want to make your own teriyaki sauce from scratch, here's how:
6 Tbsp low sodium soy sauce
2 Tbsp lemon juice
3 Tbsp honey
4 Tbsp water
1 Tbsp minced fresh ginger (about a thumb-sized piece or more to taste)
1 Tbsp minced fresh garlic (about 3 cloves or more to taste)
2 Tbsp zero-calorie brown sugar (Truvia Sweet Complete, Swerve, etc)
1 Tbsp corn starch, dissolved into 2 more Tbsp water (to form slurry for thickening)
Quick sauce instructions: add all ingredients to small pot. Heat on medium-high, add corn starch slurry, bring to a boil, remove from heat immediately as soon as the thickened sauce reaches a full boil (make sure it doesn't boil over). For complete instructions, visit this page: The Best Reduced-Calorie Home Made Teriyaki Sauce In The World (members only)
Is Sugar Free Teriyaki Sauce Any Good? (Low Calorie Teriyaki Sauce)
You can make your own home made teriyaki sauce and you can make it lower in calories than what you'd get in most restaurants. But if you want a way to cut calories, then shop for a low-calorie, and or sugar-free Teriyaki sauce.
In my local grocery store I've found several brands made with non-nutritive sweeteners. They are sugar free and have only have five calories per tablespoon. I've also found some brands that use only small amounts of sugars or sweeteners so the calories clock in around 15 per tablespoon
Regular store bought bottled teriyaki sauce usually has around 25 to 40 calories per tablespoon. That can really add up, especially when you're on a fat loss program.
Here are a few of the lower calorie options that are widely available:
G Hughes Sugar Free Teriyaki marinade: 5 calories per tablespoon
Kinder's Zero Sugar Teriyaki marinade and sauce: 5 calories per tablespoon
Seal Sama Sugar Free Teriyaki sauce: 5 calories per tablespoon
PRO TIP: Kinder's sugar-free teriyaki sauce is amazing for only 5 calories per tablespoon. G Hughes missed the mark on their teriyaki. Doesn't taste bad, but doesn't taste like teriyaki. However G Hughes sugar free BBQ sauce (also 5 calories per tablespoon) is pure liquid gold from heaven.
EXTRA TIP: The Primal Kitchen brand teriyaki sauce is made with no soy and no non-nutritive sweeteners. It tastes pretty good for only 15 calories. That makes it a nice middle ground between the standard sugar free teriyaki sauces and the regular kind.
The Best Aromatics For Stir Fry (Ginger And Garlic)
If you want to use aromatics, This stir fry is great with fresh ginger and garlic. I use both in most of my stir-frys, but this one tastes terrific even without.
If you make the home made teriyaki sauce from scratch, you can see fresh minced ginger and garlic is already included. But fresh ginger and garlic is so good in any stir fry, if you're using a bottled store-bought teriyaki sauce, you might want to add the fresh garlic and ginger to your stir fry meat and vegetables in the wok.
If you choose, you can finish off by garnishing your stir fry with sesame seeds and or scallions. Scallions aren't mandatory because there are already onions in the stir fry, but they make for a nice presentation and add yet another layer of flavor.
How Many Calories Are In Teriyaki Chicken Stir Fry?
In the recipe card below, I've posted the calories in the whole stir fry, including the home made sauce (1 cup for the whole batch, or 1/4 cup per serving). This demonstrates how you can eat a generous portion of teriyaki chicken with rice and still get reasonably low calories, suitable even for a fat loss diet.
In this recipe, as listed there are only 459 calories per serving. (Includes rice, veggies and home made sauce).
If you used our home made teriyaki sauce, there would still only be 474 calories. (Because there is honey in the sauce which adds calories. However, the calories are still low. If you were to use regular teriyaki sauce, which usually has 25 to 40 calories per tablespoon, you'd be over 500 calories and upwards of 560 calories.
And at a restaurant where they may have used a lot of oil in the stir frying and even pre-fried the chicken in oil (and used fattier chicken), who knows how high the calories would be? 700? 800?
See why it's awesome to cook at home?
But wait, there's more.
The ingredients listed above make a big batch that you can split into four large servings of 459 calories each.
People with lighter appetites may find that this batch stretches to five servings which have only 367 calories each (with the sugar free teriyaki sauce).
So now you can see how we can call this "Fat-burning teriyaki stir fry."
By the way, if you do split this batch beyond four servings, you might want to increase the chicken quantity if you want to keep the protein content over 40 grams per serving.
Remember, you can customize this recipe or any other Burn the Fat recipe in the Burn the Fat Meal Planner software (members only login here)…
Enjoy this Burn the Fat, Feed the Muscle classic!
-Tom Venuto, Author of, Burn the Fat, Feed the Muscle (BFFM)
Author, BFFM Guide To Flexible Meal Planning For Fat Loss
Founder, Burn the Fat Inner Circle
Want to see 19 more Burn the Fat, Feed the Muscle Recipes For FREE? Download my free e-book, "The 20 Best Fat-Burning, Muscle Building Recipes Of All Time CLICK HERE FOR FREE INSTANT DOWNLOAD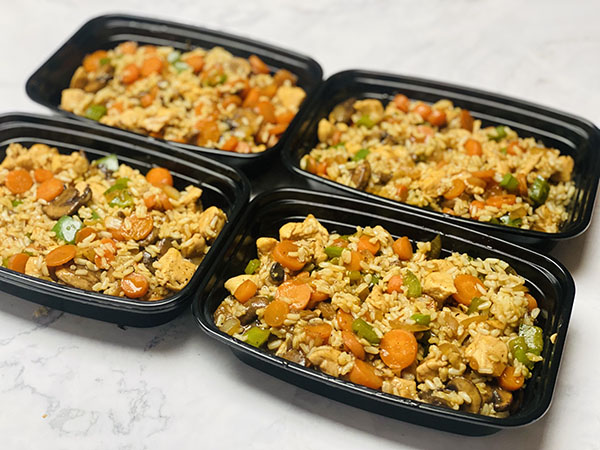 Healthy Teriyaki Chicken Stir Fry
Even served with rice and delicious teriyaki sauce this stir fry has a fraction of the usual calories. Recipe from Tom Venuto's Burn the Fat blog (www.BurnTheFatBlog.com)
Print
Pin
Rate
Ingredients
1

cup

brown rice (dry/uncooked)

(180g)

20

oz

boneless skinless chicken breast

(567g)

1

tsp

stir fry oil

1

lg

green bell peper

(164g)

2

cups

carrots, thin sliced or chopped

(227g)

3

cups

mushrooms, sliced

(227g)

1

cup

onion, diced

(160g)

3/4

cup

sugar-free teriyaki sauce

?

Tbsp

chicken broth

(as needed for oil replacement)
Instructions
Begin cooking the rice in a rice cooker first, allowing 30-40 min for brown rice, about 20 min for white rice (or according to package instructions).

Chop carrots, green pepper, onion and mushrooms.

Chop chicken breast into small cubes (or strips). Season with salt and pepper (optional but recommended).

Heat wok to medium high. Once heated, add 1 to 2 tsp stir fry oil and swirl to coat bottom of wok. Add chicken and cook until browned (about 4 - 5 minutes), stirring regularly. Remove chicken from wok into a bowl.

Add a Tbsp or two of chicken broth (as a substitute for additional oil) If needed, then add carrots first to give them a head start (about two minutes).

Add onions and mushrooms, cook for another minute or two, then add the green peppers last. Add another Tbsp of broth if needed. Cook vegetables about three more minutes or until they are crisp-tender.

Add chicken back to wok and stir to combine with vegetables. Simmer another minute or two on medium or until the chicken is re-heated.

Add teriyaki sauce. Stir fry about 2 more minutes or until heated

Add rice to wok and combine everything, or serve the amount of rice you want on a plate or in a bowl then spoon the chicken and vegetables on top.
Nutrition
Calories:
459
kcal
|
Carbohydrates:
57.4
g
|
Protein:
42.8
g
|
Fat:
6.7
g
---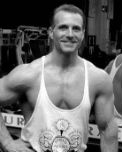 About Tom Venuto
Tom Venuto is a natural bodybuilding and fat loss expert. He is also a recipe creator specializing in fat-burning, muscle-building cooking. Tom is a former competitive bodybuilder and today works as a full-time fitness coach, writer, blogger, and author. In his spare time, he is an avid outdoor enthusiast and backpacker. His book, Burn The Fat, Feed The Muscle is an international bestseller, first as an ebook and now as a hardcover and audiobook. The Body Fat Solution, Tom's book about emotional eating and long-term weight maintenance, was an Oprah Magazine and Men's Fitness Magazine pick. Tom is also the founder of Burn The Fat Inner Circle – a fitness support community with over 52,000 members worldwide since 2006. Click here for membership details
---
Disclosure: Burn the Fat Blog posts may use affiliate links to third-party websites and online stores, and earn a commission if products or books are purchased. We never recommend or link to products we haven't used and fully endorse. However, always do your own due diligence if purchasing from a third party merchant on the internet.
If you enjoyed this post, subscribe for weekly updates – free!
Your email is safe with me!