After enjoying pumpkin protein baked oatmeal and then apple cinnamon baked oatmeal, I was still craving more flavors and came up with this one… Double berry baked oatmeal! With blueberries and strawberries, plus some added zero-calorie sweetener, it feels like eating dessert for breakfast. Yet, at the same time, it gives you 30 grams of protein, and only 395 calories for a very generous, filling portion.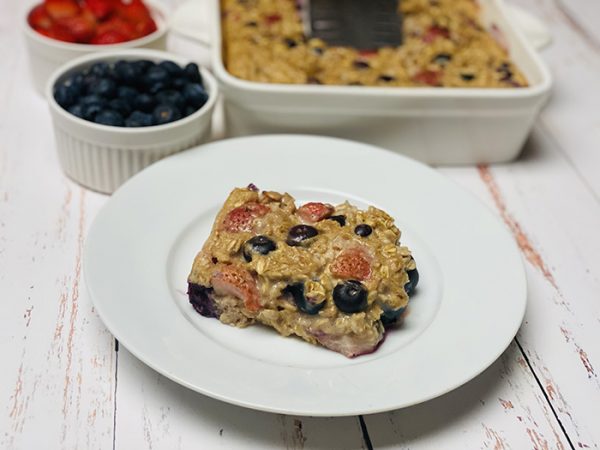 Baking your oatmeal does take longer than microwaved oatmeal (less than 3 minutes) or even stovetop oatmeal (about 10 minutes). Baked oatmeal is about 40 to 45 minutes for prep and baking combined. But it's well worth it, even if you only have time on the weekends. (But also remember, you can make one batch on a weekday, eat one portion, and then have leftovers for the next two days. It's every bit as good after a day or two in the fridge).
What's so great about baked oatmeal? Well, some people say they don't like oatmeal, but that's usually because they don't like the texture of regular oatmeal. Baked oatmeal is not a creamy or watery porridge, nor is it quite like a solid oatmeal bar, bread or muffin. It's the perfect middle ground between the two. Some people describe it as being like a breakfast "casserole."
Double berry baked oatmeal is moist and soft, you can cut it into slices with a knife and eat it with a fork. This great texture often gets people enjoying oatmeal baked even if they're not usually oatmeal eaters.
Baked oatmeal is actually very simple as ingredients go – it's rolled oats and milk along with fruit, plus seasoning and sweetener. It usually includes an egg or a couple egg whites as well for a binder and moisture. Baking powder makes it rise nicely. A tiny pinch of salt is a flavor enhancer.
After a lot of failed experiments, I finally figured out how to get baked oatmeal to the exact texture I wanted and I created our Burn the Fat, Feed the Muscle pumpkin baked oatmeal and apple cinnamon baked oatmeal (both protein-spiked, of course).
Before I figured out the formula, most baked oatmeal recipes it seemed to me, had too much liquid, so while it still was like a breakfast casserole, it didn't always stick together. The way I see it, if it comes out of the oven like creamy porridge, then why even bother to bake it, right? Why not just microwave or stovetop cook it? To me, baked oatmeal should set on the top and even get a little browned on the edges, so you can slice it into pieces and eat it with a fork.
Of course, you can adjust the amount of liquid ingredients (milk in particular) and the ratio of liquid to dry to get the kind of texture you prefer. I was thinking, since I used water in my basic microwave oatmeal, that you could use water in this one too instead of milk, but I'm pretty sure the milk adds more creaminess. Plus it adds a little more protein.
I'd recommend trying my recipe exactly at least once before deciding how you might want to tweak it, but again, feel free to slightly adjust the ingredients to get the texture you like best. (You can also adjust the cooking time slightly in either direction depending on whether you want it more moist or more solid and crisp).
You may also want to adjust the sweetener amount. I used sugar-free maple syrup, and a quarter cup of it is certainly enough to make it sweet enough. A liquid sweetener also helps get the right texture and keep this baked oatmeal moist.
In addition I added zero calorie brown sugar (the kind made with erythritol and stevia). That makes this really sweet, so depending on your tastes, you might decide to leave out the brown sugar unless you like it really sweet like I do. Remember, the berries are sweet and most protein powders are also sweetened.
My standard recipe is flour-free and I use protein powder, which acts a bit like flour as another dry ingredient, but also serves the purpose of turning this into a complete macro-balanced meal instead of a carb dominant recipe. You could make this without the protein, you'd simply have a more moist or liquid end product unless you added flour or more oats, or added another dry ingredient, or reduced the liquid ingredients slightly.
I used a vanilla protein powder, and I've used both whey and whey-casein blends and both worked out well. Feel free to use whichever kind you prefer.
I made this in an 8 X 8 square baking dish and it produced a fairly thick slice of baked oatmeal, especially when you use baking powder which makes it rise almost to the top of the dish. I've used both ceramic and glass. Make a note that if you were to use a much larger dish, the batter would spread out more, you'd have thinner slices and you might have to re-assess the baking time.
Thirty-five minutes at 375 is enough time for me, but check for doneness before deciding if you want to leave it in slightly longer (or if it might be done at 30 minutes). You can tell it's done and ready to eat when the edges are slightly browned and the top is set or mostly set (It should be moist in the center but should not be jiggly. (Give the dish a shake and if the center is still liquidy, it is not done). Also remember, baking times can vary depending on the cookware and on the oven.
The only downside of baked oatmeal is the time involved. This takes me 12 minutes for prep (10 if I'm speedy), then 30 minutes for baking. Most people also give it 5 minutes to cool before slicing and eating (so it sets a little more and cuts a bit more easily).
If you're often in a rush in the morning, you can bake your oatmeal in advance, refrigerate it and then reheat it for a quick weekday breakfast. This refrigerates and reheats great. Most people like it hot, but it's even great cold right out of the fridge. Easily just as good, if not better on day two.
I've had leftovers in the fridge as long as four days and it was still perfect, so I'm not sure from experience how much longer they stay equally fresh. I prefer fresher food, so I rarely leave anything in the fridge more than a few days. I have never tried freezing my baked oats, but like almost everything else, I'm sure they freeze, thaw and reheat fine.
High protein double berry baked oatmeal is tasty and moist enough to eat completely on its own. However, feel free to top it of with a little more calorie-free maple syrup if you like.
If you look up traditional versions of baked oatmeal recipes, you'll usually see they use butter and sometimes oil (I can't figure out why so many "health" cooking sites think coconut oil is some kind of superfood). I don't doubt that butter or oil will make it taste richer, but trust me, you don't need the extra fat or calories if fat loss is your goal.
If you're on a fat loss program, especially with a strict calorie budget, then fats like butter and oil are some of the places you can save calories (along with sugars, like using calorie-free maple syrup and calorie-free brown sugar instead of the regular kind. If you used both butter and regular maple syrup, this recipe wouldn't be so light anymore. Remember, this already has almost 60 grams of carbs per serving. It's a high protein, high-energy recipe.
Make a note that I call this batch of 6 slices "3 servings" (2 slices with 395 calories total). However, if you're highly active, or eating for muscle gain, you'll probably get only 2 servings from this batch (3 slices with 592 calories total). That's what I do since I have a fairly large calorie allowance.
I put copious amounts of cinnamon in our apple cinnamon baked oatmeal because that's a natural flavor match. With this double berry baked oatmeal, the cinnamon is optional, but I still like to add a little (one teaspoon). Adjust as you see fit.
Enjoy!
Tom Venuto,
Founder & CEO, Burn the Fat Inner Circle
Author of Burn the Fat, Feed the Muscle (BFFM)
Author of The BFFM Guide to Flexible Meal Planning For Fat Loss
To browse hundreds of Burn the Fat, Feed the Muscle recipes CLICK HERE (Inner Circle members only)
Not a Burn the Fat, Feed the Muscle Inner Circle member yet? JOIN HERE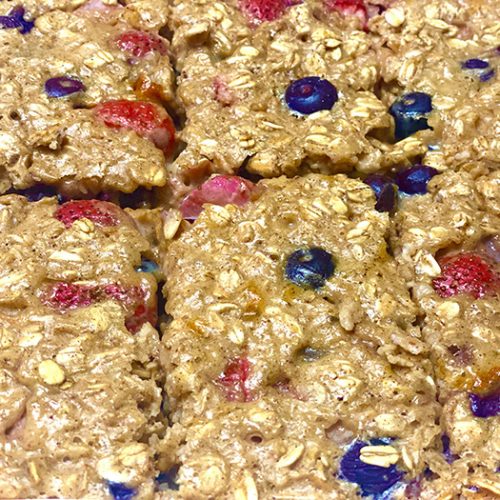 High Protein Double Berry Baked Oatmeal
Protein-fortified oatmeal so sweet it tastes like eating dessert for breakfast. Recipe from Tom Venuto's Burn the Fat Feed the Muscle Blog (www.BurnTheFatBlog.com)
Print
Pin
Rate
Ingredients
2

cups

old fashioned oatmeal (rolled oats)

(160g)

2

scoops

vanilla whey protein

(62g)

2

Tbsp

calorie free brown sugar (Truvia sweet complete)

1

tsp

cinnamon

1/4

tsp

salt

1

tsp

baking powder

1

cup

strawberries, chopped

1

cup

blueberries

1.5

cups

nonfat milk

1

lg

whole egg

1/4

cup

sugar free maple syrup
Instructions
Measure and chop strawberries into small pieces and measure out your blueberries. Set aside.

Add oatmeal, protein powder, cinnamon, salt, baking powder to mixing bowl and stir to combine thoroughly.

In another mixing bowl, add milk, egg and maple syrup and stir to combine.

Add dry ingredients into the liquid ingredients and mix to combine.

Stir the berries into the oatmeal mixture.

Coat an 8 X 8 baking dish with nonstick cooking spray.

Pour oatmeal mixture into baking dish. (Make sure some berries are strategically placed on top if you want to impress those you are serving!)

Bake at 375 for 35 minutes or until the edges are slightly browned and the top is set (should still be moist but not jiggly).

 Remove from oven and allow to cool for about 5 minutes or so before cutting and serving.

Eat plain or add a topping of your choice (more sugar free maple syrup, yogurt, etc)
Nutrition
Serving:
2
slices
|
Calories:
395
kcal
|
Carbohydrates:
59
g
|
Protein:
30
g
|
Fat:
6.4
g
---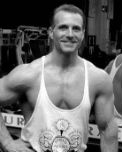 About Tom Venuto, The No-BS Fat Loss Coach
Tom Venuto has been a trusted natural bodybuilding and fat loss expert since 1989. He is also a recipe creator specializing in fat-burning, muscle-building cooking. Tom is a former competitive bodybuilder and today works as a full-time fitness coach, writer, blogger, and author. In his spare time, he is an avid outdoor enthusiast and backpacker. His book, Burn The Fat, Feed The Muscle is an international bestseller, first as an ebook and now as a hardcover and audiobook. The Body Fat Solution, Tom's book about emotional eating and long-term weight maintenance, was an Oprah Magazine and Men's Fitness Magazine pick. Tom is also the founder of Burn The Fat Inner Circle – a fitness support community with over 52,000 members worldwide since 2006. Click here for membership details
---
If you enjoyed this post, subscribe for weekly updates – free!
Your email is safe with me!