Nothing beats the speed and convenience of overnight oats (or overnight "proats" ie, protein oats). No cooking or even re-heating is required. You can make this in a few minutes before bed, pull it out of the fridge in the morning and eat it from the jar in minutes. (No more excuses about "no time for breakfast!") The only thing better in the early a.m. is when your oatmeal is caffeinated! (Like this #BurnTheFatFeedTheMuscle caffe mocha overnight oats recipe)…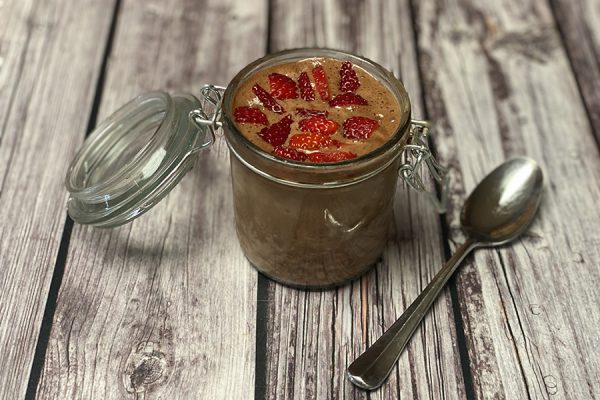 What are overnight oats? And what is high protein overnight oats? 
Overnight oats are an easy way to prepare oatmeal without cooking required. Conventional oatmeal is usually microwaved. If you want to get fancy schmancy, you can cook it on the stovetop. You can even bake it (baked oatmeal is amazing!)
What you do is simply put all the ingredients into a jar. Then stir or shake until it's well mixed. Next, put it in the fridge overnight (or at least two or three hours). Your breakfast will be ready and waiting for you in the morning.
Depending on your liquid to solid ingredients ratio, the mixture may be a liquid when you mix it at room temperature, but after refrigeration the oats (and seeds) soak up water and everything solidifies into a pudding-like consistency. Yum! You can re-heat it in the microwave if you want to, but traditionally most people enjoy their overnight oats cold.
What Science Says About Microwave Ovens, Food And Your Health
Tom Venuto's base recipe for overnight oats and high-protein overnight oats
Below in the recipe card, you'll see all the ingredients for the special mocha latte flavored overnight oats.  It's a little different than the usual way I make overnight oats.
Recipes can vary, but this is my usual base recipe for any type of overnight oats:
1/2 cup of rolled oats
1/2 cup of non fat milk
1/2 cup of nonfat Greek yogurt
1 Tbsp chia seeds
Notice that's a 2:1 ratio of liquids to oats if you count the yogurt as a liquid.
The chia seeds are optional but they are so popular in overnight oats that most people consider them a standard base ingredient. Chia seeds absorb water so they act as a thickener and help with creating a consistency like pudding. Chia seeds are also a fantastic source of fiber and they  give you healthy fats as well. Some people use flaxseeds or ground flaxseeds instead. I use chia most of the time. (If you don't dispense them carefully though, they can make a mess of your kitchen, lol).
Now, if you want to turn this into high protein overnight oats (proats), the base recipe will look like this:
1/2 cup of rolled oats
1/2 cup of non fat milk
1/2 cup of nonfat Greek yogurt
1 Tbsp chia seeds
1/2 scoop (15g) to 1 scoop (30g) protein powder (depending on how high you want it to be in protein)
If you browse food blogs or read through recipe books, you'll see that most traditional overnight oats recipes don't use protein powder. But if you're familiar with my Burn the Fat, Feed the Muscle recipes, then you know I'm a protein, uh…  "enthusiast."
How To Get Enough Protein To Build Muscle And Burn Fat
A lot of people are also finding themselves falling short on protein. Eating enough protein helps you stay lean and build muscle, obviously. But let's also not forget that protein powders are also a great recipe ingredient. You can use flavored proteins to change the flavor profile too. (The 4-ingredient base recipe doesn't taste like much).  It also takes your oatmeal from medium protein to high protein.
Without the protein powder you still get a significant amount of protein, about 25 grams or so. That's a good amount for a snack or average Joe, but as a complete meal for someone doing serious resistance training, it falls a bit short. Adding a half a scoop (weighing 15g) of protein powder would bump the protein to around 37 grams. If you add a whole scoop (weighing 30g), that brings the total protein to a whopping 49 grams!
I used whey and that's what I recommend. If you use casein, you're probably going to need more liquid or it will be too thick.
From the 4 ingredient base recipe, you can add additional ingredients and toppings to create countless flavor profiles.
You can add different flavored protein powders and use flavored yogurts for starters. You can also add nuts, nut butters, fruit, syrups, and so on. For example:
Chocolate protein powder and peanut butter
Coconut yogurt, coconut milk and coconut flakes with vanilla protein.
Reduced fat cream cheese, strawberry yogurt, and strawberries for a cheesecake overnight oats.
Apples, cinnamon and vanilla.
The sky is the limit! I've tried about a half a dozen flavors so far. The first one I made was caffe mocha and it's still one of my favorites. Because… well.. caffeine in the morning!
Ingredients for caffe mocha high protein overnight oats
All my other overnight oats recipes use the same base ingredients, but the caffe mocha flavored version is a little different. Check this out: It includes brewed coffee.
My overnight oats have a 2:1 ratio of liquid ingredients to oats.  Usually, half the liquid ingredients is milk. However, I discovered that another option instead of milk is liquid egg whites. Why egg whites? Because this is a way to boost the protein even more.
A half cup of coffee contains zero protein. A half a cup of skim milk contains 4 grams of protein. A half a cup of liquid egg whites contains 13 grams. When you use cartoned liquid egg whites, they are pasteurized, so it's okay to eat them without cooking.
That's why in this unique recipe on this page (below) you see 1/4 cup of brewed coffee and 1/4 cup of liquid egg whites. This is used in place of the 1/2 cup of milk.
Egg whites versus whole eggs in fat loss and bodybuilding diets
I highly recommend you go out and get some coffee flavored protein powder. Almost every protein powder company has them now. The names can vary (Mocha, latte, mocaccino, cappuccino, and so on), but they're all basically the same thing – coffee flavored protein powder. Also make a note that many of them have caffeine added (if you want the pick-me-up).
I don't mention brand names because I don't want to be associated with the supplement industry. However, I will say that there is one company that partnered with Dunkin (no affiliation!) That protein tastes pretty darn good, including on its own for a straight up protein shake if you forgot to make your oats the night before.
You could use make this recipe with chocolate protein powder, but with the cocoa added, it will have a much stronger chocolate taste than coffee taste. You might as well call it chocolate flavored. Trust me – just go get the coffee flavored protein powder!
If you don't want the added protein, or if you don't have any liquid egg whites on hand, or if you simply prefer milk, that's fine. There will be no difference in the taste, and little difference in the texture. The only difference is the protein content.
I suppose in this mocha flavored overnight oats you could even use 1/2 cup coffee and no milk or egg whites. But coffee is a thinner liquid, and using egg whites is part of the reason we can get our overnight oats up to almost 50 grams of protein. (Using Greek yogurt is and protein powder are the other ways you bump the protein way up).
FYI: I've had some readers tell me they made this with instant coffee as well. And as long as you used the coffee flavored protein, I'm guessing  could use 1/2 cup of milk with some instant coffee instead of egg whites and brewed coffee. Feel free to experiment (and let me know what variations you come up with).
Other ingredients in high protein overnight oats
You'll sometimes see overnight oats recipes with only skim milk and oats and chia as base ingredients (no yogurt).  I always use yogurt in mine because it's part of what makes these oats thicker and creamier.  To keep the fat and calories down, I use non fat Greek yogurt.
In this recipe, I used plain Greek yogurt, which is unsweetened as well as unflavored. In other overnight oats recipes you might want to use flavored yogurts for a certain taste as well as sweetness. A problem with many flavored yogurts is the added (refined sugar). Fortunately there are yogurt brands with low sugar. (For example Two Good has only 2 grams of added sugar). There are also sugar-free brands of yogurt made with with stevia.
You may want to add a sweetener, either from packets or the spoonable type. Adding sweetener is optional, depending on the recipe. Most protein powders are sweetened already and if you add fruit, that might be sweet enough for you. In recipes where I use sweetened yogurts, sweetened protein powder and fruit, I usually don't add sweetener.  In this mocha latte high protein overnight oats, since plain Greek yogurt is used, I add one or two packets of the erythritol / stevia combo.
Is erythritol a healthy sweetener, and does it really have zero calories?
Overnight oats toppings 
This recipe comes in at 412 calories which may be just right for many people on fat loss programs. For me, that's a little low because I'm super active and train for hours every week, so I add fruit on top. The last time I made this I used strawberries (pictured above). I'm sure it would be great with bananas as well.
It's usually best to add the fruit in the morning when you serve the oats. If you leave fruit (and certain other toppings) in the jar overnight, they can sometimes get soggy. Strawberries hold up ok after one night of refrigeration but not all fruits are the same.
Remember that when you mix up your oats, at first it will be a thinner liquid. But after at least a couple hours in the fridge, the oats and chia seeds soak up liquid and it thickens into a nice creamy texture like pudding. Following this recipe verbatim, it comes out perfect (thick and creamy) every time. However, if you ever fail to get the consistency you want, just play around with the ratios of dry to liquid ingredients.
High protein overnight oats prep and serving ideas
As I mentioned above, most people eat their overnight oats cold. I'm sure some people like cold oats on a warm summer morning, but would prefer hot oats on a cold winter morning. I like mine chilled any time of the year. But go ahead and quickly microwave yours if you like.
Obviously the name overnight oats refers to the way they are usually made. You mix it up the night before and then it's ready for breakfast the next morning. You'll probably see most recipes tell you to soak the oats overnight for at least 8 hours, but here's a little secret:  "Overnight" oats should be ready to eat after as little as 2 to 3 hours in the refrigerator.
Being a meal in a jar, this is also portable and you can take it with you for a meal on the go. You wouldn't want to leave your oats at room temperature for too long, but you could certainly take it with you for brunch or lunch and it will still taste great.
This is a good recipe for meal prep too.  Make these in batches by lining up a bunch of  jars and bang them out like an assembly line.  Overnight oats will keep in the refrigerator for 4 days, maybe 5. I do think however, it's best within 2 days. If it sits in the refrigerator too long, the texture may change.
The 16 ounce mason jars are the most popular storage container, but you could also use a large glass, a bowl, large spice jars or re-use any jar you have lying around (peanut butter jar, pickle jar, etc). Just make sure you seal it airtight when you refrigerate it.
Enjoy, and let me know what you think!
Tom Venuto,
Founder & CEO, Burn the Fat Inner Circle
Author of Burn the Fat, Feed the Muscle (BFFM)
Author of The BFFM Guide to Flexible Meal Planning For Fat Loss
To browse hundreds of Burn the Fat, Feed the Muscle recipes CLICK HERE (Inner Circle members only)
Not a Burn the Fat, Feed the Muscle Inner Circle member yet? JOIN HERE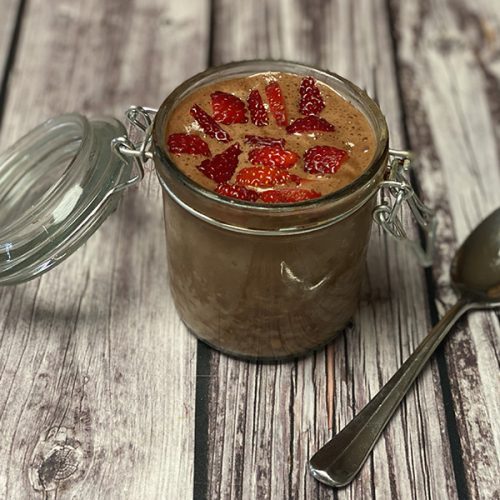 Mocha Latte High Protein Overnight Oats
Make overnight oats before bedtime (takes 5 minutes) and they're ready and waiting in the fridge for you in the a.m. for instant eats. Maybe the only thing better than this kind of speed and convenience is when your morning oatmeal is caffeinated! Recipe from Tom Venuto's Burn the Fat, Feed the Muscle Blog (www.BurnTheFatBlog.com)
Print
Pin
Rate
Ingredients
1/2

cup

Old fashioned oats (oatmeal)

(40g)

1/2

cup

Greek yogurt, plain, nonfat

(113g)

1/4

cup

liquid egg whites, pasteurized (or nonfat milk)

1/4

cup

brewed coffee

1

Tbsp

chia seeds

(11g)

1

scoop

coffee flavored protein powder

(30g)

1

Tbsp

Unsweetened cocoa powder

(5g)

1

packet

sweetener (stevia, etc)
Instructions
In a glass jar add oats, chia seeds, sweetener, protein powder and cocoa powder

Add greek yogurt, pasteurized egg whites and brewed coffee (cold is fine)

Seal jar tightly and shake vigorously or stir until ingredients are mixed

Refrigerate overnight (or at least 2 to 3 hours) so oats have time to soften, absorb liquid and everything gels into a creamy consistency like pudding

Serve chilled (heating optional)

Optional: top with fresh fruit (strawberries, banana etc.)
Nutrition
Calories:
412
kcal
|
Carbohydrates:
38.9
g
|
Protein:
49.5
g
|
Fat:
7.1
g
---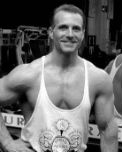 About Tom Venuto, The No-BS Fat Loss Coach
Tom Venuto has been a trusted natural bodybuilding and fat loss expert since 1989. He is also a recipe creator specializing in fat-burning, muscle-building cooking. Tom is a former competitive bodybuilder and today works as a full-time fitness coach, writer, blogger, and author. In his spare time, he is an avid outdoor enthusiast and backpacker. His book, Burn The Fat, Feed The Muscle is an international bestseller, first as an ebook and now as a hardcover and audiobook. The Body Fat Solution, Tom's book about emotional eating and long-term weight maintenance, was an Oprah Magazine and Men's Fitness Magazine pick. Tom is also the founder of Burn The Fat Inner Circle – a fitness support community with over 52,000 members worldwide since 2006. Click here for membership details
---
If you enjoyed this post, subscribe for weekly updates – free!
Your email is safe with me!