You know those fully pre-cooked packaged breakfast turkey sausage patties you see at your local grocery store? Most of them are loaded with preservatives. Some of them also have a surprising amount of fat for using turkey. Like how about 8 grams of fat per tiny 2-inch patty? Not all cuts of turkey are lean.  You don't want those types of breakfast turkey sausage patties.
Granted, if you look hard enough, you can find the rare breakfast turkey sausage patties that use no preservatives. Plus, they are leaner. Like the Butterball brand you get at Wal Mart. It has 110 calories with only 7 grams of fat.  But that's only 1 gram of fat and 20 calories less than the more heavily processed type. The label copy, "less fat!" "no nitrates!" "no hormones!" and "nothing artificial!" gives it a health halo. We can do better.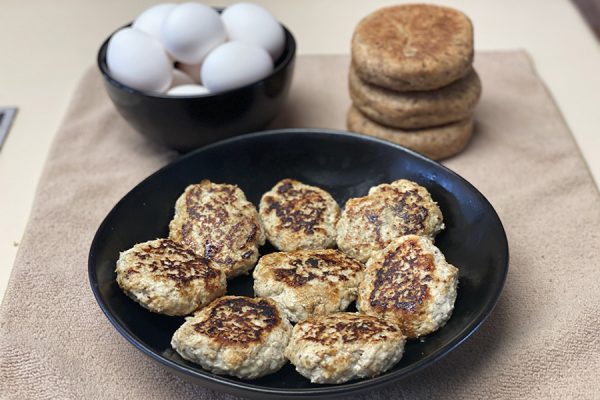 Here's an idea: Why not make your own breakfast turkey sausage patties? this way, you can control the ingredients and the macros. Check out the macros of Burn the Fat, Feed the Muscle homemade breakfast turkey sausage patties:
Calories: 74
Protein: 14g
Carbs: 2.7g
Fat: 1.3g
Preservatives? My freezer.
And yep, it's almost fat free. This is a bit of a catch-22 though. The low fat content was actually the problem I had with this recipe at first. I used 99% fat free ground turkey, like I almost always do. I love extra-lean ground turkey as a protein source – I think it's underrated and underused.
The problem is, when it's that lean, it cooks up dry. Unless you add fat back in (which sort of defeats the purpose), you have to add moisture or else you may need a swig of OJ just to get each bite down. No wonder most homemade recipes call for 93% fat free. But then you're almost back up to the fat and calorie content of the store bought sausage!
I learned this from past experience making extra lean ground turkey burgers. I add moisture into them by loading up with onions and sometimes other vegetables as well (like mushrooms which are loaded with water). Then I often slather a tasty low-calorie sauce on top of my homemade ultra-lean turkey burger. Problem solved. But what to do with turkey sausage patties?
I did try putting an egg in there, and I noticed a minor increase in moisture, but I think it would need more than one to make a big difference. Olive oil? Maybe. But now we're adding fat as well as calories back again. Nothing against olive oil; it's healthy. Might try it next time, especially if I'm in a muscle-massing phase of my training plan. But oil ain't low in calories. If I'm on a cut, I keep fat and oil fairly low, even the healthy kinds. (Why everyone thinks carb calories are the only thing to reduce for fat loss, I'll never know, I guess it's the keto and paleo influence. But it's often easier to save calories by dropping some unneeded fat).
Here's what I finally came up with: I was thinking about how healthy, low-calorie baking (muffins and stuff like that) often calls for fat replacements. As I thought about the different types of fat replacers, it dawned on me that applesauce usually appears first on the top of that list. Eureka! That was it! I added 3 Tbsp of applesauce in my next batch of homemade breakfast turkey sausage.
It also dawned on me that applesauce adds light sweetness even the sugar-free kind. So if you want to be a puritan and skip the 2 tsp of brown sugar, I think you could. I kept it in, because it's adds flavor and a little sweetness is nice. I'm thinking maple syrup might be worth testing in a future batch. Then again, the light type of brown sugar is incredibly low in calories because it's cut with stevia and or erythritol. The Truvia brand has only 10 calories per tsp. It's so negligible, people who are afraid of that teeny amount might need an orthorexia evaluation.
The other secret to a good homemade turkey breakfast sausage is to season it heavily, with multiple herbs and spices. Even better with a pinch of salty and a pinch of sweet. Extra-lean ground turkey takes on the flavor of whatever you season it with, otherwise it tastes like, well, nothing really. But the good news is, that's exactly why you can make ground turkey taste a lot like real sausage – as in pork sausage. 99% fat free ground turkey is your culinary blank canvass.
You'll find dozens of variations on homemade turkey sausage all over the web. While they have some commonalities, the seasonings vary a lot. Ground sage seems to be a fixture in most of them. You'll even see sage in the ingredients list of the store-bought turkey sausage.  I also used marjoram. Some recipes call for thyme as well, but when I made my first few batches of these patties, I had been using tons of thyme on everything so I wanted a thyme out. (That was a terrible pun, I know).
The main thing is to use a lot of different herbs and spices. If in doubt, my advice is to use more seasonings and larger amounts of them, especially if you like them. I also used garlic powder and onion powder, which you don't see in every recipe, and of course black pepper is a must as well. For a little bit of heat, I added red pepper flakes. 1/4 tsp will give you a hint of heat. 1/2 a tsp will leave some spicy heat lingering in your mouth when you're done eating. Use more if you want it atomic hot (or add cayenne powder).
Salt is a must, and when you do homemade, you get to control the amount and stay well within healthy daily limits. Remember those preservative-free store-bought sausages I mentioned? They still have 420 milligrams of sodium per patty. If you want a proper muscle-building dose of protein, you need two to three patties (three will get you to 30 grams of protein), but then you also get 1260 milligrams of sodium and 330 calories as part of the bargain. That's the nature of the packaged, processed foods beast.
I used a half a teaspoon of salt, which is 1150 milligrams of sodium in the whole batch. Divided by 8 patties, you get only 144 milligrams of added sodium in these homemade sausage patties. In fact, when you look at that, you might even be tempted to use a little more salt especially if you're wondering why your homemade patties don't taste quite like the ones out of the box. We must confess, salt makes plain ole' lean ground turkey recipes taste better. Also, my patties clock in at only 74 calories each.
I just cut your calories by 33% and your sodium by 800%. You're welcome.
This batch of ingredients makes 8 patties, about 2 to 2.5 inches across. You can eyeball it when you form the patties, or use a 1/4 cup to measure the turkey mixture and it will help you portion the batch into 8 equal patties almost exactly.
Cooking time can vary based on your cookware and stovetop. Between 4 and 5 minutes seems to do it for me. You can tell they are done when they start browning in spots, but are not burning.  They can start burning quickly if you take your eye off the ball. Also, you might need slightly less time on the second side after you flip. (Like 5 minutes for side one and 4 minutes for side two).
These homemade breakfast turkey sausages are a pure protein food. For a complete meal, serve with healthy pancakes, a bowl of oats or whole grain cereal or with whole grain English muffins or toast. Maybe some fruit too.
Here's another tip for improving your macros: Most diet and recipe books will tell you that a "portion" or "serving" of eggs is two of them, three at the most. If you track macros, you may have discovered that this quantity of eggs will leave your protein short for a meal. A whole egg, even an extra large, only has about 7 grams of protein. If you eat enough whole eggs to get a physique-athlete-sized serving of protein, you get a lot of calories and fat as part of the bargain. This is exactly why so many bodybuilders who are cutting eat a lot of egg whites.
A great idea for hitting optimal per meal muscle-building macros is to have only one to three whole eggs (any way you like them), and then top off your protein by adding one or more lean homemade breakfast turkey sausage patties to bump your bro-tein up to the 30 to 50 grams per meal range while still having low calories. Two proteins are better than one, no? Add carbs for the win.  Scrambled eggs, plus homemade breakfast turkey sausage patties, plus healthy pancakes? Yum!
You can refrigerate leftovers and they'll be good for at least a few days (maybe longer, but I prefer food that is not more than a few days old). If you're making big batches, these freeze up great then thaw and reheat in the microwave in 60 seconds flat. (Even quicker out of the fridge).
These take only 10 minutes to prep and 8-10 minutes to make, so what are you waiting for? Get cooking! And after you chow down, bring your glutes back here and leave a comment about how your turkey sausage came out (and don't forget to rate the recipe below too).
-Tom Venuto, Author, Burn the Fat, Feed the Muscle
PS. By the way, I know some people tell you explicitly not to use 99% lean ground turkey because they claim there's not enough moisture and fat.  I'd say at least try my ultra-lean version once (with the applesauce) and see for yourself if the calorie and fat savings are worth it. If not, well, hey, I won't blame you for using 93% lean ground turkey instead. The macros are STILL better than the store bought stuff:  with one pound of 93% ground turkey, the macros for one patty (in batch of 8) are: 90 calories, 11.2g protein, 2.7g carbs, 4.2g fat.
PPS. In fact, if you want the real deal, you could try low-fat ground pork. Do NOT use regular ground pork – it will more than double the calories and 9X the fat (from 1.3 grams to 9.3 grams). But if you can find the 90% lean ground pork (it is available), now your macros look like this (per patty): 108 calories, 10.2g protein, 2.7g carbs, 4.2g fat.  I like to keep saturated and total fat low, for both calorie control and health, but once in a while you gotta splurge, and this kind of ingredient substitution is not a bad compromise.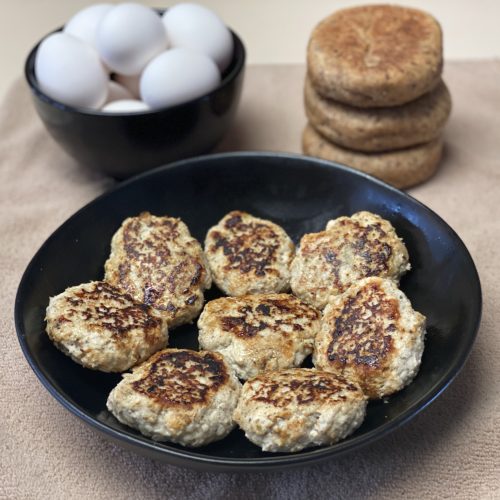 Homemade breakfast turkey sausage patties
Store bought turkey sausage is loaded with preservatives and is higher in fat than you think. Why not make your own at home with no additives and almost no fat? Recipe from Tom Venuto's Burn the Fat, Feed the Muscle Blog (www.BurnTheFatBlog.com)
Print
Pin
Rate
Equipment
Large skillet

Small spatula
Ingredients
1

spray

Nonstick cooking spray

16

oz

99% fat free ground turkey

1

tsp

sage

.5

tsp

majoram

1

tsp

garlic powder

1 tsp

tsp

onion powder

1/2

tsp

black pepper

1/4

tsp

red pepper flakes

1/2

tsp

salt

3

Tbsp

applesauce

2

tsp

light brown sugar (Truvia, etc)
Instructions
Add 99% lean ground turkey to mixing bowl

Add all seasonings and applesauce to mixing bowl

Thoroughly mix together with hands

Form turkey and seasoning mixture into 8 small patties (about 1/4 cup each)

Heat a large skillet on medium high or between medium and medium high and coat with nonstick spray

Cook patties for 4 to 5 minutes

Flip patties over and cook other side for 4 minutes or until cooked through (starting to brown in spots, but not burn)
Notes
Note: For ease of macro calculations I listed 1 serving as 1 patty. For a complete muscle-building dose of protein, 2 to 4 patties will be a practical serving in a meal.
Nutrition
Serving:
1
patty
|
Calories:
74
kcal
|
Carbohydrates:
2.7
g
|
Protein:
13.7
g
|
Fat:
1.3
g
---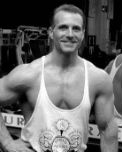 About Tom Venuto
Tom Venuto is a natural bodybuilding and fat loss expert. He is also a recipe creator specializing in fat-burning, muscle-building cooking. Tom is a former competitive bodybuilder and today works as a full-time fitness coach, writer, blogger, and author. In his spare time, he is an avid outdoor enthusiast, hiker and backpacker. His book, Burn The Fat, Feed The Muscle is an international bestseller, first as an ebook and now as a hardcover and audiobook. The Body Fat Solution, Tom's book about emotional eating and long-term weight maintenance, was an Oprah Magazine and Men's Fitness Magazine pick. Tom is also the founder of Burn The Fat Inner Circle – a fitness support community with over 53,000 members worldwide since 2006. Click here for membership details
---

If you enjoyed this post, subscribe for weekly updates – free!
Your email is safe with me!