This honey mustard chicken skillet is prepared a lot like a stir-fry, only it's not Asian. The sauce is a homemade from scratch delicious honey mustard with Worcestershire, ketchup and balsamic vinegar. It's a unique and delicious sauce, with sweet, spicy and tart notes. The Dijon mustard is the main ingredient, and the prominent flavor.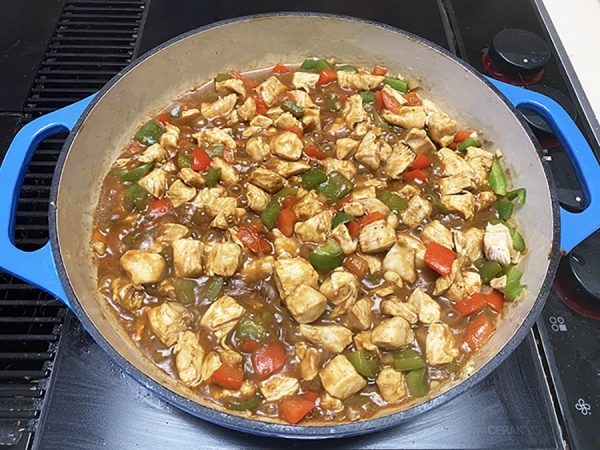 Sometimes a sauce is tasty, but it's thin and drains down in between the meat and vegetables. So, while this step is optional, like we often do with stir fry's, we use a corn starch slurry at the end to thicken the sauce. When thickened, it coats and sticks to the chicken and veggies beautifully. There's just enough sauce that when you serve this with rice, it mixes into the rice as well and everything tastes like honey mustard sauce.
After everything is cooked and almost ready to serve, you mix one tablespoon of corn starch thoroughly into two tablespoons of water (until it completely dissolves), then pour it into the skillet and stir just long enough for the sauce to thicken. This is nice because it coats the chicken and vegetables and you get more flavor with every bite. Do not overcook! The minute the sauce has fully thickened, you can remove the skillet from the heat and it's ready to serve.
This recipe so simple, you almost can't mess it up, even if you change the ingredient amounts (less chicken, more peppers, more onions, additional veggies etc). If you're an onion lover, you could easily increase the onions to 3/4 cup or even a full cup which will also bulk up the recipe and let you serve it with a little less rice but still get the same volume of food.
This is also fast to make. It's only 25 minutes from start to on your dinner plate, (maybe 30 if you're a slow chicken and veggie chopper), so it's great for a quick meal any night of the week. It's also a great way to batch cook flavorful protein for meal prep, while getting your veggies in too (bell peppers and onions).
I've made this dozens of times – it's a regular in my dinner and meal prep rotation and I've fine tuned it slightly since the beginning, especially the cooking method. Like I said, you can't really mess this one up, but there's a couple things I've discovered with many recipes including this honey mustard chicken to make it perfected.
First, adding the garlic too early when your cooking temp is medium high often leads to it burning, which is not a good taste, so I usually cook the onions first alone (making sure they don't burn either, by stirring regularly), and then add the garlic and then immediately the chicken.
Second, I've found that in recipes with bell peppers, adding them too early leads them to overcook, and they get too soft (no crispness left). Also, when overcooked, the green peppers lose their nice bright color. For this reason, I let the chicken cook completely first, before adding peppers toward the end so they're cooked for a bit shorter time. This way the peppers come out crisp-tender and bright green and red.
It never hurts to add more veggies, because that always "dilutes" the calories to volume ratio, so increase the peppers if you choose. Adding a whole other pepper, maybe a yellow one is a nice addition. I usually like to use one whole pepper at a time per recipe purely for practical reasons. (So there is none leftover. Then again, I always find ways to use leftover veggies, like in my salads and omelets).
At any rate, I usually don't bother weighing fibrous carbs like bell peppers, I just choose large ones at the store and use the whole thing. Even if calories are over or under, I know it will be an insignificant amount. It's the fats (oils) and sugars (honey) and starchy carbs (rice) that you should measure more carefully if you are doing any kind of serious fat loss dieting.
If you're eating a balanced macro diet, this goes great with rice. You can adjust the rice portion according to your desired macros and calorie budget. Since this is 4 generous servings, I use 1 cup of uncooked rice, which turns into 3 cups of cooked rice, so that's 3/4 cup of cooked rice with the chicken and veggies.
Use white rice and your total prep and cooking time will still be under a half an hour. If you use brown rice, the time in the rice cooker is longer. Be sure to note the cooking and prep time for the type of rice you choose, so it's ready when your chicken and veggies are done.
This is very satisfying and filling for only 454 calories per serving. (For light eaters, this batch may stretch to 5 servings). If I'm on a muscle-building program, I always serve this with a larger portion of rice.
If you have a small calorie budget or you're on low carbs, here are the macros for the chicken, peppers and sauce alone (without the rice):
Calories: 297
Protein: 39.5
Carbs: 17
Fat: 6.9
Recipes like this one are easy to scale and customize. So don't forget, the Burn the Fat Meal Planner Software in the Inner Circle members area is not just for meal planning – it is fantastic for recipe creation and recipe customization.
Enjoy!
-Tom Venuto, Author of, Burn the Fat, Feed the Muscle (BFFM)
Author, The BFFM Guide To Flexible Meal Planning For Fat Loss
Founder, Burn the Fat Inner Circle
To start making meal plans with Burn the Fat Meal Planner software, CLICK HERE (members only)
To browse hundreds of Burn the Fat, Feed the Muscle recipes, CLICK HERE (members only)
Not a Burn The Fat Inner Circle member yet? To learn more about the inner circle, and get access to hundreds of recipes and the Burn the Fat Meal Planner Software, CLICK HERE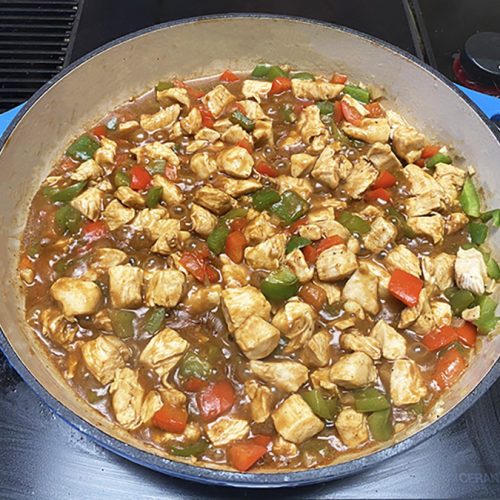 Honey Mustard Chicken Skillet With Peppers And Onions
A fast and easy way to make chicken with a delicious homemade from scratch honey mustard sauce. Recipe from Tom Venuto's Burn the Fat, Feed the Muscle Blog (www.BurnTheFatBlog.com)
Print
Pin
Rate
Ingredients
680

g

chicken breast, boneless, skinless

(24 oz)

2

tsp

olive oil, extra virgin

80

g

onion, diced

(about 1/2 cup)

1

large

green bell pepper

1

large

red bell pepper

3

cloves

garlic, fresh, minced

(1 Tbsp)

1/2

tsp

salt

(or to taste)

1/2

tsp

black pepper

1

Tbsp

cornstarch, for thickening sauce

(stir into 2 Tbsp water to make slurry)

3

Tbsp

dijon mustard

1

Tbsp

ketchup

1

Tbsp

honey

2

Tbsp

balsamic vinegar

1

Tbsp

Worcestershire sauce
Instructions
Get the rice started in rice cooker (allow extra time if using brown rice).

Mix all the ingredients for the sauce in a bowl or Pyrex cup.

Mince garlic, dice onion, and chop peppers.

Chop chicken into bite size cubes or pieces. Season with salt and pepper.

Add two teaspoons of olive oil to a large skillet or dutch oven and heat to medium high.

Cook onions about 2 to 3 minutes or until they begin to soften. Stir occasionally to avoid burning.

Add garlic. Add chicken breast. Cook chicken until browned, stirring regularly, about 4 to 5 minutes.

Add bell peppers and stir.

Pour the sauce into the skillet and stir in with the chicken and vegetables.

Add one tablespoon of corn starch to a small bowl, add two tablespoons off water and mix until it dissolves to make a slurry for thickening the sauce.

Add corn starch slurry to the skillet and stir until it thickens (about a minute). Remove from heat and serve.
---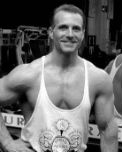 About Tom Venuto
Tom Venuto is a natural bodybuilding and fat loss expert. He is also a recipe creator specializing in fat-burning, muscle-building cooking. Tom is a former competitive bodybuilder and today works as a full-time fitness coach, writer, blogger, and author. In his spare time, he is an avid outdoor enthusiast and backpacker. His book, Burn The Fat, Feed The Muscle is an international bestseller, first as an ebook and now as a hardcover and audiobook. The Body Fat Solution, Tom's book about emotional eating and long-term weight maintenance, was an Oprah Magazine and Men's Fitness Magazine pick. Tom is also the founder of Burn The Fat Inner Circle – a fitness support community with over 52,000 members worldwide since 2006. Click here for membership details
---
If you enjoyed this post, subscribe for weekly updates – free!
Your email is safe with me!