After years of eating rice plain, and almost always making it in the rice cooker, I recently got hooked on seasoned stovetop rice. Red Mexican Rice cooked in broth and tomato sauce is amazing, but yellow Indian coconut curry rice is my newest favorite. Almost every culture has a signature rice dish – it's one of the most consumed foods in the world.  Rice is also a staple starchy carb in bodybuilding and fitness diets.
Many physique athletes and fitness enthusiasts eat rice every day.  A lot of them still eat it plain. They might not know how to cook. Or they might see high calorie ingredients like coconut milk, oil and butter and think, "Nope, not allowed."  Eating plain rice isn't bad. But if you could get all the flavor of traditional seasoned rice dishes while still keeping the calories low, and if it was fast and easy to make at home (including in bulk for meal prep), wouldn't you be all over that?
You can with my Indian coconut curry rice.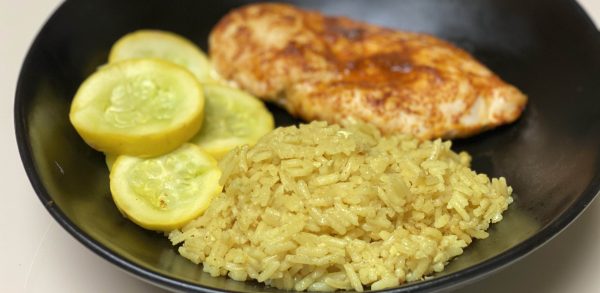 With a few ingredient tweaks, I've cut the fat way down, making this recipe not only healthy but also perfect for the calorie conscious. There are no calories in salt, but if you're sodium conscious too, there are hacks to cut it to as low as you want it. (Another perk of home cooking!) There's almost no compromise in taste either. It's delicious. Combining curry and coconut flavors along with aromatics gives this rice wonderful flavor and richness.
One of the traditional ways to make an Indian coconut curry rice is to start it with butter or ghee, but I stuck with the heart-healthier olive oil. I also reduced the amount of oil compared to what you see in traditional recipes – usually two to four Tablespoons. I used only one. You could probably get away with only a teaspoon or two if you wanted to. (I often stir-fry completely oil-free, using chicken broth as an oil substitute).
A key to low calorie recipes that are high in carbs (like rice) is to make sure you're not combining a lot of fat with a lot of starch. Carbs only have 4 calories per gram, but starchy carbs can still be calorie-dense. Add fat on top of that (9 calories per gram) and this explains the high calorie counts in certain recipes. When the starchy carbs are high, we try to keep the fats low. If your meal was mostly fibrous carbs (veggies), then you'd have more room for fat.
After the modest amount of oil is in the pot, you'll be starting out with the onion. I used a half a cup of chopped onion, but you could easily double that if you're an onion fan. That's also a calorie density reduction trick. In any rice dish where you include vegetables, when you increase the veggie portion, you decrease the calories per unit of volume.
After the onion has cooked for a few minutes, add the rice, garlic and curry. You could pour the liquids right in, but if you fry the rice for two or three minutes first it will take on more flavor. I learned that trick when I was researching the traditional way to make Mexican Rice. Now I use it for almost all my stovetop rice including the Indian coconut curry rice.
The rice will absorb the flavor of the liquid you cook it in, so if you want more flavor, the trick is using broth or stock, preferably the reduced sodium kind. Chicken stock is a pantry staple for me, but if you don't have it on hand, just use water. If you use water, you'll probably want to season the rice with salt. Use stock and you may not need extra salt. Taste test it half way through cooking then decide. For stovetop rice using a white long-grain variety, the rule of thumb is 2 parts liquid to 1 cup of dry rice.
Speaking of salt, for people who really want to keep sodium low, another trick is to use part broth and part water. If a recipe calls for two cups of chicken broth, you can always use one cup of broth and one cup of water. You just cut the sodium in half. You're welcome.
For the curry, I used one teaspoon of the pre-made store bought stuff. Adjust the amount to your taste. You may want more. Also, if you want to make your own, you can control both the flavor and the salt amount. Here's my curry spice from scratch recipe:
2 tsp cumin
2 tsp coriander
2 tsp cardamom
1 tsp ginger
1 tsp turmeric
1/2 tsp salt
You may want to get creative and add more seasonings, but for the sake of simplicity I stuck with the curry spice alone. (Curry powder is a blend of spices anyway).  If you try this and add more spices on top of the curry, let me know which ones you liked. I've been known to add a little turmeric not only for another flavor, but also to make the rice a more colorful yellow.
I think this rice would still be good with nothing but curry, but the secret ingredient in this recipe is coconut milk. Regular coconut milk is calorie dense, with 600 calories in a full 14 ounce can. The lite coconut milk has only 250 calories in 14 ounces, so that's what I suggest using. Any compromise in richness or taste is worth it for the savings in calories.
And here's another trick: Most recipes call for using the whole can of coconut milk and a small amount of broth. I use one and a half cups of broth and only half a can of lite coconut milk. This gives you plenty of coconut flavor and we keep the calories low. If you don't anticipate using that other half a can of lite coconut milk soon and envision it going bad in the fridge, then make a huge batch of this rice for meal prep – just double all the ingredients.
The traditional choice for Indian coconut curry rice is basmati or jasmine, but you can use any long grain white rice you have. Just remember that the cook time and amount of liquid indicated here is for a white long grain type of rice. Brown rice takes longer to cook..
On the stovetop, keep an eye on your rice after 15 minutes or so. Depending on your stove, temperature and cookware, it might take slightly more or slightly less than 20 minutes. If I taste test it and the rice is cooked through and all or most of the liquid has been absorbed, I'll take it off the stove at 17 or 18 minutes.
If it's been on a whole 20 minutes and there's still excess liquid or the rice isn't quite done, I'll leave it on another 2 or 3 minutes being careful that it's not burning or sticking to the bottom. Typically it's done for me at 20 minutes on the button if not a minute or two sooner.
You can serve this straight up with nothing else in it or on it, or garnish it with fresh herbs such as cilantro. Peas and or carrots are also a great addition if you need a vegetable. Frozen veggies are great for convenience and you can dump them right into the pot near the end and stir them in until they are heated. By doing this last, they won't get mushy.
In addition to a vegetable, for a complete meal, serve this rice with a protein. I usually pair it with a marinated or rubbed chicken. Paprika chicken is great, or an Indian-style chicken like Tandoori or simply curry spice on chicken works as well.
Enjoy!
-Tom Venuto, Author, Burn the Fat, Feed the Muscle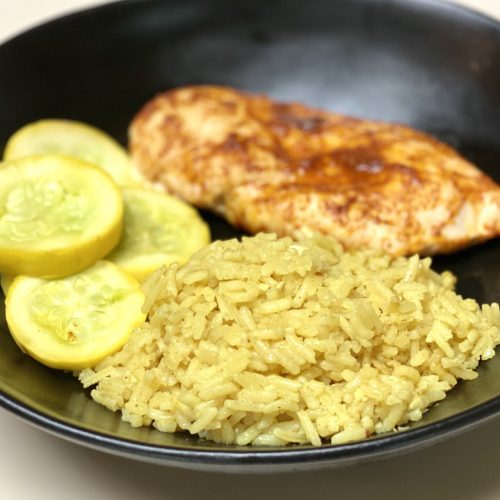 Indian coconut curry rice
Coconut curry rice made the traditional way can be higher in fat and not as healthy as you think. Make it this way to keep the fat and calories low with no compromise in taste. Recipe from Tom Venuto's Burn the Fat, Feed the Muscle Blog (www.BurnTheFatBlog.com)
Print
Pin
Rate
Ingredients
1

cup

white basmati or white long grain rice

1

Tbsp

olive oil

1

Tbsp

minced fresh garlic (about 3 cloves)

1/2

Cup

Chopped onion

1

tsp

curry powder (spice)

7

fl oz

lite coconut milk (1/2 14oz can)

1.5

Cups

reduced sodium chicken broth (16 oz)

1/2

tsp

salt (or to taste)
Instructions
Chop the onions and finely dice the garlic

Heat 1 Tbsp olive oil in large sauce pot on medium

Add onions to pot and saute approx 3 minutes

Add rice, garlic and curry to pot

Fry rice in pan about 2 to 3 minutes, stirring regularly

Add 1.5 cups chicken broth and 1/2 can (approx 7 oz) of lite cocnut milk to pain. Turn up heat and bring to full boil

Cover with lid, turn down to low and simmer for about 20 minutes or until most of the liquid is absorbed and rie is cooked, stirring occasionally.
Nutrition
Calories:
236
kcal
|
Carbohydrates:
39.4
g
|
Protein:
4.1
g
|
Fat:
7.1
g
---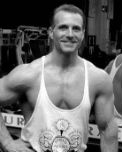 About Tom Venuto
Tom Venuto is a natural bodybuilding and fat loss expert. He is also a recipe creator specializing in fat-burning, muscle-building cooking. Tom is a former competitive bodybuilder and today works as a full-time fitness coach, writer, blogger, and author. In his spare time, he is an avid outdoor enthusiast, hiker and backpacker. His book, Burn The Fat, Feed The Muscle is an international bestseller, first as an ebook and now as a hardcover and audiobook. The Body Fat Solution, Tom's book about emotional eating and long-term weight maintenance, was an Oprah Magazine and Men's Fitness Magazine pick. Tom is also the founder of Burn The Fat Inner Circle – a fitness support community with over 53,000 members worldwide since 2006. Click here for membership details
---

If you enjoyed this post, subscribe for weekly updates – free!
Your email is safe with me!