This post contains affiliate links to kitchen tools and ingredients we use and recommend
What's not to love about blueberry muffins? Well, if we're talking about the kind you get at the coffee shop or bakery, the gobs of butter and piles of sugar sure don't do much for your health. Not to mention, the super-sized extra jumbo muffins made with calorie-dense ingredients don't make staying lean any easier. (I've seen some listed at over 600 calories!) But don't worry, Burn the Fat, Feed the Muscle lemon blueberry protein muffins have come to your rescue!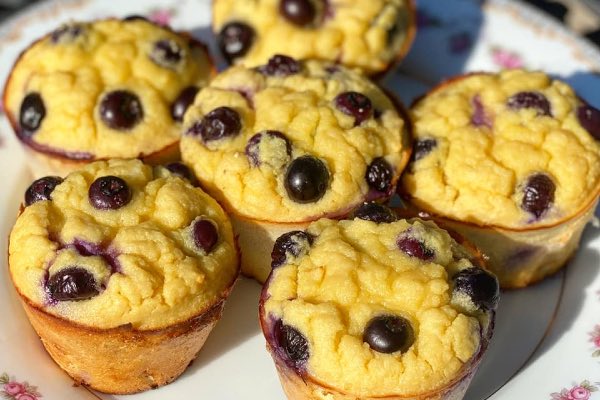 Our muffins use no refined sugar, no butter, and no oil, which is how we keep the calories so low and make it healthier. In this unique blueberry muffin recipe, you also get extra protein (it's vanilla whey-fortified, so you get 12 grams per muffin). Plus you get a big boost of fiber from the coconut flour. Yep, the secret ingredient is coconut flour!
Coconut flour is typically used by people who want to avoid wheat or gluten. It's also commonly used by people following certain diets like paleo. In fact, looking at a paleo recipe is where I originally got the idea to try this kind of flour. But I didn't like the paleo (or other low carb diet) muffins because they typically use a lot of coconut oil or butter and other calorie-dense ingredients.
My specialty is high-protein, low-calorie (bodybuilding-style) baking and cooking. I have no intolerances or dietary restrictions personally, and I don't eliminate any particular food or type of flour in my cooking. I was simply interested in trying coconut flour for the sake of variety, and I was very pleased with the result!
From both research and experience (I went through some trial and error before I got it right), I found out that coconut flour is different than other flours in a few ways. For one thing, it's wonderfully light. Smells good too! It's also unique in the way it's highly absorptive. It really soaks up the liquids, so for that reason, with the ingredients used in this recipe, you end up with a super thick batter. After baking, the muffins are incredibly light and fluffy, not heavy and dense, and yet they stay nice and moist.
With that in mind, you can't substitute any different kind of flour in the same amount and leave the rest of the recipe the same. It doesn't always work. So if you're interested in more traditional blueberry muffins made with wheat, oat, or another flour, we'll have to come back to that another day.
For now, go get yourself some coconut flour and try it – you'll like it! If it's not available in your regular grocery store, you can get it at most health food stores or order online and have it delivered to your door
You don't need a lot of flour because whey powder is used to boost the protein content and it also doubles as a flour replacement. I used vanilla whey, which is a perfect flavor for blueberry muffins, so it's a key recipe ingredient, not just a protein supplement. If you switch the type of protein powder I can't guarantee how it will come out (but if you try a different type and it works, please share and let us know!)
Even more flavor is added with the lemon juice and zest. Two tablespoons of lemon juice alone adds a wonderful flavor that complements blueberry muffins perfectly. To make it over the top lemony, go to the trouble of grabbing a lemon when you're at the store and add a tablespoon of fresh lemon zest. Use a grater or lemon zester.
These are just sweet enough to my taste, but not over-the top sweet. I used one tablespoon of spoonable Truvia (Truvia Naturally Sweet, a crystalline erythritol sweetener with stevia). Whether you like it less sweet or more sweet, adjust the amount as you see fit. Also, feel free to use a different non-caloric sweetener of your choice.
I recommend using all whole eggs. I'm always looking at recipe ingredients in our Burn the Fat Inner Circle Meal Planner software, where every ingredient change I make shows up in the macros instantly. I tinker with ingredients because I'm usually trying to fit in more protein with fewer calories. In many recipes, we can do that by using egg whites instead of whole eggs, or using part whole eggs, part egg whites. After many attempts, I was never as satisfied with how these muffins came out when using egg whites. Even if you see me use egg whites in my other recipes, I'd suggest keeping the yolks for this one.
Another tip: This lemon blueberry protein muffin recipe works without Greek yogurt, but adding a small amount will make the batter more creamy and the muffins even softer, while adding a little more protein.
The batter is very thick, so you'll need to spoon it into the muffin pan. In a standard 6 muffin pan, you'll have enough batter to fill up each spot about three-quarters. That gives it room to rise to the top. Make a note though, even though we use baking powder, coconut flour blueberry muffins don't seem to rise as much as traditional muffins using other types of flour, so don't expect to see huge, billowing muffin tops.
The tops may be slightly soft after baking 25 minutes, but that's normal – they'll solidify more after cooling a short while at room temperature. If however, they're really wet and mushy on top, they're not done yet (or you may have made an ingredient substitution that didn't work. Again, this particular recipe is finicky – I don't recommend changing it too much).
Be sure you use cooking spray in your pan so they don't stick. I like my silicone muffin pan (this one). Because the pan is flexible (like rubber), it's very easy to pop the muffins out.
Let the muffins cool and solidify in the pan at least 10 minutes and up to 20 minutes. But don't leave them in the muffin pan all day or the bottoms may get soggy. After cooling briefly, move your fresh muffins to a wire rack, a plate with a paper towel, or a container for storage.
These homemade muffins are definitely best the same day or the next day (within 24 hours), though they'll keep for up to three days at room temperature when stored properly. The best storage method at room temp for more than a day is to put them in a container in a single layer, with paper towel on the bottom and paper towel on the top (to absorb any moisture).
Avoid storing them in a sealed container while they are still warm – they'll give off heat, and condensation may form, making them soggy. Also muffins are best not refrigerated – it changes the texture. If you don't expect to use them within a few days, you can freeze them in a sealed container or in a sealable freezer bag.
Your lemon blueberry protein muffins should last for up to three months frozen. Or so I've been told – if you have a hungry crowd, good luck not having your half a dozen muffins not disappear within 24 hours. They always do at my house, so a freezer is never needed (of course, if you live alone, freezing some for later could reduce the temptation to devour them all at once in a single sitting).
These delicious treats clock in at only 145 calories – and that's a standard large muffin, not a mini-muffin! They're healthy too. So enjoy these, guilt-free!
Last tip: speaking of mini-muffins, a reader who made these used a 12-muffin tin (also using muffin/cupcake papers) and she said "they were delicious." But moreover, she also she followed my recipe to the letter and the muffins came out perfect. They were a bit more browned on top in spots, so if you like that, great, but if you use the small muffin tins, you might want to check for doneness a little early, just to be safe.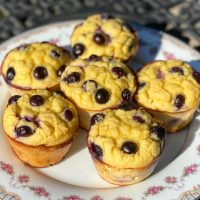 Lemon Blueberry Protein Muffins
Made with no sugar, no butter, no oil, and spiked with vanilla protein powder, there's only 145 calories per muffin with 12 grams of protein. Recipe from Tom Venuto's Burn the Fat, Feed the Muscle Blog (www.BurnTheFatBlog.com)
Print
Pin
Rate
Ingredients
75

g

Coconut flour

(2/3 cup)

46

g

Vanilla whey protein

(1/2 cup)

1/2

tsp

Baking powder

1/2

tsp

Salt

1

Tbsp

Truvia Naturally Sweet

111

g

Blueberries

(3/4 cup)

2/3

cup

Applesauce, unsweetened

1

Tbsp

Lemon zest, fresh

(optional)

2

Tbsp

Lemon juice

3

Large

whole eggs

57

g

Greek yogurt, plain nonfat

(1/4 cup)

1

tsp

Vanilla extract
Instructions
Add dry ingredients (coconut flour, protein powder, baking powder, salt, sweetener) to mixing bowl and mix together

Add liquid ingredients (eggs, lemon juice, applesauce, greek yogurt, vanilla extract) to a separate mixing bowl and stir to combine

Add dry ingredients to wet and stir to combine

Add blueberries and gently stir evenly into the batter

Spoon/scoop batter (thick) into 6 cup muffin pan (coated with cooking spray)

Add 3-5 more small blueberries on top of each muffin and press them halfway in

Bake at 375 for 25 minutes

Cool at room temperature for about 10 - 20 minutes before removing from muffin pan.
Nutrition
Serving:
1
muffin
|
Calories:
145
kcal
|
Carbohydrates:
14.7
g
|
Protein:
12.1
g
|
Fat:
2.8
g
If you want to see a lot more recipes like this one, join us at Burn the Fat Inner Circle, our members-only community where you'll find the complete collection of hundreds of Burn the Fat recipes all in one place, plus the Burn the Fat Meal Planner software, which is the ultimate desktop tool for meal planning and recipe creation. Click here to learn more: www.BurnTheFatInnerCircle.com
Until next time,
-Tom Venuto, Author, Burn the Fat, Feed the Muscle
PS. Leave a comment below and let me know what you think of this lemon blueberry protein muffins recipe. And if you make this recipe, be sure to snap a picture and share it in public on social media as well, with hashtag #burnthefatrecipes #burnthefatfeedthemuscle or #feedthemuscle so we can all see! You can tag me at www.Instagram.com/tomvenuto
PPS. Curious about why I use egg whites sometimes, and whole eggs other times? Wondering if eating a lot of whole eggs is healthy? (Cholesterol and stuff)? Check out my post about the science of egg whites vs whole eggs.
---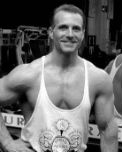 About Tom Venuto
Tom Venuto is a natural bodybuilding and fat loss coach. He is also a recipe creator specializing in fat-burning, muscle-building cooking. Tom is a former competitive bodybuilder and is today a full-time fitness writer, blogger, and author. His book, Burn The Fat, Feed The Muscle is an international bestseller, first as an ebook and now as a hardcover and audiobook. The Body Fat Solution, Tom's book about emotional eating and long-term weight maintenance, was an Oprah Magazine and Men's Fitness Magazine pick. Tom is also the founder of Burn The Fat Inner Circle – a fitness support community with over 51,000 members worldwide since 2006. Click here for membership details
---
If you enjoyed this post, subscribe for weekly updates – free!
Your email is safe with me!