This post contains affiliate links to kitchen tools and ingredients we use and recommend
You've heard of pumpkin pancakes. You've heard of protein pancakes. You've heard of pumpkin protein pancakes. You may even have heard of pumpkin protein mug cakes. But here is something maybe you haven't seen before: Pumpkin protein pancake mug cakes! (With pumpkin spice!)
Yes, this is a mug cake made with pancake mix. Not just any pancake mix either, but 100% whole grain protein-fortified pancake mix. (With some extra whey protein added in for good measure!) Best part: you don't have to mess with a griddle.
This is a microwaved pumpkin protein pancake mug cake, and it takes only a minute and a half to cook! Pumpkin spice seasoning? Check! Top with sugar-free maple syrup and a sprinkle of cinnamon. Check!  It's a dessert, a snack, or even, your breakfast! Oh my!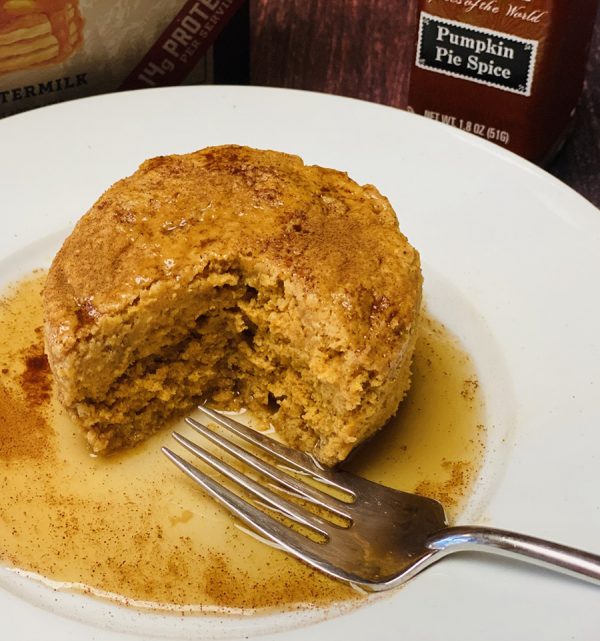 This is  my fifth protein mug cake recipe. It won't be my last. I started sharing mug cake recipes at Burn the Fat Inner Circle a couple years ago after hearing about them from our members. I didn't think anything would top our  Molten Lava Chocolate Protein mug cake. I'm still not sure. But if anything has come close, this pumpkin protein pancake mug cake is it.
This is my second pumpkin protein mug cake recipe. The first time I made a pumpkin protein mug cake, I used oat flour, vanilla whey, pumpkin, pumpkin spice, sweetener and also nonfat Greek yogurt and egg whites (two ingredients you don't see in the new recipe on this page).  I topped it with Greek yogurt as well. I posted that on my Instagram and got a lot of "YUMs" in the comments. But if I could only pick one pumpkin mug cake recipe, the winner would be this new one with the pancake batter and maple syrup,  so it's the one I chose to share here on the blog.
For my other protein mug cakes, I usually use oat flour. That's a pantry staple for me. Even if it weren't, you could always take some quick oats, pop it in the food processor / blender and you'd have yourself some homemade oat flour. And almost everyone who follows this blog always has oatmeal. Of course, there's always all-purpose flour too.
However, for this latest mug cake recipe, I decided to use pancake mix – that's why it's called a pumpkin protein pancake mug cake! What I wanted was a pancake mix made from whole grains.
The Kodiak brand buttermilk pancake mix is a blend of whole wheat and oat flour. And to my pleasant surprise, I also discovered they fortify their mix with whey protein, which is the third ingredient. I'm sure you could use another pancake mix and if you try a different kind, let me know how it turned out (post in comments below).
Kodiak Cakes Buttermilk Flapjack & Waffle Mix
Of course, I had to bump the protein content a little higher, so protein powder is the next ingredient in this recipe.  The type of protein I use is whey. I've used a concentrate / isolate blend and also a whey / casein blend.  They both worked, but you will notice a slightly different texture with the whey / casein blend.  The mug cake pictured on this page was made with straight whey. I chose the vanilla flavor because that's what I had on hand at the moment. But rest assured, I am going to be trying cinnamon roll protein in the next batch!
Will other types of protein work instead of whey? I honestly have no idea. If you were thinking of using a plant-based protein, I can't guarantee  how it will come out, but it might work great.  Give it a try and if it does work, please come back here and post in the comments to share your experience, then we'll all know what proteins do or don't work well in this recipe.
To sweeten this, you can do anything you want. A couple packets of whatever sweetener you prefer to use is going to be fine. You might even opt to leave out any granulated sweetener. But I do recommend using the maple syrup (I use sugar free) because it's part of the liquid ingredients that make this mug cake so moist.
In addition, I thought brown sugar would add something extra to the flavor. Since I like to keep calories and added sugars as low as possible, I use the zero-calorie type of brown sugar. Yes, such an animal exists – it's made from erythritol and stevia with a bit of molasses. Truvia is one brand that makes it, and there are several others.
Truvia Sweet Complete zero calorie brown sugar (Amazon)
Is Erythritol Safe And Is It Really Calorie Free? (Burn the Fat Blog)
Someone asked me the other day about coconut sugar. I'm guessing that would work, but it's going to add calories and added sugars, which I don't want. Also, I've noticed that coconut sugar is promoted as a so-called healthier sugar, but I think that's a little on the deceptive side. It's still sugar. And it's no superfood. Neither is coconut oil, but coconut hype is a rant for another day.
The other liquid ingredients are the (canned) pumpkin puree and one tablespoon of applesauce. Applesauce is a fat replacer in low-calorie baking and is another reason these mug cakes stay so moist. Many mug cakes come out delicious but on the dry side, and so they are better with toppings (such as yogurt and so on). This mug cake you could eat straight up. But I would not skip the maple syrup. (It goes on top too, with a sprinkle of cinnamon). I mean, everyone knows that pancakes are simply a delivery system for syrup, right? No guilt when it's the calorie-free kind.
Because it's a canned good and can last a long time, and because I don't believe in "pumpkin season" (all year round is pumpkin season), I like to stock up on pumpkin puree. More than once I have looked in the grocery store in early September and seen both the canned pumpkin and the pumpkin spice completely sold out. It used to catch me off guard. But not anymore.
You can also buy pumpkin puree online from Amazon and other retailers and it's almost always in stock. Two of the most popular brands are Libby's and Farmer's Market Organic. Make a note: This is 100% pure pumpkin (puree). It's not sweetened and it is not pumpkin pie filling.
Libby's 100% Pumpkin (15 oz cans) 
Farmer's Market Organic Pumpkin Puree (15 oz cans)
With my other mug cake recipes, I would always mix the batter in a small mixing bowl or glass pyrex cup. I would then coat the inside of a mug with cooking spray so the mug cake would slide right out. This on the other hand, is a unique mug cake recipe and the batter is very thick and sticky. So to avoid extra cleanup and needing to scrape all the batter off the edges of the inside of the bowl, I simply mix the ingredients in the mug I'm going to microwave it in.
Of course you can eat it right out of the mug so there's no other dishes to clean at all, but you might want to serve it on a plate as pictured here. What I discovered is that occasionally, a little bit of the cake will stick to the bottom of the (non-greased) mug. But if you simply take a knife around the edges, then turn the mug upside down and give it a gentle shake or tap on the bottom, it will usually slide out intact.
I like to use an oversized mug, but I've used small mugs in the past. If you use a small mug, one issue is that mug cakes rise in the microwave, before settling back down when the heat turns off. In some cases, the cake can rise over the top of a small mug and spill over. This particular mug cake mixture seems to only rise modestly, but with a large mug it's never a concern.
BIG MUGS are the best for mug cake making
One minute and 20 seconds in the microwave seems about right for this mug cake, but cooking time may vary somewhat depending on the power of your microwave. You can tell mug cakes are done when they have set and there is no "pool" of liquid batter on the top.
By the way, yes of course microwave ovens are safe. No one still believes those quack natural-alternative doctors who say microwaves are bad for your food and your bad health, do they?
Are Microwave Ovens Safe? What Science Really Says About Microwaves, Your Food And Your Health
Don't forget, when you become a member of our Burn the Fat Inner Circle community, you not only get access to hundreds of recipes, all our recipes are also installed in our Burn the Fat online Meal Planner software. Not available anywhere else except the Inner Circle, this software allows you to import our recipes into your profile. Then you can modify ingredients, and adjust amounts to fit your custom macros. And of course, you can create entire daily meal plans quickly and easily as well, dropping entire recipes into your meal plan with a click.
Click Here And Discover More About Burn The Fat Inner Circle And Burn The Fat Meal Planner
Click Here And Learn More About Meal Planning In Tom's New E-Book
I don't know what would happen if you scaled this recipe.  Mug cakes are supposed to be small single-serving cakes. One of these pumpkin protein pancake mug cakes has only 200 calories with 20 grams of protein. That's a great snack or dessert size. But if I wanted to call this a full meal, I'd just make two of these and have some fruit on the side. Those would be perfect macros for a full meal and this is a real treat as a breakfast.
This recipe is tested and it's another winner! Try it, then circle back and let me know what you think after following the recipe verbatim. If you do make any changes or ingredient substitutions, I'd be curious to hear how that worked out for you as well so drop a note in the comments below.
Enjoy!
Tom Venuto,
Founder & CEO, Burn the Fat Inner Circle
Author of Burn the Fat, Feed the Muscle (BFFM)
Author of The BFFM Guide to Flexible Meal Planning For Fat Loss
PS. Be sure to check out the newest e-book From Tom Venuto: The Guide To Flexible Meal Planning For Fat Loss (There's a bonus section in the back with more recipes!)
PPS. Although this pumpkin protein pancake mug cake is my favorite pumpkin mug cake (because the pancake mix!) also check out the original pumpkin protein mug cake here: www.burnthefatinnercircle.com/public/Protein-Pumpkin-Spice-Mug-Cake.cfm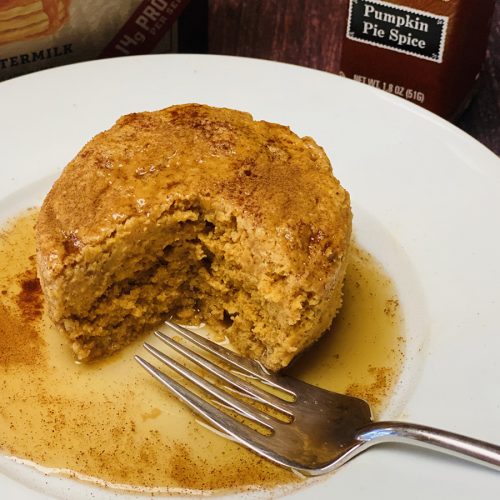 Pumpkin Protein Pancake Mug Cake
A pumpkin spice mug cake made from protein and pancake mix, smothered in sugar free maple syrup. Yum! Recipe from Tom Venuto's Burn The Fat Feed The Muscle blog www.BurnTheFatBlog.com
Print
Pin
Rate
Ingredients
15

g

vanilla whey protein

(1/2 scoop)

26.5

g

Kodiak cakes pancake mix buttermilk

(1/4 cup)

12

g

Truvia Sweet Complete calorie-free brown sugar

(1 Tbsp)

1/2

tsp

pumpkin pie spice

65

g

canned pumpkin puree

(1/4 cup)

1

Tbsp

applesauce

2

Tbsp

sugar free maple syrup (divided)

1/4

tsp

cinnamon
Instructions
Add whey, pancake mix, brown sugar, and pumpkin pie spice to oversize mug and mix until uniform.

Add 1/4 cup pumpkin puree, 1 Tbsp applesauce, 1 Tbsp of the sugar-free maple syrup.

Mix dry and wet ingredients thoroughly. Make sure there are no pockets of powder left.

Microwave for 80 seconds or until middle is set. (Mug cake will remain moist).

Sprinkle with cinnamon (optional).

Top with the other tablespoon of maple syrup.

Eat right out of mug or transfer to plate. (Even if you made the batter in the mug so it wasn't greased, it should slide out of the mug intact; might need a shake or tap on the bottom).
Nutrition
Serving:
1
mug cake
|
Calories:
220
kcal
|
Carbohydrates:
33.7
g
|
Protein:
20
g
|
Fat:
1.8
g
---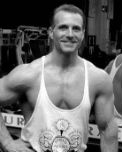 About Tom Venuto, The No-BS Fat Loss Coach
Tom Venuto has been a trusted natural bodybuilding and fat loss expert since 1989. He is also a recipe creator specializing in fat-burning, muscle-building cooking. Tom is a former competitive bodybuilder and today works as a full-time fitness coach, writer, blogger, and author. In his spare time, he is an avid outdoor enthusiast and backpacker. His book, Burn The Fat, Feed The Muscle is an international bestseller, first as an ebook and now as a hardcover and audiobook. The Body Fat Solution, Tom's book about emotional eating and long-term weight maintenance, was an Oprah Magazine and Men's Fitness Magazine pick. Tom is also the founder of Burn The Fat Inner Circle – a fitness support community with over 52,000 members worldwide since 2006. Click here for membership details
---
Disclosure: Burn the Fat Blog posts may use affiliate links to third-party websites and online stores, and earn a commission if products or books are purchased. We never recommend or link to products we haven't used and fully endorse. However, always do your own due diligence if purchasing from a third party merchant on the internet.
If you enjoyed this post, subscribe for weekly updates – free!
Your email is safe with me!