The first time I ever made this healthy turkey burger recipe, I immediately took one for taste testing to my training partner and another to a picky eater friend who usually doesn't make healthy burger recipes. They were both blown away! My training partner said, No way! These taste too good to be diet food! My other friend had a similar reaction: "No way is this a healthy burger!" Yep, they're that good! I call them T.N.T burgers which stands for "Tasty Nutritious Turkey!"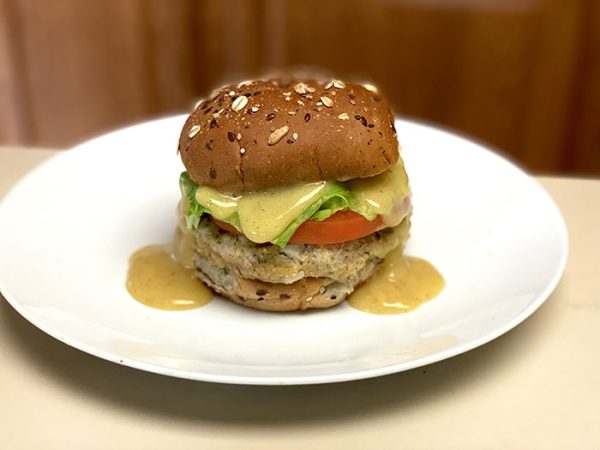 These Tom Venuto T.N.T. burgers taste so good, it might feel like you're cheating… but these are not cheat foods. This is indeed a healthy burger (and a low calorie, high protein one). It is Tom Venuto And Burn The Fat, Feed The Muscle approved.
Start out with a pound (16 oz/454 grams) of ground turkey. Lean ground turkey is an overlooked, under-utilized protein source. If you select the 99% lean variety, it's extremely high in protein, almost fat free and very low in calories. 97% lean ground turkey would be okay as well – that's still fairly lean.
Two common complaints about very low fat ground turkey, especially compared to ground beef, is that people say it's too dry and bland. That's true if you're talking about plain ground turkey, but it's not a problem with these burgers. That's because we use egg, mustard, onion and celery to keep these burgers moist. Using generous amounts of seasoning keeps them tasty. The celery gives these turkey burgers a great crunch.
Many burger recipes, whether tuna, salmon, beef or ground turkey, call for bread crumbs (along with the egg) as a binder. Do you want a healthy turkey burger recipe without breadcrumbs? It's do-able. However, if you simply leave out the crumbs and don't use a bread crumb substitute you may find your burgers more likely to fall apart. In addition, while bread crumbs are a dry ingredient, they absorb liquids and help keep your burgers more moist.
For the most flavorful burgers, use an Italian-seasoned bread crumb. If you use seasoned bread crumbs (Italian in particular), it enhances the taste. Unfortunately, most of the big brands with seasoned bread crumbs (Progresso, 4C and so on) are loaded with preservatives, additives and sugars like high fructose corn syrup.
I recently stumbled on a different brand of bread crumbs called Pope Italian seasoned. Their marketing pitch is "simple ingredients" and indeed looking at the label, it's just wheat flour, salt, garlic powder, onion powder, black pepper, parsley and Romano cheese.
If you're a stickler for only using whole grains and you want to turn this recipe into an A grade recipe rather than a B grade, our favorite bread crumb alternative is crumbled shredded wheat cereal. It's a great bread crumb hack because it has fewer calories, more fiber, more protein and it's only one ingredient – 100% whole wheat.
When Shredded wheat is crumbled, 50g will equal approximately a half a cup. You can use a little more if you like, but be sure to account for the additional calories. Oatmeal (rolled oats) is another good bread crumb replacement option.
Season your burgers according to your tastes, but I recommend seasoning liberally because extra-lean ground turkey is not only naturally dry, it has a naturally mild flavor. For spices, add garlic powder, parsley flakes, pepper and a pinch of salt. Feel free to experiment with additional spices such as onion powder if you like.
To push the flavor over the top (and add even more moisture for a nice, juicy burger) we include horseradish mustard. Two tablespoons and you're golden.
I've always used indoor electric grills. I still own a contact grill and did a lot of grilling with the old George Foreman over the years. This is nice because it shortens your grilling time (top and bottom are cooking at the same time).
Lately though I've been using a Hamilton Beach Electric Indoor Searing Grill. This is our Amazon associates affiliate link: https://amzn.to/3IfDpfC. The temp setting goes up to 450 F (sear). The typical recommended range on these types of grills is 400 to 450. I've used 425 with good results (nothing blackens or burns, I just get nice brown grill marks, it might simply take a half minute longer or so).
Regardless of the grill you're using, use a thermometer to check for the optimal internal temperature of 165F. That's when they're done. I use the ThermoPro TP19H Digital (this is our Amazon associates affiliate link: https://amzn.to/3V6tJqt).
Each one of these burgers packs 31 grams of protein. With only 219 calories per patty, you could easily have two of these for a mega-high protein (62 g), low carb meal.
If you want a meal more balanced with carbs, serve one burger on a whole grain bun or between 2 slices of whole grain bread and if you like, top it with lettuce and tomato (only 390 calories – even with the bun and 3 Tbsp of honey mustard, as pictured on this page above). Here are the complete macros:
TNT Burger on a bun with the lettuce tomato and 3 Tbsp honey mustard sauce:
Calories: 390
Protein: 37g
Carbs: 49.8g
Fat: 6.3
These burgers are tasty even without any sauce, especially if you add lettuce and tomato. But sauce adds flavor and more moisture. Use any sauce you prefer – BBQ, ketchup, anything. But I think honey mustard goes great with this. Store bought brands like G Hughes sugar free are pretty good and have only 10 calories per tablespoon.
You could also make your own. For example, you could use our home made honey mustard sauce that we use in our honey mustard chicken skillet. Here's the recipe:
Home made honey mustard sauce
3 Tbsp Dijon mustard
1 Tbsp ketchup
1 Tbsp pure honey
2 Tbsp balsamic vinegar
1 Tbsp Worcestershire sauce
This healthy turkey burger recipe has been in the Burn the Fat Feed the Muscle recipe collection since 2014. If you've been around a while, you may have seen it before? But have you tried it yet?
These burgers have been a long-time favorite of Burn the Fat Inner Circle members, with 57,039 page views. It's always voted in the top 10 favorite recipes by members. As of this writing they are ranked (by members) as the #3 recipe out of 330 recipes.
(If you want to see the top 20 ranked Burn the Fat recipes, be sure to download my free recipe ebook).
For such a low calorie, low fat meal, you can't beat the flavor of the Tom Venuto Tasty Nutritious Turkey (TNT) Burger.
Enjoy!
-Tom Venuto, Author of, Burn the Fat, Feed the Muscle (BFFM)
Author, The BFFM Guide To Flexible Meal Planning For Fat Loss
Founder, Burn the Fat Inner Circle
To download Tom Venuto's recipe book,  The top 20 Fat burning recipes of all time, CLICK HERE (free!)
To browse hundreds of Burn the Fat, Feed the Muscle recipes, CLICK HERE (members only)
Not a Burn The Fat Inner Circle member yet? To learn more about the inner circle, and get access to hundreds of recipes and the Burn the Fat Meal Planner Software, CLICK HERE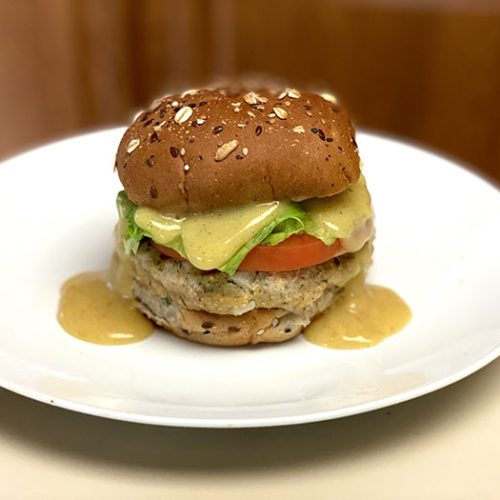 Tom Venuto's Tasty Nutritious Turkey (TNT) Burgers
The best extra-lean healthy ground turkey burger you will ever eat. Recipe from Tom Venuto's Burn the Fat, Feed the Muscle Blog (www.BurnTheFatBlog.com)
Print
Pin
Rate
Ingredients
454

g

99% fat free turkey breast

(16 oz/1 lb)

1

Large

whole egg

50

g

Italian seasoned bread crumbs

(1/2 cup)

1/2

cup

diced celery

1/2

cup

diced onion

2

tbsp

horseradish mustard

1

tbsp

soy sauce

1

tbsp

garlic powder

1

tbsp

parsley flakes

(optional fresh parsley)

1/2

tsp

black pepper

1/2

tsp

salt

(or to taste
Instructions
1. Finely dice celery and onion and add to large mixing bowl

2. Add 454g (16oz) 99% fat free ground turkey to bowl

4. Add horseradish mustard and soy sauce

5. Add 1/2 cup bread crumbs (or crumbled shredded wheat as whole grain bread crumb alternative)

6. Add seasonings: 1 tbsp garlic powder, 1 tbsp of parsley flakes, a dash of pepper, and a dash of salt. Adjust seasoning amounts to suit your tastes

7. Mix ingredients thoroughly using your hands, then form into four patties

8. Grill for about 5 minutes per side (at 425 to 450/sear on indoor electric grill). With a George Foreman or another contract/clamshell grill, total time is only 5 minutes because both sides cook at the same time
Nutrition
Serving:
4
burgers (patties only)
|
Calories:
219
kcal
|
Carbohydrates:
16.5
g
|
Protein:
32.4
g
|
Fat:
2.5
g
---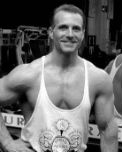 About Tom Venuto
Tom Venuto is a natural bodybuilding and fat loss expert. He is also a recipe creator specializing in fat-burning, muscle-building cooking. Tom is a former competitive bodybuilder and today works as a full-time fitness coach, writer, blogger, and author. In his spare time, he is an avid outdoor enthusiast and backpacker. His book, Burn The Fat, Feed The Muscle is an international bestseller, first as an ebook and now as a hardcover and audiobook. The Body Fat Solution, Tom's book about emotional eating and long-term weight maintenance, was an Oprah Magazine and Men's Fitness Magazine pick. Tom is also the founder of Burn The Fat Inner Circle – a fitness support community with over 52,000 members worldwide since 2006. Click here for membership details
---
If you enjoyed this post, subscribe for weekly updates – free!
Your email is safe with me!