Can transforming your body transform your life, or are physical body changes superficial? I have some strong beliefs about this, especially after seeing thousands of Burn the Fat, Feed the Muscle success stories, where the impact was felt far beyond the body fat numbers dropping. I think physical transformation has a positive ripple effect through your entire life – mental, emotional, social, even career/financial. The transformation of one person I believe, can then go beyond the individual and transform others. Today, I only want to introduce this idea as food for thought; I'm going to hold off on writing too much more. Instead, I want your opinion.  If you take a few seconds to answer my survey question below, I'll enter you in the big drawing for free signed books, free ebooks and free memberships…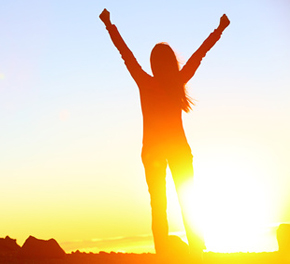 Transform your body, transform your life.
I have always had many goals for my work in the fitness field. But this year, after a brief period of struggling with "what now," I think I have finally gone beyond goals, which have an end point, and uncovered my mission and purpose, which will not end, but will continue on for the rest of my life and career…
My mission is to show people how body transformation and fitness have the potential to carry over and improve every area of your life. Simply put, it can make you happier and help you enjoy ALL of life more.
I believe that transforming your body is not a superficial endeavor.
It is not vain (as some have stereotyped bodybuilders or physique athletes).
It is not non-functional. What could be more "functional" than life enjoyment and happiness – what could be a more ideal ultimate end?
Transforming your body may not automatically change everything else in your life, and surely a mental transformation must take place in sync with the physical changes. But I believe body transformation is not only one potential path to life transformation, it is one of the best paths.
Getting fit serves higher purposes and when you stop looking at the smaller view and take in the bigger life picture, I believe you'll increase the emotional drive and motivation it takes to make a change, and keep the change.
"Transformation literally means going beyond your form." – Dr. Wayne Dyer
I am tempted to keep brain dumping everything I've been contemplating on this subject onto this page… but for that I am going to wait. I will be writing a "manifesto" about transforming your body and transforming your life before the end of the year, and sharing that with everyone who has eyes to see or ears to listen…
But as I mentioned above, I do not want to reveal all of my thoughts just yet. I've already given you the core of the big idea.
For now…
I want to know what YOU think.
I know this will be controversial and opinions will vary because I have already heard the various opinions. And that's ok. That's why I'm doing this. I want to hear it all, from every type of person.
There are two types of people who may be reading this:
1. One is a person who has already transformed his or her body and it had profound effects through every area of life – health, self-confidence, self-esteem, relationships, career, finances, happiness and more…. how others treat you, how you perform simple daily tasks, what it's like when you travel, how you feel on a date, during intimate moments, in a job interview, or at school. The list could go on and on.
2. The second is a person who is about to embark on a fitness journey or is on the path and is a "work in progress," who knows in his or her heart that the physical change is going to change more than their looks… and they have high hopes for realizing ALL those changes.
This is deeply important for all of us
Whichever group you are in, I want to hear from you. Tell me about your already actualized results… or your future anticipated results.
The responses I've gotten to various blog survey and giveaway contests in the past have been priceless, but this one has very deep meaning and implications for you and for me.
By expressing what you are thinking in words, you are going to heighten your emotional involvement and motivation to change or to keep the changes you've already made.
And for me – this may be the most important question I have ever asked my readers. This big idea may be the focal point for the rest of my career and the answers to this one post will help me know the right places and ways to start, as I focus on my mission and look for better ways to help spread this message:
Transform your body and you will transform your life.
As a thank you, if you answer this in the comments below by the deadline,  you will be entered in my drawing for free books and memberships.
 Random FREE PRIZE DRAWING

5 winners will be selected at random. All the winners will receive:
A FULL One Year Membership to the Burn the Fat Inner Circle, a personally signed (print) copy of my book, The Body Fat Solution… Shipped in the mail to your door, anywhere in the world, or a digital (PDF) copy of Burn the Fat Feed the Muscle (e-book)

Not only that, all winners will be eligible to enter the Burn the Fat Challenge body transformation contest* (optional.. but I think you should GO FOR IT – You could win a trip to Maui!)
Here's the question to answer in the comments below to get you entered into this free prize drawing:
Do you believe transforming your body can transform your ENTIRE life?
Or… has it already happened to you? If so…
As a result of transforming your body physically, how has your entire life changed (or how to you expect it to change, if you are still a work in progress)?


Go ahead – post your answer in the comments below.
Good luck in the drawing and I hope to see you in the Burn the Fat Challenge body transformation contest this week – it opens on June 6th, 2013.
Train hard and expect success,
Tom Venuto
author of Burn The Fat, Feed The Muscle
www.BurnTheFat.com
Founder & CEO,
www.BurnTheFatInnerCircle.com
BLOG GIVEAWAY CONTEST: Blog Contest Terms/Rules/Restrictions: NO PURCHASE REQUIRED TO ENTER the blog contest. you must be 18 years of age or older, Contest subject to state and federal laws and void where prohibited. Answer must be provided by posting a comment in the blog comments below, including your name (include at least your first name and last initial). Entries must be posted here on the blog, not submitted by email or posted on facebook or other social media sites. Entries must be received by Thursday, June 6th, 2013 at 11:59 (PM EST). Winners to be announced here on this blog in this post by end of day, Friday, June 7th, 2013. Winners must contact Burn The Fat support at www.BurnTheFat.com/contact.html to redeem prizes by providing postal address for hardcopy book delivery and email address for online membership delivery. Contest sponsored by Fitness Renaissance, LLC doing business as Burn The Fat blog. All entries become property of contest sponsor.
*BURN THE FAT 98-DAY BODY TRANSFORMATION CHALLENGE: Some restrictions apply. Must be 18 years of age or older. Contest enrollment is FREE for ALL current Burn the Fat customers and Burn the Fat Inner Circle members. Current customers subscribed to the clients list will receive a private email invitation to register BY June 6th, 2013, or may contact customer service and request an invitation between June 6th and June 12th, 2013 by showing proof of purchase. Contest is open to NEW burn the fat customers, but there may be restrictions in some countries. Void where prohibited. In the United States, Contest is void for new customers in Vermont, Maryland, North Dakota, Colorado, Nebraska, Tennessee, New Jersey and Rhode Island (reason: state laws do not allow registration in a fitness contest that requires a new purchase). Complete rules, list of prizes, terms, conditions and legal notices can be found on the contest information page, located at: http://www.burnthefatinnercircle.com/public/Burn-the-Fat-2013-Summer-Challenge.cfm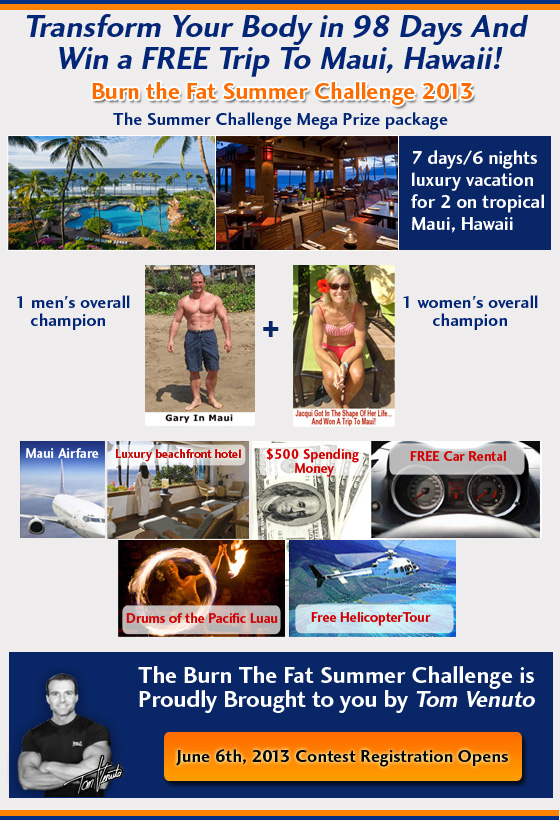 Congratulations to our 5 winners!:
1. Debra McArthur
2. Ken Logan
3. James Gagne
4. ReShonda Young
5. Yvonne T

If you enjoyed this post, subscribe for weekly updates – free!
Your email is safe with me!