What's the secret to rapid body transformation? I have my own ideas, especially after watching thousands of people TRANSFORM in our Burn the Fat Challenge fitness contests, and seeing nearly 10 years of Burn the Fat, Feed the Muscle success stories. But today I'm not going to TELL YOU how to transform your body fast, I'm going to ASK YOU. Here's why: Every year, During our Burn the Fat Challenge kickoff promotion, I do a huge giveaway / sweepstakes where a handful of lucky winners win free memberships to my Burn the Fat Inner Circle – the Internet's premier fat loss support and motivation community (thousands of members in 152 countries strong!). Why do I give away so much free stuff and why am I this year, giving away more free stuff than ever? …
First, this will help spread the word about our Burn the Fat Body Transformation contest... and we DO appreciate you spreading the word….
Please tell your friends on facebook, twitter and at your gym or workplace… even if you don't officially enter our online Burn the Fat Holiday Challenge, you could organize your own informal Burn the fat 49 day "Holiday Challenge" with your work colleagues or gym buddies).



But there's a deeper reason for this big blog giveaway…
Every year when I do this big free random prize giveaway, I see it as a rare opportunity to do some serious fitness (and psychology) research. I usually get hundreds of comments, and in some of our big free blog giveaways, I've gotten more than 1,000 comments on here.
I always figured, why let anyone enter to win all my free stuff for doing nothing? Why not make them "work" a little bit by thinking, and answering a serious, poignant question.
The responses I've gotten to the last blog giveaway contests have been priceless because you and the rest of my readers have given me your personal insights on your motivations, your challenges and your biggest problems. I could never get this kind of information and real-people feedback from reading textbooks or science journals.
This time, I have a new question. If you answer it in the comments below, you will get entered in my free drawing for free books and memberships.
This time, instead of asking you about your motivations or your problems, I want to know about your solutions.
1. I want to get insights from people who are experienced at fitness transformation who are willing to share what has already worked for them, for fast results when time is of the essence.
2. And for those who are new and don't know yet how to transform their bodies, let alone quickly, I want you to start using your brain and thinking about HOW you CAN begin to transform.
Answer the question I have written at the bottom of this post, following the rules as stated, and I will enter you into…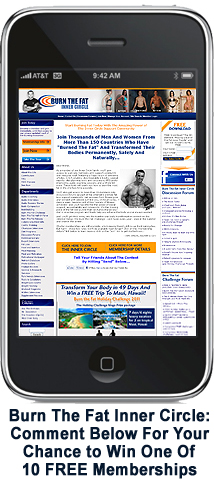 The Biggest Random FREE PRIZE DRAWING In the History of Burn the Fat Blog
In past drawings, I've given away maybe one full annual membership, a handful of 3 month memberships and a few ebooks…
This time, 10 winners sill be selected at random. All the winners will receive:
A FULL One Year Full-Access-Membership to the Burn the Fat Inner Circle and a Personally Autographed copy of my hardcopy book, The Body Fat Solution… Shipped in the mail to your door, anywhere in the world.
Not only that, all winners will be eligible to enter the Burn the Fat Challenge body transformation contest* (optional.. but I think you should GO FOR IT!)
Here's the question to answer in the comments below to get you entered into this free prize drawing:
What do you believe is the 1 biggest key to making a RAPID body composition transformation?
Please read that carefully – I did not say rapid weight loss – I said rapid Body Composition transformation.
That means losing fat and keeping your muscle or even gaining muscle. It's a totally different question than asking about fast weight loss, which is NOT what we are after around here.
If you are an experienced fitness enthusiast, then draw on your past experience.
If you are new and you don't know how to to make a rapid body composition transformation – if this has been your Achilles heel in your life and you just haven't figured it out yet – well, USE YOUR NOGGIN and THINK ABOUT IT. Think – and see what your brain comes up with.
Maybe you've never transformed your body before and that's why you're here – you want to LEARN how…
But go ahead and say that "I'm still a work in progress, not a success story, YET" but take a stab at the question and post your answer in the comments (maybe deep down, your subconscious mind already knows the answer – maybe you know what to do, you just haven't done it yet and this little "homework" exercise will draw it out… and you might win just for having a go at it)
Go ahead – post your answer in the comments below. But DO pause a moment and think about this first. And keep it to the 1 biggest thing. Just one thing.
Good luck in the drawing and I hope to see you in the Burn the Fat Challenge body (composition) transformation contest this week – it opens on November 17th, 2011 and the contest information page will go live here on this blog at 12:00 am on that day (Thursday the 17th, THIS WEEK, this blog)
Train hard and expect success,
Your Friend and coach,
Tom Venuto
author of Burn The Fat, Feed The Muscle
www.BurnTheFat.com
Founder & CEO,
www.BurnTheFat.com/InnerCircle

BLOG GIVEAWAY CONTEST: Blog Contest Terms/Rules/Restrictions: NO PURCHASE REQUIRED TO ENTER the blog contest. you must be 18 years of age or older, Contest subject to state and federal laws and void where prohibited. Answer must be provided by posting a comment in the blog comments below, including your name (include at least your first name and last initial). Entries must be received by Wednesday, November 16th, 2011 at 11:59 (PM EST). Winners to be announced here on this blog in this post by end of day, Thursday, November 17th, 2011. Winners must contact Burn The Fat support at www.BurnTheFat.com/contact.html to redeem prizes by providing postal address for hardcopy book delivery and email address for online membership delivery. Contest sponsored by Fitness Renaissance, LLC doing business as Burn The Fat blog. All entries become property of contest sponsor.
*BURN THE FAT 49-DAY HOLIDAY CHALLENGE: Some restrictions apply. Must be 18 years of age or older. Contest enrollment is FREE for ALL current Burn the Fat customers and Burn the Fat Inner Circle members. Current customers subscribed to the clients list will receive a private email invitation to register before November 17th, or may contact customer service and request an invitation between November 17th and November 23rd by showing proof of purchase. Contest is open to NEW burn the fat customers, but there may be restrictions in some countries. Void where prohibited. In the United States, Contest is void for new customers in Vermont, Maryland, North Dakota, Colorado, Nebraska, Tennessee, New Jersey and Rhode Island (reason: state laws do not allow registration in a fitness contest that requires a new purchase). Complete rules, list of prizes, terms, conditions and legal notices can be found on the contest information page, which will be posted here on this blog on Thursday, November 17th, 2011.
THANK YOU ALL for contributing to this epic blog giveaway – one of the top 2 biggest responses I've ever seen on this blog.  Here are our winners:
1. Jodi S. (nov 15th 5:21 pm)
2. Lillian Sockwell (Nov 15th 5:31 pm)
3. Sri Ganesh (Nov 15th 8:21 pm)
4. Bill Fields (Nov 15th 11:52 pm)
5. Pete Foster (Nov 16th 3:52 am)
6. Michael M. (Nov 16 12:27 pm)
7. Mark Bader (Nov 16 1:05 pm)
8. Leticia Gomez (Nov 16 5:47 pm)
9. Justin M (Nov 16 8:23 pm)
10. Jonathan Alan (Nov 16 (9:49 pm
1000th commenter prize: Caroline Christians
Congratulations and i will see you all in the Inner Circle… and I HOPE to see you in the Holiday Challenge too!
Collect your prizes by sending an email to our customer support team at: http://www.BurnTheFat.com/contact.html. Please include your postal address for shipment of your signed book.
If you enjoyed this post, subscribe for weekly updates – free!
Your email is safe with me!