In January, Linda Van Duynhoven entered the Burn the Fat, Feed the Muscle New Year Challenge body transformation contest. The rest is history (You can see the photos for yourself below)…
In addition to this challenge having overall winners, there is also a best body transformation over 50 award. And surprising to many people, (but not our members at the Burn the Fat Inner Circle), about twenty percent of the finishers this year achieved a great body transformation over 60 (or close to that age).
These are Linda's stats from the first quarter of 2023 during the 12 week Burn the Fat, Feed the Muscle Body transformation challenge:
Age: 59
Starting Weight: 145.5 lbs
Finishing Weight: 127.4 lbs
Starting body fat: 32.2%
Finishing body fat: 24.6%
One day before the challenge, Linda told a friend, "I'm going to get ripped for my 60th birthday." Her friend proceeded to spit out some of her coffee and then simply chuckle. A similar snickering was repeated by her family and work colleagues.
Linda learned thereafter to stay silent and just quietly get on with the work. And work she did. She refused to be stereotyped or held back by her age. After discovering Burn the Fat, Feed the Muscle, she read the book and then joined Burn the Fat Inner Circle.
But not only that, to help maintain her motivation and gain accountability, she also entered the Burn the Fat body transformation challenge.
She used what she learned from Burn the Fat, Feed the Muscle to work out her calorie deficit and macros and increase her nutrition and training knowledge. She started using an app to help track her food intake. Her goal was to make this upcoming milestone birthday her year…
Her goal was to be "sensational at 60."
She succeeded. Linda won first place in her category. Plus, she was the first person to ever win in the new muscle and physique division, which was open to women of all ages. She also won the most transformed body after age 50 award.
Just to clarify, at the time of the challenge (winter to spring), Linda was still 59. Her 60th is in November. We think she already achieved sensational at 59, but she is not resting on her laurels. She's currently in the Burn the Fat Million Step Challenge and plans to enter the next body transformation challenge starting in May to reach the next level and build even more muscle.
A body transformation over 60 is absolutely possible. But whatever your age, I hope you find this inspiring. Maybe you will join us for the next challenge (link for details at bottom of page).
– Tom Venuto, Inner Circle Founder
www.BurnTheFatInnerCircle.com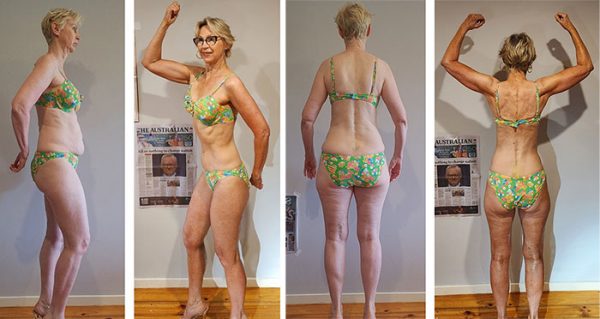 SENSATIONAL BY 60 (LINDA'S NEW YEAR 2023 BODY TRANSFORMATION CHALLENGE ESSAY)
The Motivation To Start A Body Transformation
The coffee sprayed out of her lips in a perfect arch. A fine latte mist, landing on the table between us. Louise, my friend, choked a little and then laughed. Her reflex action was in response to the statement I had just said to her:
"I am going to get ripped for my 60th."
A similar snickering laughter was repeated by my Husband, adult children and work colleagues. I soon learned to stay silent and just quietly get on with it.
Women over 50 years are often invisible to the wider younger population. In the media we are represented wearing beige cardigans and comfy velour pants in adverts for incontinence pads, funeral insurance and aged care homes.
If we voice our opinions we are silenced with cries of being a 'Karen.' They even want us to cut our hair to short and grey.
Wanting to personally address this situation I concluded I could change my external by swapping soft lumpy flesh for firm streamlined muscle and speak my mind using my pen.
Cleaning the house, listening to a podcast, I heard Tom Venuto interviewed, and a spark was ignited. Had I just stumbled upon my pathway to make a start towards my goal?
I downloaded Burn the Fat, Feed The Muscle and read it. I ordered the hardcover book, and I joined the Burn the Fat Inner Circle.
Soon afterwards, the New Year body transformation Challenge was announced and I knew this was my passport to make my milestone year all about me and my goal…
To be Sensational at Sixty!
Knowing that joining joining forces with others would keep me accountable, I wormed my way into "Team Global Warriors" and loved the notion that I wasn't alone walking this path. Teammates Mandy, Kerry, Rick and Dave were super supportive.
Before this challenge I felt invisible and unheard. Now having successfully completed the 12 week Burn the Fat New Year Challenge, I feel like a role model to women in my age group (and younger,) I feel strong and powerful and my passion for writing that has been dormant for years has incidentally resurfaced.
I have learned something new about myself. Buried beneath years of child raising and working full time was a trait that I did not know existed. However, it emerged and reared up and exposed itself to me on Day 1 of the Burn The Fat Challenge.
It dawned on me one fresh morning as I traversed a walking trail by the river…
I am not cut from the same cloth as most others. That is a good thing in my opinion, as this challenge has shown me and my family and friends and colleagues, that I In fact possess mental strength by the bucket load. I set out a plan and I stuck to it 100%. Here is what I did:
Nutrition For Transformation At 60
Using Tom Venuto's advice, I worked out my calorie deficit and my macros (carbs, protein, and fat). This was all new to me, so I initially used an app called fat secret to work out my daily meals. Breakfast was always greek yoghurt mixed with protein powder, chia seeds and blueberries.
On my long bicycling days I'd add in a bit of rolled oats also. I absolutely love this breakfast and never got tired of it. On gym days an apple would be munched on the drive home.
Lunch was either a 1 egg, 3 white wrap with left over greens, pinch of mozzarella cheese, onion, tomato and slice of turkey breast, or rice with left over greens, an egg, mozzarella and a can of tuna.
Dinner was built around protein of either steak, fish, or chicken, with a starchy vegetable such as potato, beetroot, or pumpkin and greens such as broccoli, spinach etc.
It was initially strange not to have sauces, however it was all good nutrient dense food and I quickly adapted to being sauceless.
Bed time is a cup of earl grey tea with two small protein balls.
Burn the Fat, Feed the Muscle Chocolate Peanut Butter Protein Balls
After a week, I did not need to count the calories with the app anymore as I could tell by sight what and how much to eat. In the evening I did often feel a bit peckish. However, I resisted eating as I knew I would burn fat overnight and I trained my brain to actually enjoy this feeling of slight hunger.
Resistance Training For Women's Body Transformation At 60
I went to the gym 4 days per week and used Tom's 3 day split. Unfortunately on day 2 of the competition I strained my elbow and had to back off the weight for arms for about 5 weeks. However, I used this opportunity to focus extra on legs and abs.
I like going to the gym to lift and would use the sauna afterwards as a treat. Unfortunately, the weather here became too hot, so the sauna is on pause at the moment, but will be a joy as we head towards winter again.
Cardio Training Strategy
I debated back and forth if I should do more cardio. I rode my bike twice per week anywhere between 50-70km and decided that since I was getting results, there was no need to increase my cardio except for the odd walk here and there.
Mental Training And Physical Transformation
My ace card throughout the entire completion was my mental strength. How easily our brains can come up with excuses that lead us away from our goals. I knew that cheat meals, or skipping the gym, however tempting, were not an option and I am thankful I had the strength never to waiver.
I am not actually 60 until November, so now that my body fat has been decreased and I have little budding muscles nudging their way out, going forwards, I intend to complete the Burn the Fat Million Step challenge as a way of keeping the fat from returning, and then complete the Burn the Fat Summer Challenge to gain more muscle to put the icing on my cake.
~Linda
Resources mentioned in this article:
Book
Burn the Fat Feed The Muscle (Official Guide To The Burn the Fat Challenge) CLICK HERE
Burn the Fat 12-week body transformation challenge
For details about upcoming Burn the Fat Challenge events that you can enter, CLICK HERE
Burn the Fat Inner Circle
Social Support Community For Natural Body Transformation CLICK HERE
3-Day Split Training Programs:
3-Day Split: Push-Pull-Legs (Members only)
3-Day Split: Classic Muscle (Members Only)
3-Day Split: Classic Muscle SPEED (Members Only)
Become a Burn the Fat Inner Circle member
More Women's Body Transformation Over 60 And Over 50 Success Stories:
How A 57-Year Old Grandmother Achieved A Figure Athlete Body In 12 Weeks
Do The Work And Believe: Michelle's Winning Transformation At 50
What A Difference A Year Makes: Kari's Winning Body Recomposition (Lose Fat And Gain Muscle At The Same Time)
Body Transformation After 50: Determination and Flexibility Beat Age And Obstacles
Subscribe to the Burn the Fat weekly newsletter and get my ebook, "The 20 Best Fat-Burning, Muscle-Building Recipes Of All Time" FREE!
Your email is safe with me!