Here's a classic way to make chicken breast taste great – Italian balsamic marinated chicken breast. The recipe is simple and the prep and grilling is fast. If you wanted an even simpler and faster shortcut, you could marinate your chicken with balsamic or Italian dressing, but the nice thing about making your own marinades is you control the ingredients and therefore the taste (including sodium content). Try making this marinade from scratch – you won't regret it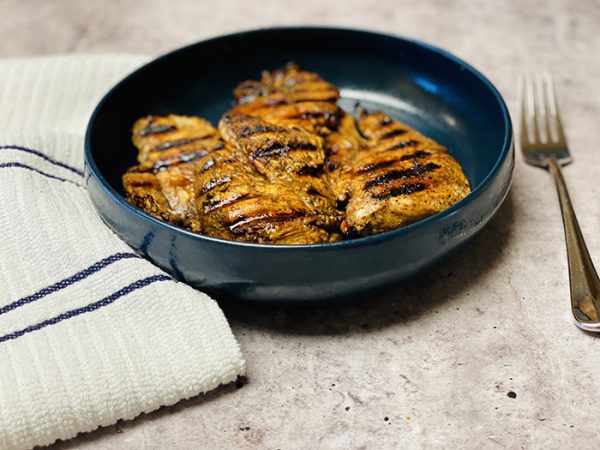 The chicken breast marinade starts with only two liquid ingredients – olive oil and balsamic vinegar.
Basic marinades include acidity, fat (oil), and seasoning. Oil helps the meat retain moisture and when it comes to extra lean meats like 99% fat free chicken breast, that is one reason many people include oil, even when they're budgeting calories. Oil may also add flavor if not a neutral oil. Acids (such as vinegar) may help tenderize the meat. Seasonings (such as garlic and herbs) add flavor.
Additional ingredients can add even more flavor.Two other possibilities for a marinade include salt and sweetness. This one doesn't need any sweetness, because balsamic vinegar is slightly sweet. A bit of salt always enhances the flavor. Adjust the amount as you see fit.
Discard the excess marinade that's left in the bottom of the bag. Some people pour it over the chicken before grilling, but an excess of marinade can cause grill flare ups and mess. In addition, do not save the used excess marinade to pour over the meat after cooking because it has been exposed to the raw meat. If you choose, set aside some extra unused marinade if you wish to use it for basting the cooked meat (not mandatory).
Even though I know I'm repeating myself, every time I post a marinade recipe, I always mention calories because if I don't, someone always asks. How do you account for marinade calories? Good question!
A marinade is not like a sauce (stir-fry for example), where it's mixed into the food and virtually all consumed. Only a little marinade seeps into the meat and coats the outside, infusing it with flavor while also tenderizing and moisturizing. You can see a substantial portion of marinade left in the bag, which you discard, and in addition, some may drip off the grill.
So how many calories of the marinade do you actually consume? I don't think there's any way to know for sure. It's one of those things in nutrition that you can't track perfectly. Some people count half, a third or even just ten percent. Some people count all the calories, even though we know they're not all consumed. You can decide for yourself. When I show macros, unless I state otherwise, it always includes all the ingredients including the marinade ingredients.
I would not ignore this however, and think zero calories are consumed, because this is one way people get stuck at fat loss plateaus – not accounting for miscellaneous calories. Some people who are on ultra-strict cutting diets (competition, etc), choose not to use sauces or marinades that contain sugar or oil at all (even though you can fit anything into your diet and still lose fat if you account for it in your calorie budget).
If you're on a really strict fat loss program, you could always ditch the oil. I know lots of people who use balsamic vinegar alone. Or you could simply use an Italian dry rub seasoning.
The primary seasoning is Italian, along with garlic powder, black pepper, and salt. If you wanted a garnish, try fresh chopped parsley.
For the meat, use boneless, skinless breasts, and if you want to save calories, pick the leanest chicken you can find. Make a note that there are sometimes differences in fat amounts in otherwise identical-looking chicken. Some brands sell boneless, skinless chicken that is 99% fat free, and that's why the calories are lower (and the protein higher). Don't worry that it's too lean. Even without much fat, it's going to be moist and taste delicious when grilled with this style of marinade.
Chicken thighs would work well too, and some people prefer them, but be sure to account for the difference in the fat and calorie amounts. Chicken thighs have little more fat and a bit less protein.
When your marinade is all mixed up in a bowl, pour it into a ziplock bag with your chicken. Massage the marinade into the meat, and make sure it's evenly covered. Some people just add their chicken to the bowl, cover and put that in the refrigerator, but the marinade bag is the most popular method. If you use a bowl you may want to flip the chicken half way through the marinated time.
Anywhere from as little as 2 to 4 hours and even up to 8 to 12 hours is ideal for marinating. Even an hour is better than nothing if you are in a pinch. But longer is not better. Marinate too long and the meat can get mushy or stringy due to the acidity of the vinegar.
When you're ready to cook, lightly coat the grill nonstick cooking spray. Then pre-heat grill so it's hot when the chicken hits it. If you don't have a regular grill, no worries – you can pan sear it if you have a grill pan. If it's a grill pan with ridges, you'll still get those nice grill lines. If you're using cast iron, be absolutely certain you clean it thoroughly after every use and that it is well seasoned. Cast iron that is not well seasoned can char and blacken the meat and leave the pan a mess.
Grill for approximately 5 minutes per side, or until it's cooked through. Make a note that grilling time depends on the grill heat and the size of the chicken breast. Thick chicken breasts can a bit longer. Until you get to know your grill and ideal grilling temp, you might want to use a meat thermometer to ensure doneness.
For grilling it is always ideal to use thin chicken breasts. I don't mean the super-thin sliced chicken breast you see in the grocery store, I'm referring to whole chicken breasts, but modestly sized ones that are not too thick. If your chicken breasts are thick or uneven in thickness, then before marinating, use a meat mallet to flatten them out as uniformly as possible to about 1/2 an inch, which is ideal for quick and even and quick cooking on the grill.
This balsamic marinated chicken breast takes minutes to prep and then only minutes to cook, so it could easily become a weekday staple, especially if you meal prep ahead of time. If you've gotten bored with plain chicken, be sure to give this one a try.
Enjoy!
-Tom Venuto, Author of, Burn the Fat, Feed the Muscle (BFFM)
Author, The BFFM Guide To Flexible Meal Planning For Fat Loss
Founder, Burn the Fat Inner Circle
To start making meal plans with Burn the Fat Meal Planner software, CLICK HERE (members only)
To browse hundreds of Burn the Fat, Feed the Muscle recipes, CLICK HERE (members only)
Not a Burn The Fat Inner Circle member yet? To learn more about the inner circle, and get access to hundreds of recipes and the Burn the Fat Meal Planner Software, CLICK HERE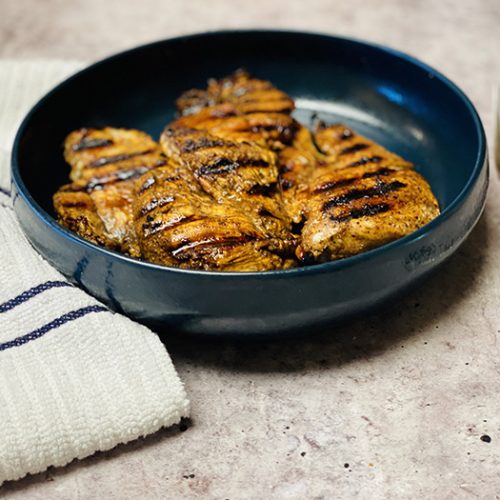 Balsamic Italian Marinated Grilled Chicken Breast
A classic, easy and delicious marinade that will bring bland chicken to life. Recipe from Tom Venuto's Burn the Fat, Feed the Muscle Blog (www.BurnTheFatBlog.com)
Print
Pin
Rate
Ingredients
20

oz

Chicken breast

(567g)

2

Tbsp

Olive oil

3

Tbsp

Balsamic vinegar

1/2

tsp

Garlic powder

1/2

tsp

Salt

1/2

tsp

Black pepper

1

Tbsp

Italian seasoning
Instructions
Flatten thick or uneven chicken breasts with meat mallet and place in large ziplock bag

Add olive oil, balsamic vinegar, Italian seasoning, garlic, pepper, and salt to a bowl of Pyrex cup

Stir marinade until all the ingredients are mixed

Add marinade to the bag, massage evenly into the chicken, squeeze out the air, and seal

Marinate in refrigerator for at least 2 to 4 hours, or up to 8 to 12 hours max

Coat grill (or pan) with nonstick cooking spray and pre-heat. 425 to 450F for electric grill or med-high on stovetop with grill pan

Grill about 5 minutes per side or until done (internal temp 165F)
Nutrition
Serving:
1
breast (5 oz)
|
Calories:
246
kcal
|
Carbohydrates:
3.1
g
|
Protein:
32.1
g
|
Fat:
10.5
g
---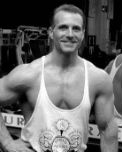 About Tom Venuto
Tom Venuto is a natural bodybuilding and fat loss expert. He is also a recipe creator specializing in fat-burning, muscle-building cooking. Tom is a former competitive bodybuilder and today works as a full-time fitness coach, writer, blogger, and author. In his spare time, he is an avid outdoor enthusiast and backpacker. His book, Burn The Fat, Feed The Muscle is an international bestseller, first as an ebook and now as a hardcover and audiobook. The Body Fat Solution, Tom's book about emotional eating and long-term weight maintenance, was an Oprah Magazine and Men's Fitness Magazine pick. Tom is also the founder of Burn The Fat Inner Circle – a fitness support community with over 52,000 members worldwide since 2006. Click here for membership details
---
Subscribe to the Burn the Fat weekly newsletter and get my ebook, "The 20 Best Fat-Burning, Muscle-Building Recipes Of All Time" FREE!
Your email is safe with me!