When the weather gets warm, most people start thinking less about Steamy stews or hot porridge and more about cold drinks and frozen treats. At the time I was writing this, that was exactly the case. It was mid April, and we got hit by a heatwave in the Northeast USA. For the third day in a row the temperature rose to 85F.
So like a lot of others, the first thing that jumped into my mind was, "Burn the Fat Ice Cream! Time for more new flavors! But then another thought popped into my head. I had just finished compiling the list of the top 20 Burn the Fat recipes of all time. Barely squeaking into the top 20 was a protein smoothie – Blueberry Bliss!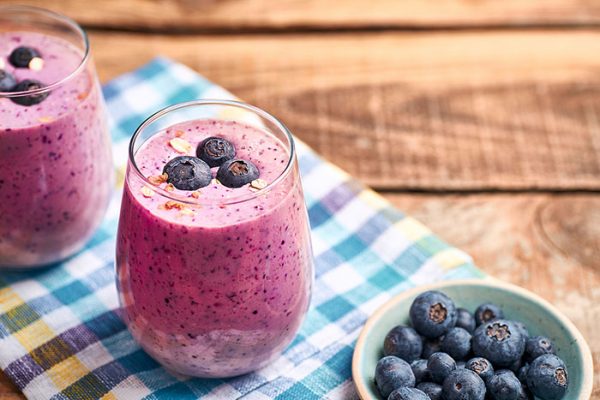 This was surprising to me because we have so many other protein smoothie flavors in our collection in the Burn the Fat Meal Planner software, including chocolate peanut butter. I mean come on! Chocolate peanut butter!!! However, blueberry bliss got more votes (as determined by how many people marked it as a favorite in the Meal planner.
But what surprised me the most is that I had never published this smoothie in the Burn the Fat Inner Circle recipe department before. It was only to be found in the Burn the Fat meal planner software. So that fact that this smoothie cracked the top 20 and the only way members found it was in the software and not here in the main website is more remarkable. In fact, all of our protein smoothie recipes ranked high even though this is the first time I've published a full page write up.
Well anyway, here's how I've made all my smoothies so far: I combine frozen fruit, yogurt, water or skim milk, protein powder and a packet of sweetener. That sweetener is optional depending on the recipe and on your desire for sweetness. That's because most protein powders are sweetened and the fruit is also sweet naturally. I like the extra pop of sweetness, so I throw in one packet (stevia, erythritol etc).
As you can see, the recipe is similar to our protein ice creams. The difference is the ratio of ingredients, For ice cream, you want a lot more frozen fruit and less liquid and dry ingredient. For smoothies, you want it thick, but drinkable (no spoon needed).
If you sip your smoothie on a hot day really slowly, it will melt and thin out eventually of course. On the other hand, these smoothies are cold enough that if you chug it too fast you'll risk brain freeze! Remember, we don't simply use fresh fruit, we use frozen fruit. Also that's why we don't need ice cubes, though I'm certain you could alter the recipe so ice cubes are included.
Speaking of fruit, you have two options. One is to buy fresh blueberries and freeze them in advance. The other option is to buy the bagged frozen blueberries. I think the results are similar.
If you follow the recipe as listed, this will make a very thick shake. If you were to mis-measure even slightly and have more blueberries and dry ingredient, it might not be ice cream but it could be so thick you'd need a spoon to eat it. This is not a problem though because if your smoothie is too thick, you can add slightly more water, (or milk) and mix/blend a little more until you get the consistency you want. I'd suggest just a tablespoon at a time.
That's why I prefer to err on the too thick side, because if the reverse happens and your smoothie is too thin, the only remedy is to add dry ingredients, which add calories and then you don't have your original target macros.
There are a couple options for blending. One obviously is using a blender. Another is putting the ingredients in a mixing bowl and using an immersion mixer (hand blender). I have an immersion blender and a regular blender. I think both methods work fine, so it's up to personal preference.
The hand mixer I use is the Mueller Smart Stick Immersion Hand blender: https://amzn.to/38UeiMs (this is my amazon associate's affiliate link). I love it. It had 45,000 reviews last time I checked.
For the liquid, I used water, but another option is non fat or low fat milk. If you make the recipe with 1/3 cup non fat milk instead of water, the macros shift slightly (a little more calories and protein) and look like this:
Blueberry Bliss Protein Smoothie With Non Fat Milk
Calories: 304
Protein: 43.1
Carbs: 0
Fat: 1.5
Whether you use water or milk, either way, you get more than 40 grams of protein. If you wanted even more protein, like a mega high 50 grams per serving, you could increase the protein powder slightly, but you'd also have to add a little more water or milk or your mixture will be too thick to pour.
You could use other flavors of protein (I wonder what chocolate tastes like with blueberry?), but vanilla works great and adds to the flavor profile. I used a whey-casein blend so in this case, the casein helps thicken the shake more. If you use straight whey, it won't quite as thick. If you use straight casein it will be so thick that again, you might have to add more water or milk so it's pourable.
Speaking of flavors, a great option to try if you want intense blueberry flavor is to use blueberry greek yogurt instead of plain nonfat variety. Just be careful because many flavored yogurts are high in added sugars. Fortunately there are a few brands that make Greek yogurt low in fat and low in sugar. I tried the Two Good brand blueberry Greek yogurt and it was awesome.
Ice cold smoothies are great on a summer's day. But if you regularly find it challenging to hit your protein goals, high protein smoothies like this one are another way to hit your daily target with ease all year round and satisfy a sweet tooth at the same time.
Also remember that thick drinks like smoothies have been scientifically proven to make you feel fuller and keep you feeling fuller longer than thin liquids.
And as most burners already know, protein is the macronutrient that suppresses appetite and increases satiety more than the other macros, especially when the protein is combined with fiber. If you struggle with hunger when you're in a calorie deficit for fat loss, then keep that in mind. This isn't just a frosty treat. Protein smoothies could have a functional benefit that helps with fat loss as well.
This blueberry protein smoothie contains only 274 calories, so if you have it alone, it's the equivalent of a large snack or very small meal. This is not a full meal for a bodybuilder who is in mass building phase.
If you're active and have the need for more calories, you can bump the calories and make it closer to a full meal by adding rolled oats, flaxseed, chia seeds or sliced almonds. Or, if you're having this as a breakfast smoothie, have a small cup of oats or some whole grain toast on the side.
Enjoy!
-Tom Venuto, Author of, Burn the Fat, Feed the Muscle (BFFM)
Author, The BFFM Guide To Flexible Meal Planning For Fat Loss
Founder, Burn the Fat Inner Circle
To start making meal plans with Burn the Fat Meal Planner software, CLICK HERE (members only)
To browse hundreds of Burn the Fat, Feed the Muscle recipes, CLICK HERE (members only)
Not a member yet? To learn more about the inner circle, and get access to hundreds of recipes and the Burn the Fat Meal Planner Software, CLICK HERE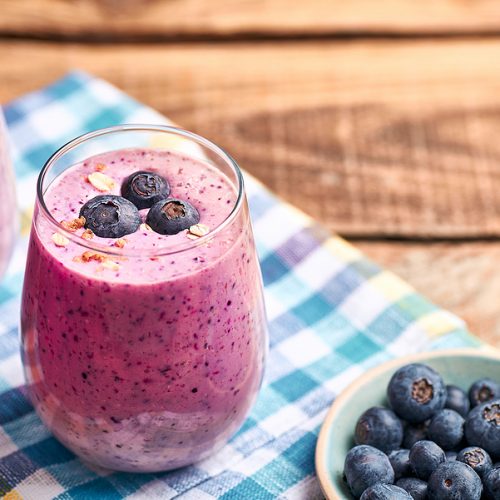 Blueberry Bliss High Protein Smoothie
This blueberry protein smoothie is thick, filling and satisfying, with only 274 calories and 40 grams protein! Recipe from Tom Venuto's Burn the Fat, Feed the Muscle Blog (www.BurnTheFatBlog.com)
Print
Pin
Rate
Ingredients
1

cup

blueberries, frozen

(140g)

2/3

cup

Non fat plain Greek yogurt (or blueberry)

(150g)

1

scoop

Whey protein powder vanilla

(31g)

1/3

cup

Water (or nonfat milk)

1

packet

sweetener (stevia/erythritol)
Instructions
Put all ingredients in blender.

Alternate method: put all ingredients in large mixing bowl.

Mix with immersion blender (hand mixer).

Alter the ratio of liquid to solid ingredients to get the consistency you want (if too thick, add water, a tablespoon at a time)
Nutrition
Calories:
274
kcal
|
Carbohydrates:
28.1
g
|
Protein:
40
g
|
Fat:
1.5
g
---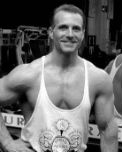 About Tom Venuto
Tom Venuto is a natural bodybuilding and fat loss expert. He is also a recipe creator specializing in fat-burning, muscle-building cooking. Tom is a former competitive bodybuilder and today works as a full-time fitness coach, writer, blogger, and author. In his spare time, he is an avid outdoor enthusiast and backpacker. His book, Burn The Fat, Feed The Muscle is an international bestseller, first as an ebook and now as a hardcover and audiobook. The Body Fat Solution, Tom's book about emotional eating and long-term weight maintenance, was an Oprah Magazine and Men's Fitness Magazine pick. Tom is also the founder of Burn The Fat Inner Circle – a fitness support community with over 52,000 members worldwide since 2006. Click here for membership details
---
If you enjoyed this post, subscribe for weekly updates – free!
Your email is safe with me!