What's really been stopping you from achieving the body of your dreams and why will you NEVER let that stop you again? If you can answer those questions, I can almost guarantee that you're going to be in the best shape of your life before the summer is over. What's more, if you'll post your answer in the Burn the Fat blog comments below, you could win a whole bunch of free stuff – free ebooks and free inner circle memberships – even a FREE trip to Maui! Read on to get ALL the details…
The Summer 2011 Burn The Fat Challenge Body Transformation Contest opens Thursday, May 19th – that's THIS WEEK – Just days away!
Why should you enter the Burn the Fat Challenge? After all, we're surrounded by "weight loss" contests these days aren't we?
Yes – and that's precisely the problem!
In "weight loss" contests, people are rewarded even if they avoid weight training, lose muscle, drop buckets of water weight or even cheat by taking laxatives or diuretics… It's all about the almighty scale. Hmpf! Big deal! I know wrestlers who can sweat out 20 pounds overnight!
This contest is different.
The Burn the Fat Challenge is the World's First "Body Composition Transformation Contest."
In the Burn the Fat Challenge, what matters most is burning the fat and feeding the muscle!
When you accept this challenge and enter the 2011 Burn the Fat contest, you will not only take before and after pictures, you will also measure your body fat percentage so you can be judged visually and numerically on your improvement in body composition !
"Skinny fat" people who starved and dehydrated themselves to "lose scale weight" are NOT very likely to win THIS contest, no sir!
Earlier this week, we just announced the AMAZING (and highly motivating) grand prize package, which includes two dream vacations for two to sunny Maui, Hawaii.

Click Here for Burn the Fat challenge contest details and prizes
TODAY! Burn The Fat BLOG Giveaway Contest! Enter to Win Free e-books, Free Burn The Fat Memberships And Free Automatic Entry Into the Burn the Fat Challenge!
Today, in anticipation of the upcoming Burn The Fat Challenge body transformation contest, we are running a pre-challenge BLOG GIVEAWAY CONTEST to find out WHAT'S BEEN STOPPING YOU FROM HAVING A BRAND NEW BODY (until now – because whatever it was, it's about to be behind you)
You see, a lot of people have emailed, commented here on the blog, posted on the facebook Burn the Fat page or answered our past surveys and said, "IM IN TOM!"
And lots of people say they want to transform their body, give up old bad habits and start a new lifestyle. But in my experience, one of the reasons so few do is because so many cling to a long list of things that they believe are stopping them.
Here's my pre-challenge challenge to you: How many of those beliefs are real and how many are self-imposed limiting beliefs… stuff that's only in your head that's holding you back?
And heck – even the "REAL STUFF" – daily life challenges that get in the way and true physical adversity. Has it really been stopping you?
Bunch of kids running around the house? Couldn't possibly find the time to workout and eat right as a busy new mom with three little ones under the age of 5 could you? Hannah did it. And she WON our first ever Burn the Fat Challenge in 2009.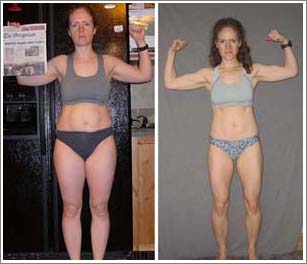 "But being busy and stressed doesn't count," you say, "I have serious limitations." Even your doc said so – you have orthopedic restrictions – that's a legitimate excuse, right?
Tell that to Burner Dennis Giger, who shared his success story with our inner circle members not long ago. He burned 109 pounds of fat… despite having osteoarthritis, a hip replacement, and severe leg pain. And that was at age 55 after 35 years of totally sedentary living!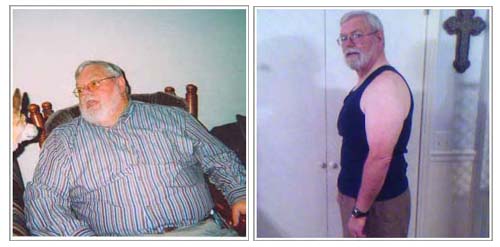 Did you read the story of my good friend Dougal Macdonald from South Africa who broke his neck in a surfing accident? Didn't stop him. Just weeks after the last of his 5 surgeries he was pumping iron again. Today he's a fitness role model and inspiration to thousands.

Oh, but you're obese. You're too far gone? When you're that big, you can hardly even move, let alone exercise, right? Why bother? That's a real reason – a real thing stopping you right? Well it's stopping you if you choose to let it stop you. Mike Boyd chose to be unstoppable. He lost 256 pounds! That's right, he was 425!
This guy is amazing! It gives me chills every time I re-read the success story and articles he's shared with our Inner Circle members. When he started, he said, "walking 10-15 steps was killer." Now you can find him out on the basketball court.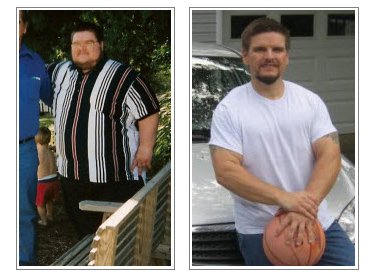 Do you see where I'm going with this? Because if you don't, I could go on for pages and pages and pages and in fact there ARE pages and pages of these types of stories in our Burn the fat inner circle in the success story archives.
Yes, people have real problems, setbacks and adversities, including injuries and illnesses. I would never deny or downplay the major obstacles or disadvantages some people have to overcome. But that is the key word: OVERCOME. My question is: Are you going to overcome? Or are you going to succumb?
The question is, what are you going to do about it? Are you going to do nothing? Or are you going to do what you can with what you have, where you are, right now? Are you going to start with baby steps and build from there? Do you have the patience and the determination?
What we're doing here at Burn the Fat is not just a contest. It's a challenge. And I'm challenging you to answer some serious questions. This is a life-altering exercise, not just a blog sweepstakes with a chance to win free stuff. I hope you'll participate.
To enter our blog giveaway today, you just need to post a short comment below, answering this question:
What have you believed in the past… up until now… that you thought was stopping you from having the body you always wanted? Be honest. Brutally honest. Get it out.
Then, once you've done that, take a cold, hard look at what you've just written, and ask yourself: "was that REALLY holding me back? Was it REALLY stopping me or was it just perhaps, slowing me down a bit? Was it just a temporary setback. Was it just self limiting belief? Was it a mere idea in my own head – and that's all that's been preventing me from achieving my dreams?"
And finally, write down, right here, right now, WHY that will never stop you again.
Answer these questions in the blog comments below – try to keep it under 500 words or less – and here's what you could get:
THE BURN THE FAT SUMMER 2011 BLOG CONTEST PRIZES
We are going to pick 10 winners at random – so anyone has a chance to win
1st prize: one person will receive a one year membership to the Burn The Fat Inner Circle ($119 value) a free copy of the Burn The Fat, Feed The Muscle ebook (deluxe edition, download) and a free personally autographed copy of The Body Fat Solution hardcover book.
2nd prize: three people will receive a six month membership to the Burn The Fat Inner Circle and a free copy of the Burn the Fat, Feed the muscle ebook (download)
3rd prize: six people will receive a special four month "challenge" membership to the Burn The Fat Inner Circle (which will last you all the way through the 2011 summer challenge, if you choose to enter).
All winners will be eligible to enter the Burn the Fat Challenge body transformation contest (optional.. but I think you should GO FOR IT!)
It's not too often that an OPPORTUNITY like this just falls into your lap. A PERFECT STORM of the positive kind – where ALL THE ELEMENTS FOR WINNING fall right into place… where conditions "conspire for your success." This week's Body Transformation challenge – opening on Thursday May 19th – is such an opportunity.
And the thing is, the vast majority of people reading this are already part of our community – if you own the Burn the Fat manual, our upcoming transformation contest is FREE for you too!
That's right, you don't have to buy a bunch of fat burner pills or diet shakes to get into our challenge – I don't sell "magic pills" or quick fixes – never did and never will! The Burn the Fat challenge is a FREE service for our community and the opportunity is yours for the taking. Right here, right now.
(The transformation contest is open for NEW customers too, just be sure to check the rules and restrictions below)
So, is this finally going to be the summer that YOU become unstoppable? The decision is yours.
Now, Tell me what's been stopping you in the past and why it will never stop you again in the comments below! Comments are open. Blog contest is live!
Train hard and expect success,
Your Friend and coach,
Tom Venuto
author of Burn The Fat, Feed The Muscle
www.BurnTheFat.com
Founder & CEO,
www.BurnTheFat.com/InnerCircle
Creator,
Burn The Fat 2010 Summer Challenge
You must answer the questions above and include your name to be entered in this free drawing. Entries must be received by Tuesday, May 17th, 2011 at 11:59 PM EST. .
Blog Contest Terms/Rules/Restrictions: NO PURCHASE REQUIRED TO ENTER the blog contest. you must be 18 years of age or older, Contest subject to state and federal laws and void where prohibited. Answer must be provided by posting a comment in the blog comments below, including your name (include at least your first name and last initial). Entries must be received by Tuesday, May 17th, 2011 at 11:59 PM EST. Winners to be announced here on this blog on Wednesday, May 18th, 2011. Winners must contact Burn The Fat support at www.BurnTheFat.com/contact.html to redeem prizes by providing postal address for hardcover book delivery and email address for digital book/membership delivery. Contest sponsored by Fitness Renaissance, LLC doing business as Burn The Fat blog. All entries become property of contest sponsor.
BURN THE FAT 98-DAY SUMMER CHALLENGE: Some restrictions apply. Must be 18 years of age or older. Contest enrollment is FREE for ALL current Burn the Fat customers and Burn the Fat Inner Circle members. Current customers subscribed to the clients list will receive a private email invitation to register before May 19th, or may contact customer service and request an invitation between May 19th and May 25th by showing proof of purchase. Contest is open to NEW burn the fat customers, but there may be restrictions in some countries. Void where prohibited. In the United States, Contest is void for new customers in Vermont, Maryland, North Dakota, Colorado, Nebraska, Tennessee, New Jersey and Rhode Island (reason: state laws do not allow registration in a fitness contest that requires a new purchase). Complete rules, list of prizes, terms, conditions and legal notices can be found on the contest information page.
If you enjoyed this post, subscribe for weekly updates – free!
Your email is safe with me!