An Italian pasta bake recipe that has more protein than carbs? And it's super low in calories? How is that possible? If you've been following Burn the Fat, Feed the Muscle recipes, then you should be catching on to the calorie-reducing tricks by now. There are five in particular: 1. Use less of the starchy carb. 2. Use more vegetables (fibrous carbs) 3. Use the leanest meat available. 4. Use reduced fat cheese. 5. Minimize oil (eliminate where possible). To bump the protein, in addition to using lean meat, you can also use a high-protein pasta.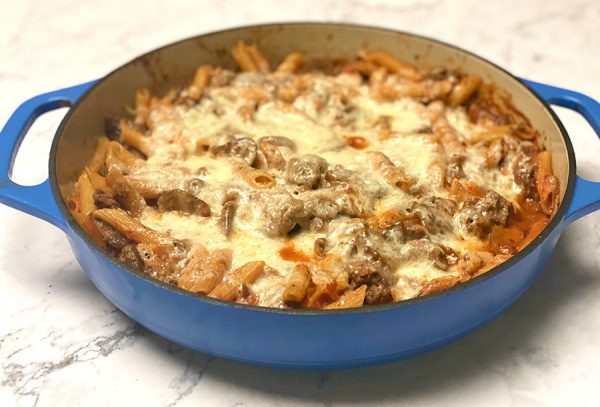 The Italian pasta bake is a classic recipe with many variations, some of them incredibly simple. The basic recipe has only four ingredients: pasta, pasta sauce, meat and cheese. (Using more than one type of cheese is common).
I wanted to keep my cheesy pasta bake simple too, but I thought it needed at least a little seasoning. Also, adding at least one vegetable is a must if you want to have any hope of keeping caloric density down in a pasta meal. Pasta is NOT fattening, calorie-for calorie, but it is a calorie dense food so it's easier to eat more calories than you think. That doesn't mean fat loss seekers should avoid pasta or be afraid of it. It means pasta and other starchy carbs need to be eaten mindfully in moderated quantities.
For seasoning, I went with Italian and fresh garlic. Adjust the seasoning as you wish. Some people might like to add some extra oregano as well even though it's in the Italian seasoning blend. If you're feeling lazy, go ahead and use garlic powder instead of fresh garlic. Also, you can season the beef with salt and pepper to taste.
For vegetables, I went with mushrooms this time. At my local grocery stores, pre-sliced mushrooms come in 8 oz boxes, and I used the whole box. That's a lot of mushrooms, but that's the whole idea. You want to use a smaller portion of pasta than a traditional recipe would call for and replace that with low-calorie veggies.
I'm a mushroom fan and I think this is amazing with mushrooms. If you prefer, here are a few other ideas: Green pepper, onions and or diced tomatoes (canned is okay). I used all three of these veggies in our our Burn the Fat Feed the Muscle chicken and rice bake, and that's why I wanted something different in this Italian pasta bake.
I also wanted to keep this recipe simple and easy with minimal ingredients (not even any veggie chopping here).  But go ahead and try different veggies if you like. I've heard of some people using zucchini. You could even use broccoli. (Why not? I use it in my high protein pesto pasta). If you're looking for lower calories, the important thing is that you DO use veggies. A plate of pure pasta, fattier meats, and full-fat cheese is the opposite of a Burn the Fat meal – it's a calorie bomb!
If you add onions, you'll can start them in the skillet for a few minutes, then add the ground beef, then add the garlic before adding the rest of the ingredients.
This recipe calls for a full jar of pasta sauce (24 oz/680g). Because this recipe uses mushrooms as the veggie, I decided to use a mushroom pasta sauce as well. It didn't add lot more veggies, but it did add a little more mushroom flavor. Feel free to use any other pasta sauce you like. I also like garlic and onion pasta sauces for this recipe. If you like chunks of tomatoes instead of a smooth tomato sauce, another option worth trying is using a little bit less pasta sauce and adding a generous serving of diced tomatoes (fresh, or canned for convenience).
Now, here's one of the big ways I kept the calories down. I only used 6 ounces of dry pasta. (Not the full box! I used less than half of the 14.5 oz box). That's about 3 cups of cooked penne pasta. The batch will provide 4 to 6 servings, so there's actually only 1/2 cup to 3/4 cup of cooked pasta in each serving. But it still feels like you're eating a legit  pasta dish!
In addition, I chose a high protein pasta. In this case I used Barilla protein plus. Barilla pastas are widely available, including online.
Barilla protein plus pasta: https://amzn.to/3bwlmjI (this is my Amazon Affiliates link)
But if you don't have access to this brand, use whatever type and brand of pasta you like. If you do a little searching however, you will have no trouble finding a higher-protein pasta because they are available almost everywhere these days.
In the Barilla Protein Plus pasta, the primary ingredient is still semolina (wheat flour), but it also includes lentil flour, chickpea flour, barley flour, spelt flour and pea protein. This brings the protein up from 7 grams to 10 grams per 2 ounce serving.
Barilla also makes pasta from 100% chickpea. Banza is another popular brand that makes chickpea pasta. That gives you 11 grams of protein per 2 oz serving. Some brands like Chickapea have 13 grams of protein per 2 oz.
If you want to go even higher, there's this stuff called red lentil pasta. That will give you 13 or even 14 grams of plant-based protein per 2 oz. I have to be honest though, red lentil pasta does not taste the same or have the same texture/mouth feel as the higher protein pasta blends like the Barilla. Because the blend does still contain durum semolina wheat, it tastes much more like regular pasta. An extra few grams of plant protein may be useful for a vegan, but with extra-lean ground beef and low fat cheese, this Italian baked pasta is already going to be very high in protein.
By the way, the protein blend pasta has 5 grams of fiber, and chickpea pasta has 8 grams of fiber per serving (2 oz dry/1 cup cooked). Compare that to regular enriched durum semolina pasta with only 2 or 3 grams of fiber.
When you make your pasta, you'll want to cook it al dente (firm) or even slightly less than the usual time. Remember, it's going into the oven, so you definitely don't want it overcooked and mushy coming out of the pot.
Salting the pasta water is always optional, but it begins the seasoning process. This is one of the secrets to why restaurant pasta always seems to taste better than home made. The amount of salt that is actually absorbed into the pasta is minimal (it mostly gets dumped out with the water) but it's enough that you can taste it.
One of the most searched for recipes online is baked Italian sausage pasta. Yeah, I know it's delicious, but sausage is a processed fattier meat. Have it once in a while if you want to splurge, but as your healthier, leaner staple, you can use extra lean ground beef, which is also a traditional ingredient in this recipe.
Choose the leanest ground beef you can find. I use 96% lean. 96% lean ground beef is not as lean as ground turkey (which can be 99% lean) or chicken breast (which can also be 99% lean), but it's pretty darn lean. Feel free to use ground turkey or chicken if you like.
On average, the packages of ground beef sold at my store are about a pound and a quarter (20oz), so that's the amount I used. Many Italian pasta bake recipes call for 16 ounces, but remember that another way to bump the protein is to well, duh, increase the protein portion as you reduce the carb portion.
I suggest a 9 X 13 baking dish (glass or ceramic) or a casserole dish. I used my Lodge enameled casserole dish to brown the beef and bake in the oven, which eliminated some cleanup as no skillet was needed. (Granted though, ground beef sears really nice in cast iron).
Lodge 3.6 Quart Casserole Dish With Lid (this is my Amazon Affiliate link)
Because the pasta is already cooked on the stovetop and the beef is already browned, the baking time for this is only 20 minutes at 375.
If you really want to make this crazy low calorie, you could also use non-fat mozzarella. That will drop the fat and calories while bumping up the protein slightly as well. I use 2% low-fat mozzarella as a nice middle ground, and the calories and macros for this recipe are still outstanding. The low fat cheese tastes better and melts better too.
If you prefer, use a different type of cheese, use only one type type of cheese and more of it, or use only one cheese in the amount listed above to save more calories.
You're not going to believe this, but with the ingredients listed here, this pasta dish has more grams of protein than carbs! Granted, not by much, but it's true:
43.7 grams of protein.
42.4 grams of carbs.
Not that you should be afraid of carbs to begin with, especially if you exercise, but there's no carb overdose here at all and yet you get to enjoy the taste of a full-on pasta meal. The calories come in at well under 500, and if you stretch this into 6 servings instead of 5 that will be only 386 calories. Crazy, right?
If you were on a muscle mass building program or involved in endurance training and you needed the calories, you could alter this recipe by splitting it into fewer servings. (Better yet by using more pasta and more cheese if you like cheese).
This recipe is easy to modify in many ways, as I've mentioned above, and it will still taste more or less the same. Of course, the more cheese you use, the better it tastes, but we have to cap the amount somewhere, right? (Rhetorical question).
This is a great meal prep recipe. Make one full batch, eat one for dinner, pack up the remaining portions in plastic containers for later. Or, simply serve a hungry crowd.
Enjoy!
Tom Venuto,
Founder & CEO, Burn the Fat Inner Circle
Author of Burn the Fat, Feed the Muscle (BFFM)
Author of The BFFM Guide to Flexible Meal Planning For Fat Loss
PS. This high protein Italian pasta bake recipe is also installed in the Burn the Fat Online Meal Planner. If you're a Burn the Fat Inner Circle member and you enjoy this recipe, please mark it as a "favorite" in the Meal Planner software. This will help you locate your own personal favorites quickly and easily in the future. It will also help us know which recipes are rated the highest by all of our members. If you're not an inner circle member yet, you can rate this recipe here on the blog below up to 5 stars. Thank you, and enjoy!
To start making meal plans with Burn the Fat Online Meal Planner CLICK HERE (Inner Circle members only)
To browse hundreds of Burn the Fat, Feed the Muscle recipes CLICK HERE (Inner Circle members only)
Not a Burn the Fat, Feed the Muscle Inner Circle member yet? JOIN HERE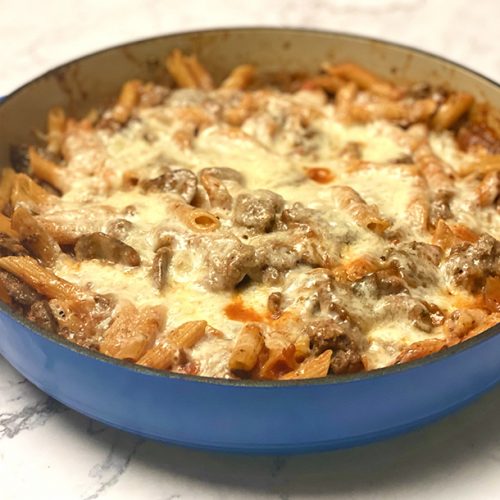 High Protein Italian Pasta Bake
A delicious, cheesy comfort food classic, modified for more protein and less calories. Recipe from Tom Venuto's Burn the Fat Feed the Muscle Blog (www.BurnTheFatBlog.com)
Print
Pin
Rate
Ingredients
20

oz

96% fat-free ground beef

(567g)

24

oz

Pasta sauce

(680g)

6

oz

protein penne pasta (barilla)

(= approx 3 cups cooked)

2

tsp

salt

(for pasta water)

1/2

tsp

salt & pepper

(for beef/casserole)

8

oz

sliced mushrooms

(227g)

1

Tbsp

Italian seasoning

(or to taste)

1

Tbsp

Minced garlic

(about 3 cloves)

1

Cup

mozzarella, low-fat, shredded

1/4

Cup

parmesan, reduced fat
Instructions
Cook pasta according to package instructions. Optional: Salt water

In a large skillet or in casserole dish, cook ground beef on medium high until browned. Add garlic. Season with salt and pepper. About 4-5 minutes. Drain

If you used a skillet, transfer beef to a 9 X 13 baking dish

Add the cooked pasta, pasta sauce, mushrooms, and the Italian seasoning to the dish. Stir to mix

Top with low fat parmesan cheese and low fat mozzarella cheese

Bake 20 minutes or until cooked through

Optional: garnish with fresh chopped parsley or basil
Nutrition
Calories:
464
kcal
|
Carbohydrates:
42.4
g
|
Protein:
43.7
g
|
Fat:
13.1
g
---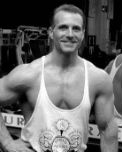 About Tom Venuto, The No-BS Fat Loss Coach
Tom Venuto has been a trusted natural bodybuilding and fat loss expert since 1989. He is also a recipe creator specializing in fat-burning, muscle-building cooking. Tom is a former competitive bodybuilder and today works as a full-time fitness coach, writer, blogger, and author. In his spare time, he is an avid outdoor enthusiast and backpacker. His book, Burn The Fat, Feed The Muscle is an international bestseller, first as an ebook and now as a hardcover and audiobook. The Body Fat Solution, Tom's book about emotional eating and long-term weight maintenance, was an Oprah Magazine and Men's Fitness Magazine pick. Tom is also the founder of Burn The Fat Inner Circle – a fitness support community with over 52,000 members worldwide since 2006. Click here for membership details
---
Disclosure: Burn the Fat Blog posts may use affiliate links to third-party websites and online stores, and earn a commission if products or books are purchased. We never recommend or link to products we haven't used and fully endorse. However, always do your own due diligence if purchasing from a third party merchant on the internet.
If you enjoyed this post, subscribe for weekly updates – free!
Your email is safe with me!