This post contains affiliate links to kitchen tools and ingredients we use and recommend
This is our second high protein bread recipe. The first was the protein banana bread, which was a big hit with rave reviews.
Today I give you a moist, rich, dense pumpkin protein bread with just enough sweetness that you might feel like you're eating cake. In fact, the first person I showed this recipe to said, "Is that cake?"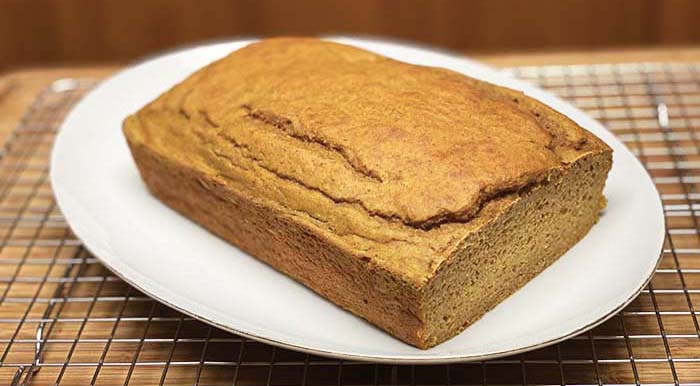 With pure pumpkin as a main ingredient, it's nutritious, low in calories, and high in protein – almost 12 grams per slice.
The protein gets boosted by using 1.5 cups of oat flour and one full cup of protein powder, rather than flour alone. Additional protein comes from the whole eggs and nonfat greek yogurt, which help make it moist and rich.
You could probably use all-purpose and or whole wheat flour, but I haven't tried so can't vouch for the taste or consistency. Oat flour is a favorite of mine and is readily available in health food stores and even in some regular supermarkets. Bob's Red Mill and Arrowhead Mills are popular brands. (You can order online at Amazon if you can't find it at your local stores).
Pumpkin is not that sweet naturally compared to the sweetness you get from banana (in banana bread), but you can sweeten this and still keep the calories low by using sugar-free maple syrup and Truvia Naturally Sweet, a Stevia and erythritol sweetener (use any other non-caloric sweetener you prefer). Two tablespoons of Truvia is lightly sweet and three makes it moderately sweet.
Make a note that compared to using only stevia/erythritol (or whatever your favorite powdered/crystalline sweetener is), maple syrup adds an additional layer of flavor. Feel free to use regular maple syrup, and that might even be a stronger flavor boost, but it will also spike up the calories.
Most pumpkin bread recipes I've seen call for only about a cup of pumpkin, but I wanted a nice strong pumpkin flavor from real pumpkin, along with all the pumpkin spice, so I adjusted the recipe so it works with a whole can of pumpkin puree (15 ounces – which is closer to 1 3/4 cups). This also keeps the bread moist. Be sure you use 100% pure pumpkin (puree), not pumpkin pie filing which is sweetened with refined sugar. Libbys and Farmers Market organic are two of the brands available at stores in my area as well as online.
I made my own pumpkin spice and used plenty of cinnamon along with all four of the traditional ingredients: nutmeg, ground cloves, ground ginger, and allspice. It works without the allspice, but I recommend it. If you prefer you can simplify this and use cinnamon and instead of the four individual spices, use a teaspoon of pre-made pumpkin spice (available in the spice section of all major grocery stores as well as online: https://amzn.to/2TM1nVo)
Baking time can depend on the oven and the pan you use so don't forget to check for doneness a little prior to the typical 45 minutes. At a glance, if the top outside edges are browning, you're getting close. To check for doneness, you can also stick a toothpick in the top center. If it's slightly wet or there are a few crumbs on it, that's okay, but if comes out with soft batter stuck to it, it's not done yet. Leave it in for another 5 minutes, then check again.
I undercooked my first batch and there was a pocket that was slightly too moist in the middle, so for this particular recipe, because of the all the liquid ingredients, I'd go for slightly over-baked with light browning on the edges, rather than under-baked.
You can bake your protein bread in a regular meatloaf pan (9″ X 5″), but keep in mind that dark non-stick pans tend to absorb oven heat faster compared to the silver aluminum pans. This means the dark pans cook faster, so check for doneness early if you're using a dark pan.
Bakers say that aluminum pans with the dull finish are ideal because they conduct heat more evenly. I use the Nordic Ware Natural loaf pan: amzn.to/3joBWF8.
This will rise a little bit due to the use of baking soda and it is normal for the tops to split, but don't expect this type of bread to fluff way up and stay there – this is a fairly dense type of bread, by design.
Tips for when it's done: Remove the bread from the pan soon after you take it out of the oven. This will prevent it from having a soggy bottom. Let it cool at room temperature, ideally on a cooling rack (otherwise on a paper towel). It's great warm out of the oven, but after cooling to room temperature, the loaf will solidify more and cut more nicely.
Pumpkin bread should keep for at least a couple days days at room temperature, but it is definitely best fresh. If you prefer, after it has cooled to room temp, store it in the refrigerator in plastic wrap or an airtight container. It's very nice cool out of the refrigerator, and if you prefer, you can always re-heat individual slices for 30 seconds or so in the microwave. Alternately, slice it, wrap the individual slices and freeze them.
Want more pumpkin recipes, and protein powder recipes? (I got cookies too!) If there are enough recipe ratings and comments below, there will be more very soon!
-Tom Venuto, Author, Burn the Fat, Feed the Muscle
PS. Here's one more for now – it's an easy one, just takes minutes in the microwave: Pumpkin Protein Mug Cake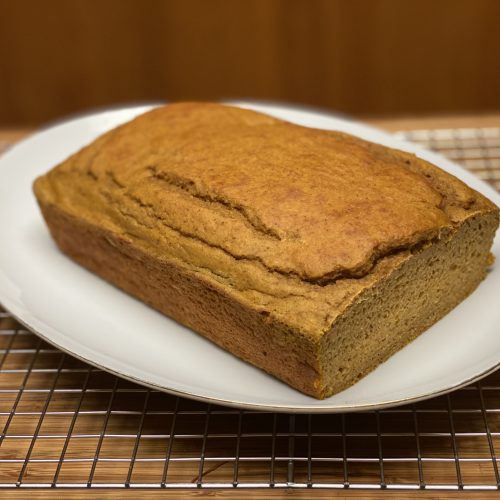 Healthy Pumpkin Spice Protein Bread
The most amazingly rich, moist, dense pumpkin spice protein bread is here! All-natural, with pumpkin, protein, oat flour and of course, the spices! Recipe from Tom Venuto's Burn the Fat, Feed the Muscle Blog (www.BurnTheFatBlog.com)
Print
Pin
Rate
Ingredients
15

oz

Pumpkin puree

1/4

cup

Maple syrup, sugar-free

1/3

cup

Non fat Greek yogurt, plain

(113g)

1

large

Whole eggs

1.5

cups

Oat flour

(135g)

1

cup

Whey protein, vanilla

(93g)

1.5

tsp

Cinnamon

1/4

tsp

Nutmeg

1/4

tsp

Cloves, ground

1/4

tsp

Ginger, ground

1/4

tsp

Allspice

2-3

Tbsp

Truvia naturally sweet

(to taste)

1/2

tsp

Salt

1

tsp

Baking soda
Instructions
Add all dry ingredients to a large mixing bowl (oat flour, whey protein, spices, sweetener, salt, baking soda. Mix thoroughly

In a second bowl, mix all liquid ingredients (pumpkin, eggs, yogurt, maple syrup) until combined

Pour the wet ingredients into the dry and stir to create the batter

Pour batter into 9 X 5 baking pan (aka meatloaf pan), coated with nonstick spray

Bake at 350 for 45 minutes on the middle rack. Make a note that baking time may vary based on your oven and cookware. If in doubt, leave it in slightly longer. Insert a toothpick in center and if it comes out mostly clean, it's done (it's usually close to done when edges are browning).

Let it sit to cool to room temperature (on cooling rack ideally), before cutting and serving

Refrigerate if it won't be eaten within a day or two. Also freezable (cut, wrap individual slices, then freeze)
Nutrition
Serving:
1
slice
|
Calories:
144
kcal
|
Carbohydrates:
20.2
g
|
Protein:
11.8
g
|
Fat:
2.1
g
PS. Leave a comment below and let me know what you think of this pumpkin protein bread recipe. And if you make it, be sure to snap a picture and share on social media as well, with hashtag #burnthefatrecipes #burnthefatfeedthemuscle or #feedthemuscle so we can all see! You can tag me at www.Instagram.com/tomvenuto
---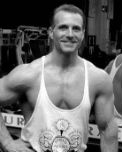 About Tom Venuto
Tom Venuto is a natural bodybuilding and fat loss coach. He is also a recipe creator specializing in fat-burning, muscle-building cooking. Tom is a former competitive bodybuilder and is today a full-time fitness writer, blogger, and author. His book, Burn The Fat, Feed The Muscle is an international bestseller, first as an ebook and now as a hardcover and audiobook. The Body Fat Solution, Tom's book about emotional eating and long-term weight maintenance, was an Oprah Magazine and Men's Fitness Magazine pick. Tom is also the founder of Burn The Fat Inner Circle – a fitness support community with over 52,000 members worldwide since 2006. Click here for membership details
---

Subscribe to the Burn the Fat weekly newsletter and get my ebook, "The 20 Best Fat-Burning, Muscle-Building Recipes Of All Time" FREE!
Your email is safe with me!