I don't mind having something in the oven and another thing (or even two) on the stove. Last week I was grilling chipotle chicken, and on the stovetop I had Mexican rice going on one burner, and fancy seasoned fajita veggies going on another burner. It was delicious and worth the effort, but man, it felt like I was juggling.
When you want something simple and easy for dinner, nothing beats a one pot recipe, especially when it's so delicious and so lean at the same time like Burn the Fat Feed the Muscle one pot creole rice.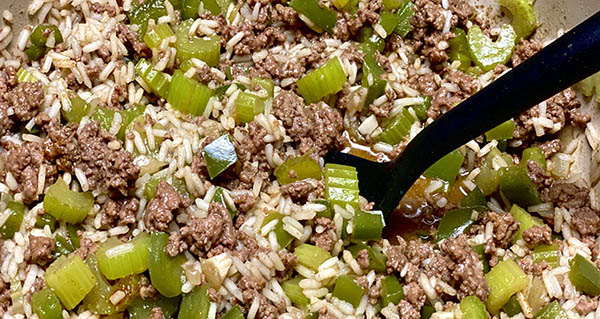 One pot creole rice with extra lean ground beef became an instant new favorite from the first time I tried it. I couldn't believe how easy it was to make in one pot on the stovetop. I now eat this on repeat often and make it in batches for meal prep.
I used my Lodge enameled cast iron dutch oven (this is my Amazon associates link) which I love, but any large sauce pot or sauce pot you have will do. (If you scale up the ingredients, make it a big pot).
It's not only the convenience and ease of cooking I like, it's also the fact that this is another recipe where you can use the calorie density reduction trick, if you want to.
What I mean is, any time I see a traditional recipe that has starchy carbs and fibrous carbs (like green veggies), I don't necessarily follow the amounts that are listed (it's not like baking). If I want the calories as low as possible, to fit better into a fat loss program, I decrease the amount of starchy carb (rice in this case), and increase the amount of fibrous carbs (green peppers and celery).
Since starchy carbs are more calorie dense, and fibrous carbs are less calorie dense (especially ones like celery), what this ingredient shift does is reduce the calories per unit of volume, but it's still the same volume of food. The portion size looks huge, and you really fill up, but the calorie are super low. You get a pile of food so big, it feels like you're cheating, but the fat melts off.
In this case, even if you split this batch of one pot creole rice four ways, each individual serving is only getting 3/4 cup of rice, with tons of veggies, plenty of protein, and the total calories are only 389 per serving.
The other way to reduce calories is to use extra lean beef. Creole rice, also known as dirty rice, traditionally may use a variety of different meats, often leftovers. (I'd recommend skipping the leftover liver). I used ground beef, and when I use ground beef I use the 96% fat free variety.
When it comes to both beef and poultry (ground chicken, ground turkey), it may sound like 90% or 93% fat free is lean, but this is labelled by weight. By calories and grams of fat, 90% is not really lean meat at all and you'd be surprised how much higher the calories and fat are. </p>
Readers have told me that (depending on where they are from and where they shop), they can't always find 96% (or 95%) ground beef. If that's the case, simply use the leanest you can find, and make a note of how much higher the calories will be.
Creole rice is known as dirty rice. The reason for the name is because chunks of dark brown beef, with light brown rice looks "dirty." Adding green veggies brightens it up a bit. You could even add some red bell pepper if you want to brighten it some more, and if you used both, a green and a red pepper that would add bulk and reduce calorie density even more.
Is creole (dirty) rice the same thing as cajun rice? I'm not an expert on all the nuances yet, but I know there is a difference between creole and cajun recipes. We previously added a creole Jambalaya to the Burn the Fat recipe collection. In that case, the use of tomatoes makes it red, and that's the creole variation. The cajun variant is brown. In addition, creole is usually the milder type of seasoning. Cajun seasoning tends to be hotter.
However, whether it's jambalaya or dirty rice, it's still the same basic dish with only small variations, which often simply depend on the preferences of the person cooking it. So while they're not exactly the same thing, for practical home cooking purposes you could probably use the terms creole and cajun interchangeably.
Also I wouldn't be surprised if many food websites and cookbooks, drop the "dirty rice" name and just call it creole or cajun rice, as that may seem more appealing, especially in the fitness space where "clean eating" is a buzzword. Because this recipe includes healthy rice, extra veggies and extra lean ground beef, I propose we could call this "clean dirty rice!" There, fixed it.
If this one pot creole rice looks appealing but you're vegetarian, use water or vegetable stock and try it with whatever meat substitute you like which approximates the texture of ground beef. It looks like there are lots of options these days.
This may seem like a strange question, but can you make dirty rice without rice? Actually I've heard that you can. Some people use riced cauliflower. I did that once before to make "faux" mashed potatoes and it was pretty good. I haven't made dirty "rice" with cauliflower yet.
The thing is, this recipe is already under 400 calories per serving, so unless someone is avoiding rice for a specific reason (maybe it violates the rules of their low carb diet), I don't think it's necessary to use cauliflower instead of rice if it's only for the calorie savings. As I mentioned above, simply reduce the rice portion slightly, and increase the fibrous vegetable portion, and you get a really low calorie meal.
The last few times I made creole clean dirty rice, I was lazy and simply used the store bought cajun seasoning I had in my spice drawer. As mentioned above, sometimes you'll see these spice blends labelled creole and sometimes cajun. They are both similar and you can use either, and consider it almost the same thing.
But you could also make your own seasoning. Making your own puts you in control of the overall taste, and you also get to dictate the amount of sodium. I'm never afraid of a little salt in cooking, but be warned, some of the store bought seasonings can be off the charts in sodium and terribly salty to the taste. Here's our recipe:
Homemade cajun/creole seasoning:
2.5 tsp paprika
2 tsp onion powder
2 tsp black pepper
1.5 tsp garlic powder
1 tsp thyme
.5 tsp cayenne (red pepper) powder
.5 tsp salt
You'll see only one teaspoon of creole (cajun) spice listed in my ingredients above for the one pot creole rice. I usually keep the amount moderate because I know not every likes spicy food. One teaspoon with this amount of ingredients is fairly mild. I recommend you taste test early while it's cooking, then adjust the seasoning to your preference.
Cayenne is usually already one of the ingredients in cajun/creole spice blends, including the store bought ones, so there's some heat. But if you like it really hot, you could add some additional cayenne (red pepper) powder straight up.
Enjoy!
Tom Venuto,
Founder, Burn the Fat Inner Circle
Author, Burn the Fat, Feed the Muscle (BFFM)
Author, BFFM Guide To Flexible Meal Planning
PS. My newest e-book, The Burn the Fat, Feed The Muscle Guide to Flexible Meal Planning For Fat Loss was just released and is currently available for instant download. To learn more about "Flexible Macro-Based Meal Planning" and about the new book, take a look and CLICK HERE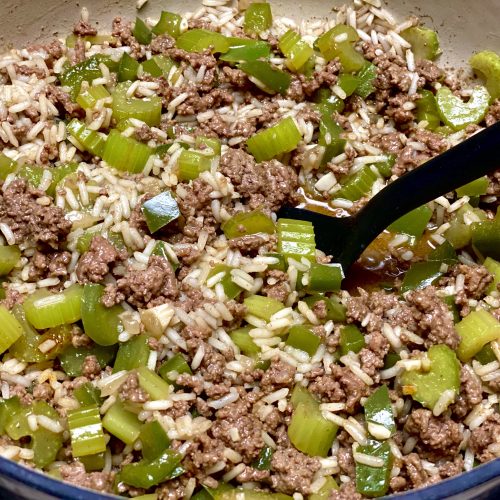 Creole Rice With Extra Lean Ground Beef (Aka "Clean Dirty Rice")
Amazingly easy one pot recipe is the leanest, cleanest "dirty rice" you'll ever eat. Recipe from Tom Venuto's Burn the Fat, Feed the Muscle Blog (www.BurnTheFatBlog.com)
Print
Pin
Rate
Ingredients
20

oz

extra lean ground beef (96% fat free)

2

tsp

olive oil

1/2

cup

onion, chopped (80g)

1

Tbsp

minced fresh garlic (approx 3 cloves)

1

Cup

long grain white rice, dry (180g)

2

cups

reduced soium beef stock (240ml)

1.5

cups

celery, chopped (100g)

1

large (3.75")

green pepper, chopped

1

tsp

creole/cajun seasoning

1/2

tsp

salt (or to taste)
Instructions
Chop onions, celery and green pepper. Mince fresh garlic

Put 2 tsp of olive oil in pot or Dutch oven (just enough to coat bottom), heat on medium high

Add chopped onions to pot and cook about 3 minutes.

Add lean ground beef, cajun seasoning and salt to pot, cook about 4 to 5 minutes or until it's browned.

Add garlic, celery and green pepper

Add rice and beef stock to pot. Turn up heat, bring to boil

Reduce heat to low, cover and simmer for about 20 minutes or until rice is cooked through.

Optional: Garnish with fresh chopped scallion
Nutrition
Calories:
389
kcal
|
Carbohydrates:
42.1
g
|
Protein:
34.7
g
|
Fat:
8.5
g
---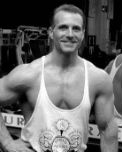 About Tom Venuto
Tom Venuto is a natural bodybuilding and fat loss expert. He is also a recipe creator specializing in fat-burning, muscle-building cooking. Tom is a former competitive bodybuilder and today works as a full-time fitness coach, writer, blogger, and author. In his spare time, he is an avid outdoor enthusiast, hiker and backpacker. His book, Burn The Fat, Feed The Muscle (BFFM) is an international bestseller, first as an ebook and now as a hardcover and audiobook. The Body Fat Solution, Tom's book about emotional eating and long-term weight maintenance, was an Oprah Magazine and Men's Fitness Magazine pick. Tom's newest book, The BFFM Guide To Flexible Meal Planning For Fat Loss was just released.  Tom is also the founder of Burn The Fat Inner Circle – a fitness support community with over 53,000 members worldwide since 2006. Click here for membership details
---
Disclosure: Burn the Fat Blog posts may use affiliate links to third-party websites and online stores including as an Amazon associate, and earn a commission if products or books are purchased. We never recommend or link to products we haven't used and fully endorse. However, always do your own due diligence if purchasing from a third party merchant on the internet.
If you enjoyed this post, subscribe for weekly updates – free!
Your email is safe with me!