I won't keep you in suspense. The secret ingredient in this stovetop cilantro lime rice is… limes! Um, yeah I know that's not exactly secret. Lime is in the recipe name. But I don't mean lime juice. I mean the real fresh lime, including the zest. For years I ignored zesting in both lemon and lime recipes. Sometimes I would try lemon peel (dry seasoning) as a shortcut instead. Meh.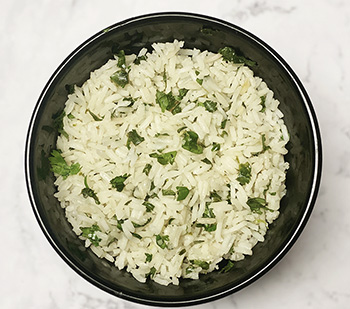 Then I finally got a zester. (You can use the cheese grater you already have if it has small holes on one side). I've been a fresh zest fan ever since. I mean it even sounds good. "Zesty!" While I'd only used it on lemons up to recently, naturally it only makes sense to use it for lime recipes too. In this case, it goes right in the broth. If you like, you can also reserve some and use it for a nice garnish at the end.
Just in case you're unfamiliar, the zest is the peel (skin) of the lime. It's also known as the rind. It's the green stuff – just the outer later, not the whiter pith below which is more bitter. (Same with the lemon, only it's yellow).
If you like, use a second lime for more, but one does the trick for me. It's about a tablespoon. You can then use the lime for juice if you want the fresh kind. Since the conversion is one lime to produce two tablespoons of juice, that works out perfectly.
Don't sweat it if you don't have a fresh lime on hand. You'll still get lots of lime flavor from bottled lime juice.
The other restaurant quality rice secret is the stovetop cooking method. There are two tricks. One is to briefly toast the rice in a small amount of olive oil for a few minutes before adding the liquid. This is not a mandatory step. You can dump in the rice and liquid at the same time and you're off to the races. However, this is the official Mexican method.
The toasting of the rice does something to produce a little extra flavor. It may also help prevent rice that sticks together in clumps or gets gooey. My understanding is that it also burns off the excess starch, making rinsing or soaking unnecessary. Maybe that's why I haven't had a batch of rice turn out bad ever since I started doing this.
One thing I don't do traditional restaurant style is drown it in oil or butter. I always reduce the oil amount to save calories. I skip butter unless it's absolutely essential to the flavor of a particular recipe. (Because that's what I do. I'm a calorie-saving, macro-optimizing cook!) Most similar recipes will list at least two or three tablespoons of oil. You don't need that much. One Tablespoon is plenty.
Another taste enhancer is to use chicken broth instead of water. Water is fine, but the broth simply adds another layer of flavor. If you're looking to keep the sodium in check, use a reduced sodium broth. Another trick is to use half water and half broth. (Taste test because you still might want another pinch of additional salt).
No onions are used in this recipe, but I did still use a little garlic – just a couple cloves (about two teaspoons), which are added right before pouring in the liquid.
People often ask about the recipes and seasonings that Chipotle restaurants use. It looks like their cilantro lime rice recipe is fairly standard and unremarkable, though their website says they include a bay leaf. I'm not sure it will make a big difference in a 20-minute rice compared to a slow cooking stew or soup where it sits and simmers, slowly releasing its flavors. But I'm game to try the Chipotle copycat with bay leaf to see what happens. I will dutifully report back with my findings after the next batch. If you beat me to it, post in the comments.
As far as my cooking philosophy goes, any time I can eliminate an ingredient because it's not absolutely mandatory, it gets left out purely for the sake of simplicity in cooking and shopping. Any time I can eliminate a step I do that too, which is why I never bothered to soak my rice first.
I know some people add coconut oil for flavoring cilantro lime rice. But having already used some olive oil, I don't want more calories or fat. It might be interesting to swap olive for coconut and see how it tastes. Mostly, I use olive, as it's a healthy oil. But I have no problem with coconut oil either if used in small amounts. It would be a nice flavor match with this recipe. It also might worth trying 1.5 cups of water and .5 cups of light coconut milk. That's a combination that worked great in our coconut curry rice. It adds some calories, but only 30 or so per serving.
I used to depend on the rice cooker almost exclusively because it's so easy and hands-free, but now I use the stovetop method just as often if not more so.
The stovetop cilantro lime rice cooking technique is simple: after toasting the rice for a few minutes and leaving the garlic in there a minute or so, add the broth and bring it up to roiling boil. Then turn the heat all the way down to low, cover the rice and let it simmer for about 20 minutes or until it is cooked through and has absorbed almost all of the water.
For the stovetop, use a large pot, sauce pan, or dutch oven. You can get a good stainless steel pot for around 30 or 40 bucks, give or take. You probably already have one in your kitchen. When I got serious about cooking, I splurged and invested in the cast iron Staub pot (French Oven). It has never turned out anything but a perfect pot of rice. Looks beautiful, cleans easily and will last a lifetime too. The Rolls Royce of Rice cooking pots.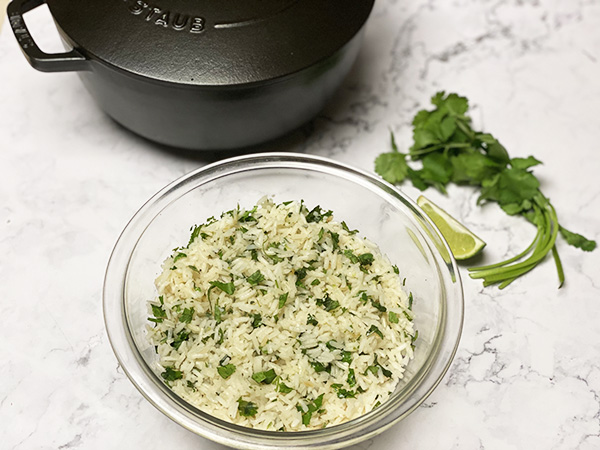 Leave your cooking rice simmering and covered, undisturbed. But depending on your stove, temperature and cookware, it might take slightly less than 20 minutes (or slightly more), so I like to check it around 15 to 17 minutes to see how it's coming along. In fact, many food website and cookbooks say that 15 minutes is the complete cooking time.
With my stove and cookware, white rice is never done at 15 minutes, but that's a time I suggest checking anyway. That also gives me a chance to taste test it. If you used water, you may want more seasoning. If you used broth, you may or may not want more salt. If it's cooked through and all the liquid has been absorbed, I'll take it off the stove a couple minutes early. Conversely, if it's been on a whole 20 minutes and there is still excess liquid or the rice isn't quite done, it needs a little longer.
When it's done, they say it's ideal to take it off the heat and let it rest five to ten minutes. But damn, I'm hungry. I often just dig right into one hot serving. But do fluff it with a fork before serving. That helps break up any any clumps and you get a more airy rice. You have to fold or toss it anyway to mix in the lime juice and cilantro.
Tip: Try the long grain white basmati rice. It has great flavor and is a perfect match for this recipe. Regular long grain white rice is fine too if that's what you have on hand.  If you use brown rice, the cooking time will be longer and it may require more liquid, so you'll have to adjust accordingly.
This pairs perfectly with anything Mexican. In fact if you're doing cilantro lime rice, you might want to try cilantro lime chicken. Cilantro lime shrimp sounds pretty good too. In fact, I think this rice would even pair well with an Asian dish, especially Thai. Or, well, with anything. It's good! Just remember, it's a complete meal when it has a lean protein and vegetable as well as the starchy carb.
If you're on a muscle-building phase or you're a highly-active athlete and you have room for the calories, this rice is perfect inside a burrito with your favorite protein and some salsa, maybe beans too. (Just like Chipotle). Watch out if you add guac and sour cream. The flour tortilla adds a lot of carb calories. When you add those calorie-dense toppings, you're heading north of 1000 calories.
If my goal was fat loss, I'd opt for the bowl of rice and the protein with a veggie (like bell peppers) or salsa. (I get that at chipotle sometimes if I'm not cooking). If my goal were bulking, then I'd go for the extra carbs with the burrito. Heck yeah.
I did some calculations. At the Chipotle restaurant, their bowl with only rice, black beans, chicken and salsa has 545 calories with 45 grams of protein. Perfect! Add the tortilla for the burrito and now you're around 850 calories – and that's with no guac or sour cream or chips.
Be mindful at restaurants. You can make good decisions if you're calorie-aware, but on the other hand, if you cook at home, you're in total charge not only of the calories and macros, but also the taste.
Last but not least – storage. The way I often meal prep, I'll cook a four-serving batch like this and eat one, then divide the remaining three servings into containers. If I were in maintenance mode, this batch would likely only be three servings, not four. If I were bulking, this entire batch would only be two servings! Ah, it's good to be lifting and bulking. At any rate, it's easy to scale this recipe any way you want.
Once I've added a veggie and protein to my rice for a complete muscle-building meal and put the container in the refrigerator, I'll typically eat it all within two or three days. I prefer not to leave prepped food in the fridge very long. Rice especially seems to lose its moisture and simply doesn't taste as good after sitting in there for days.
I have actually never frozen rice, so I can't answer the questions, "Can you freeze it and how long does it last?" If you freeze cilantro lime rice and reheat, let me know how it turns out. I guess you can freeze anything, but I rarely do. I like to cook and eat fresh food. I enjoy it the most the same day hot off the stove, or the next day.
Tom Venuto,
Founder, Burn the Fat Inner Circle
Author, Burn the Fat, Feed the Muscle (BFFM)
Author, BFFM Guide To Flexible Meal Planning
PS. My newest e-book, The Burn the Fat, Feed The Muscle Guide to Flexible Meal Planning For Fat Loss was just recently released and is currently available for instant download. To learn more about "Flexible Macro-Based Meal Planning" and about the new book, take a look and CLICK HERE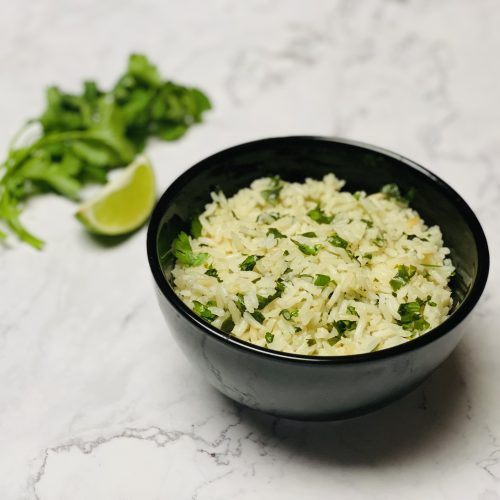 The Best Stovetop Cilantro Lime Rice, Restaurant Style
How come your home cooking doesn't taste like the stuff at the restaurant? Because you're not doing it restaurant-stye! And you forgot the secret ingredient! Recipe from Tom Venuto's Burn the Fat, Feed the Muscle Blog (www.BurnTheFatBlog.com)
Print
Pin
Rate
Ingredients
2

tsp

Fresh garlic finely minced

1

Tbsp

Extra virgin olive oil

1

Cup

Basmati) white long-grain rice, dry (uncooked)

(180g, approx 3 cups cooked)

2

Tbsp

Lime juice (juice of one lime)

3/4

Cup

Fresh cilantro, finely chopped

2

cups

Chicken broth, reduced sodium

1/2

tsp

Salt (or to taste)

1

Tbsp

Lime zest (zest of one lime)
Instructions
Zest one lime and finely mince the garlic.

Heat 1 Tbsp olive oil in pot on medium high.

Add rice. Toast the rice 3 minutes, stirring regularly, before adding the liquid.

Add garlic, cook for 1 more minute, stirring frequently.

Add chicken broth (or water) and add zest of one lime (optional: reserve a little lime zest for garnish).

Bring to a full boil. Cover with lid, turn down to low and simmer for about 20 minutes or until most of liquid is absorbed and rice is cooked, stirring occasionally.

While rice cooks, chop cilantro.

Check doneness at about 15 minutes and taste test. Add salt if desired.

When rice is cooked, transfer to large serving bowl. Add lime juice and cilantro and fluff/fold to combine.

Optional: garnish with extra pinches of lime zest.
Nutrition
Calories:
199
kcal
|
Carbohydrates:
37.4
g
|
Protein:
4.2
g
|
Fat:
3.9
g
---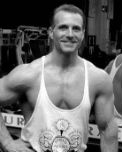 About Tom Venuto
Tom Venuto is a natural bodybuilding and fat loss expert. He is also a recipe creator specializing in fat-burning, muscle-building cooking. Tom is a former competitive bodybuilder and today works as a full-time fitness coach, writer, blogger, and author. In his spare time, he is an avid outdoor enthusiast, hiker and backpacker. His book, Burn The Fat, Feed The Muscle (BFFM) is an international bestseller, first as an ebook and now as a hardcover and audiobook. The Body Fat Solution, Tom's book about emotional eating and long-term weight maintenance, was an Oprah Magazine and Men's Fitness Magazine pick. Tom's newest book is The BFFM Guide To Flexible Meal Planning For Fat Loss.  Tom is also the founder of Burn The Fat Inner Circle – a fitness support community with over 53,000 members worldwide since 2006. Click here for membership details
---
Disclosure: Burn the Fat Blog posts may use affiliate links to third-party websites and online stores including as an Amazon associate, and earn a commission if products or books are purchased.
If you enjoyed this post, subscribe for weekly updates – free!
Your email is safe with me!