Thousands of people have entered our Burn the Fat Challenge body transformation contests and over the summer of 2011 more than two hundred followers of Burn the Fat, Feed the Muscle (aka "BFFMers" or "Burners") finished the 98-day fitness competition with stunning results.  I'll be sharing some of their incredible stories with you here on the Burn the Fat Blog this week. But every year we run this contest, a smaller group of finishers stand out as deserving of extra-special rewards and recognition. Our panel of body transformation judges has just chosen the first of those special awards: The Most Inspirational Body Transformation Of The Year: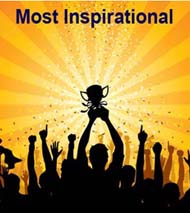 Here's a recap of this special award:
Most inspirational: The contestant who has the most inspiring personal transformation, provides the most inspiration to others, overcomes the greatest obstacles and maintains the best positive attitude, while making an excellent physical body transformation.
And The Winner Is…
Everyone who starts and finishes our 98-day body transformation contest is a winner – a "Burn the Fat Hall of Famer."
They are the determined, motivated, hard-working men and women who set a goal, say they are going to do something, and they do it.
They're an elite group when you look at it from this perspective: Thousands of people have entered our body transformation challenges. But only about 20%-25% people actually finish our 49-day challenge and a mere 13% completed our "marathon" 98-day summer challenge, also known as the "BIG BURN!"
That means 87% of the contestants in our most recent challenge – the 98-day summer 2011 contest – dropped out.
That's why this most inspirational award is so significant…. because THIS man was one of the few who finished:
He weighed 348 pounds on Wednesday May 25th, 2011 at the start of the challenge. To take his before and after pictures, he needed canes to help his posture for the standing-up photos.
In this mans first journal post he said,
"I've been saying someday I will be slim all my life. I am now 60 years old. Not too many years left for excuses. And now… I need a hip replacement. However, the doctors will not operate on me until I lose 48 pounds (he wants me at 300). So, I have tentatively set my operation date one week after this contest ends…"
He then continued in Captain Picardesque style…
"MAKE IT SO!"
98 days later, 87% of the other contestants had dropped out… Many of them – almost all of them – were 100% fully mobile and able-bodied… Many of the dropouts were half of this man's age…
But this man FINISHED THE CHALLENGE… and posted his results:
Before: 348 pounds
After: 314 pounds
Before: waist: 60 inches
After: waist: 54 inches
In his next to last post before reporting his challenge results, he reported the news:
"The doctor has now scheduled me for hip replacement! What a way to celebrate finishing the challenge!" …
"You know, sometimes I look at myself in the mirror and can't believe I am 61. Inside I feel like a 30-year-old. I've wanted to get in shape my whole life and now I am FINALLY doing it!"
That man is JOHN DEEGAN, and he is the MOST INSPIRATIONAL BFFMer of the entire 2011 Summer challenge.
John, congratulations! You've inspired us! You've inspired some of us to (joyful) tears! Best wishes with your rapid recovery and your future fitness success!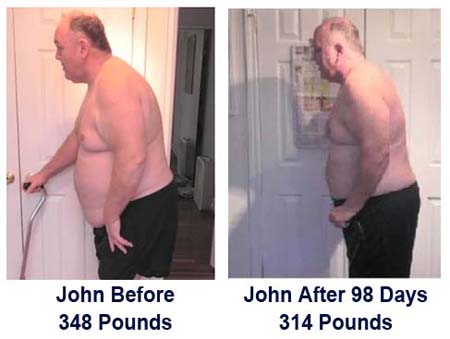 JOHN'S WINNING BURN THE FAT CHALLENGE ESSAY
"During this challenge, I learned a lot about myself. I learned that you are never too old to make important changes to your body. Even if you are handicapped with two bad hips, two canes, with bone on bone arthritis, you can still make significant changes if you are motivated.
The key to my transformation was in a large part due to my desire to have my hips replaced. My doctor said he wouldn't operate on me unless I reached 300 pounds. So, that became my goal. I succeeded by figuring out how to deal with my desire for nighttime snacking. I found some sugar-free gum drops and this was my treat at night. I found that the longer I was away from starchy carbs, the less I missed them.
I used to think I was at total effect in my desire to lose weight. I have tried a thousand times and never gotten this far. Whenever I was tempted to overeat, I just told myself, "John, in 61 years you have eaten almost everything. This time is for you. You have tasted everything. You are not missing a thing."
It was difficult going to the gym. People would look at me stumbling along with my two canes and you could just read their minds: "What is HE doing in the weightlifting area?" Well, I hired a gym instructor for a few lessons to teach me how to do some weightlifting being seated. There is a TON of things that a fat, handicapped person can do. After a while, people started showing me respect for being so dedicated to my task at hand. I started going six days a week, sometimes twice a day.
One of the big things I learned is the natural deliciousness of raw food. You don't NEED to eat sweets. There are substitutes. My biggest win was finding a diet that I could live with for the rest of my life. As time moved on, I could now taste the natural sweetness in vegetables. I started thinking, "Hey, I can live with this." And that's the key. Finding a solution that works everyday.
You know, I have lost six inches from my waist during this 98 day challenge. That is SIGNIFICANT. Especially for someone my age. My metabolism does not respond as someone who is younger does. I am very proud of my progress.
I found Tom's chapter on goal setting (from Burn the Fat, Feed the Muscle) was of primary importance. It made all the difference. I also employed his carb cycling technology. I know of no one with the expertise of Tom Venuto.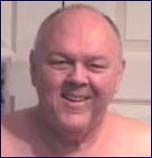 I feel like a winner mainly because after 61 years of life, I am still trying to get healthy and look good. Many people give up at a much earlier age. I pushed through a lot of pain, bone on bone arthritis of both hip joints, and stumbled along with two canes. If I could do this anyone can. That's what makes me a winner and that is why I deserve to be the champion.
This is only the beginning. Just WAIT until I can move around like the rest of you!"
###
If you're a member of the Burn the Fat Inner Circle, you can visit John's summer challenge journal thread to congratulate him. If you're not an Inner Circle member  yet, you can post your comments below and let John know what you think!
John Deegan's Summer Challenge Thread (members area):
http://www.burnthefatinnercircle.com/members/cfmbb/messages.cfm?threadid=2A62AF25-1C23-CDDA-75136B43E9788304&page=1
– Tom Venuto and The Entire Burn the Fat Challenge Team
CLICK HERE for Burn the Fat, Feed the Muscle (BFFM): The Official fat burning program of the Burn the Fat challenge
CLICK HERE for the Burn the Fat Inner Circle (BFFM IC): The world's premier fat loss motivation and support community: A society of fitness achievers

If you enjoyed this post, subscribe for weekly updates – free!
Your email is safe with me!