Every November and December I see articles about how to avoid holiday weight gain. Some of them are on mainstream news or gossip websites and the advice is rather simplistic. They often include tips like: Never go to a party hungry, rotate every alcoholic drink with a seltzer water, enjoy holiday food but only in small portions, and don't just decorate your tree, decorate your plate (with colorful veggies). Maybe useful, but not Earth shattering.
Then you have the more sophisticated blogs and sites that try to put a scientific spin on it. Usually they mention using a holiday feast intentionally as a refeed, timing workouts strategically,  planning a big cheat as a post workout meal after high intensity resistance training, and falling back on various damage control strategies.
Maybe better than the aforementioned tabloid stuff, but even these sciencey-sounding solutions are missing something… something much more human…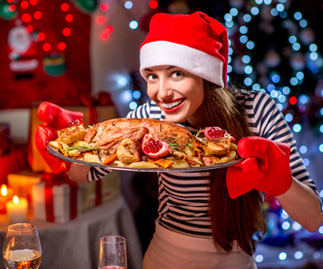 I've cracked the code for how even busy, stressed-out people can avoid holiday weight gain.
My solution is shockingly simple. Here's the first step:
Set a goal to IMPROVE over the holidays – to come out the other side in better shape than you went in.
That idea short-circuits most people's brains because they've only focused on how to maintain or limit the damage.
Even worse, many people give up without even trying. "What's the use?" they moan, "Too many temptations!"
But setting a goal to improve over the holidays is only the first step. You also must set up an accountability, social support and a reward system to make sure you follow through.
I've already done the work for you by creating and perfecting a system that includes all four of these crucial parts:
1. Goal Setting
2. Accountability
3. Social Support
4. Rewards
This combination of success factors works so well that it's one of the most important revelations I've had in my 30+ year fitness career.
Back in the 1990's, I witnessed the rise of the body transformation contest, and I saw the impressive before and after photos. But the cynic in me said, "It's just a tool for promoting supplement sales."
I may have been right that transformation contests and before and after photos were used to help promote supplement businesses, but I was wrong in thinking that's all they were good for.
I never realized how real and powerful a transformation contest could be until years later when I was the person hosting the contests myself, seeing the motivational psychology at work, and seeing not only 's bodies changed, but lives changed.
I've been awed and amazed with the results we've seen for the last 8  years we've been sponsoring our body transformation contest, the "Burn the Fat Challenge." That's why we're still doing it to this day.
I've seen results so astonishing that outsiders have questioned the authenticity, even though our contestant results have been date-stamped and documented meticulously with multiple (angle) photos and the unfolding results were witnessed week-by-week in real time by thousands of participants in an online forum.
And before you continue reading, let me point out that I'm not saying achieving results like our past winners did is easy. It's hard, and that's why we call it a "challenge."  What I'm saying is…
Getting in better shape over the holidays is possible!  IT HAS ALREADY BEEN ACHIEVED BY THOUSANDS – who simply made a decision, set a goal and had a plan or system to make it happen and the motivation to make it stick.  And YOU CAN DO IT TOO!
This is my solution to holiday weight gain, and this is my challenge to you: Enter our before and after body transformation fitness contest the week before Thanksgiving and follow through until the first week in January.
49 Days is all I'm asking for. Right from day one, once you are inside our challenge  community online (the forum), you'll see for yourself  the power of a goal, accountability, support and rewards.
I realize there will always be some skepticism because we hear it every year. There are always doubters and pessimists who say:
"Venuto, you are out of your mind! This is the WORST time to start a fitness program! People can barely survive through the holidays let alone "transform" their bodies in a month and a half."
That's the typical thinking of the mediocre masses, not the thinking of winners and achievers.
If you're reading this, you want to be an achiever

Winners and achievers think differently.  They don't give up before even trying, and they don't think about "avoiding weight gain" or just "surviving the holidays." They focus on improving – all the time! All year round!
During a particularly challenging time, you simply need some extra support and motivation.
I'm challenging you to get in the best shape of the year, possibly the best shape of your entire life in the next 49 days – right through the holidays.
Or, I'm challenging you to set a goal as simple as coming out of the holidays in better shape than you went in. Just make progress during the 49 day challenge.
Is 49 days is enough time to see big results?
Eight years of Burn the Fat challenge contests have proven to us that you can make remarkable progress in only 49 days.
How? Because it's somewhat of a short-term goal, you feel a greater sense of urgency and it can actually be easier to maintain your focus for just 49 days than it is for long term goals.
The key to achieving long-term goals is to break it down into multiple shorter-term goals. This challenge can be one of your short-term goals.
Since 2009, thousands of men and women have transformed their bodies during our Burn the Fat Holiday Challenge in only 49 days and some of them, quite dramatically.
The results of our previous winners may not be typical, but they do show you what's possible! They're also inspiring!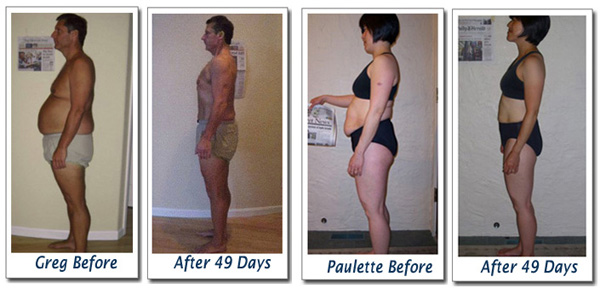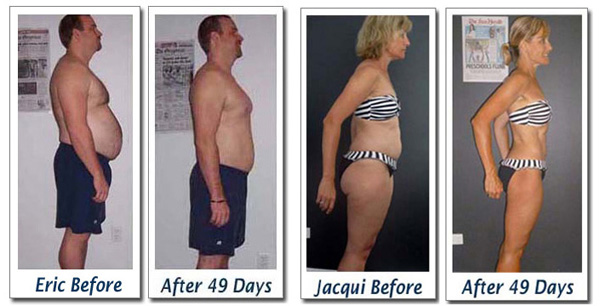 The goal setting, the focus, the program, the contest, the support community, the accountability, the motivation, the rewards, the encouragement, the enthusiasm, the energy, the excitement that this challenge creates, makes things possible in 7 short weeks that you couldn't imagine without this kind of "success environment."
It can be done! And now is the time. You CAN do this, and there are no reasons left not to go for it.
And when you go for it, you'll have a chance at winning a great prizes, including a special new grand prize this year.

Prizes include beautiful crystal trophies, Apple iWatches, Go Pro Hero cameras, Fit Bits, Fit Bit Aria scales, Beats Headphones, Gift certificates, free books, and more.
And for the first time ever, the winners will get to work with me personally for up to three months in a new premium personal coaching program! (This is up to a $1500 value).
In recent years, online coaching has exploded! Even people already in shape have coaches – pro fitness and bodybuilding competitors all want a coach for their contest prep. There's nothing like a second pair of eyes to assess your progress, and the accountability alone is like gold.
What many people don't know is that I was a fat loss, fitness, and contest prep coach in the 1990's before the internet even existed.  All my clients met with me in person at my gym in New Jersey (where I kept them accountable with a check-up, weigh-in and body fat test with the skinfold calipers every week). Over 600 people completed my "Burn the Fat" 12-week personal coaching program.
Today, I no longer have a gym – my fitness business is all online – and it's been years since I've been available for coaching. But I've been asked to bring back coaching so many times for so long, that I'm now developing a new online program for 2018 where you can work with me from anywhere in the world.
The Burn the Fat online coaching program includes complete custom program design, weekly progress check ups and unlimited email consultations with me.
Free Personal coaching for our 2017 Holiday Challenge winners
The very first people to get into this new Burn The Fat coaching program will get the coaching FREE!  How? When they enter the 2017 Burn the Fat Holiday Challenge and win a top spot in their category.
What if you don't think you can win?  Actually, anyone with room for improvement can win because the Burn the Fat Challenge is not judged like a bodybuilding contest where only the best physique onstage wins. The Burn the Fat Challenge is judged based on who made the most improvement between before and after. So if you can improve, you can win.
Not only that, there are special award categories for achievements like most transformed over age 50, most ripped and best body recomposition (the "holy Grail" award). That's more chances to win something.
Plus, just finishing the whole 49 days gets you entered in a random drawing to win one of the coaching programs and other prizes. We've set this up so that literally anyone can win in the Burn the Fat Holiday Challenge, if you simply cross the finish line.
However, if you don't want to, you don't have to go "in it to win it." You can join the hundreds of others who simply enter this challenge for motivation and accountability so you can reach your personal goal to come out the other side of the holidays in better shape than they went in.
I could go on and on about the Burn the Fat Holiday Challenge and why it's so motivating, but I'm going to wrap this up.  For today, I simply wanted to:
1. Tell you about my proven way to avoid holiday weight gain – the 49 day body transformation challenge contest is the most powerful and effective way to get into shape over the holidays.
2. Alert you about the contest start date – the 2017 Holiday Challenge opens on November 17th  (here's the page where you enter: www.BurnTheFatChallenge.com)
3. Let you know about the Blog giveaway that will take place here tomorrow – The blog survey-giveaway has been a tradition every year during our Holiday Challenge week.  All you have to do is come back here tomorrow, read my post for Friday evening,  November 17th and leave a comment answering the question I ask – and you'll be entered to win. 5 people will win a free one-year memberships to the Burn the Fat Inner Circle and a free signed Burn the Fat book.
In the meantime, if you're planning to enter the holiday challenge this year, drop me a note in the comments below, that says "I'M IN!"
Train hard and expect success,
Tom Venuto, author of Burn the Fat, Feed the Muscle
Founder and CEO, Burn the Fat Inner Circle
PS. The contest starts on Friday,  November 17th, 2017. You can register for the contest free, right now on this page: www.BurnTheFatChallenge.com
PPS.  The challenge is free. You don't have to be a Burn the Fat Inner Circle member to enter.  However, this is a great time to  join because this week only, you can get a trial membership for only $1.00 Get details here: www.burnthefatinnercircle.com/public/join-for-one-dollar.cfm
Thanks for reading and don't forget to come back here tomorrow to enter the drawing for your chance to win books and free memberships! See you then!


If you enjoyed this post, subscribe for weekly updates – free!
Your email is safe with me!